A few months ago while researching this article I found myself stepping around puddles in a backstreet of Montellano, a small town in the Dominican Republic where many poor immigrants live. This didn't seem like a very promising consumer environment, but I noticed a cable running into a small house and asked about that. "Oh, yes," said the householder, "I have free Internet included with my $150 monthly rent. I can't live without Internet."
With a little further research, I traced the telephone cable out of her house, up a tree, across the street, down another tree, and into an upstairs window of her landlord's house and had established that the Internet service came from Claro, a subsidiary of American Movil (NYSE:AMX) a company that is publicly traded on the New York Stock Exchange.
But was there any money in this kind of business? Apparently yes, because AMX is a Fortune 500 company and the founder and largest stockholder of the company is Carlos Slim, the world's richest man, the Mexican Buffett.
In 1990 Slim joined up with France Télécom and Southwestern Bell Corporation to buy out the incumbent landline telephone company Telmex from the Mexican government. American Movil was originally the spun-off cellular subsidiary of Telmex, but eventually become much larger and in fact later acquired its parent company and many other telephony interests in South and Central America and in the U.S., where it trades under names like Tracfone, Net-10, and Straight Talk.
In February 2012 AMX really put a cat among the pigeons by announcing a SIM-card only unlimited no-contract phone, data, and messaging service for only $45 per month. Why could this be a big deal and what does it have to do with dropped Apple (NASDAQ:AAPL) iPhones?
A SIM (Subscriber Identity Module) card is used by both AT&T (NYSE:T) and T-Mobile (OTCQX:DTEGY) services, which use a technology called GSM (Global System for Mobile Communications), a protocol developed in Europe and used world wide.
To prevent users from just taking out the SIM card from an AT&T and T-Mobile phone and using that of another company or taking them overseas, both companies equip the phones that they sell with electronic locks that prevent the phone from working with the other company's SIMs.
This is necessary because these companies sell cell phones by means of typically 2-year purchase contracts of which part is payment for calls and data, and part is payment for the phone. If the subscriber wants to end the contract early, he or she must pay a penalty fee to compensate the company for the purchase of the phone.
If the phone is out of contract (fully paid for), it may be very profitable for a company like AT&T, because the subscriber will often continue to pay $100 or more per month for the out-of-contract phone, if they do not choose a new phone with a new contract.
However once the phone is out of contract, by law the subscriber may request an unlock code that enables him or her to use the phone with any other SIM card provider. This is a simple process, for example with AT&T all the customer has to do is call 611 from their out-of-contract AT&T mobile or 1-800-331-0500 (+1-916-843-4685 from overseas) to request the "SIM unlock code" and instructions needed to enter the code.
Now the Straight Talk SIM card offering makes it possible for anyone who has a used iPhone or an iPhone that is out of contract to switch to the service for only $45 per month instead of paying $100 or more to AT&T to continue service on the old phone, or on a new phone. Even if the subscriber takes up a new phone, the old one may be re-sold, unlocked, and used with a different service.
I am not in a position to estimate how many activations might be sold, but potentially every iPhone ever sold and still in usable condition becomes a potential fallen Apple that AMX can pick up and squeeze for revenue.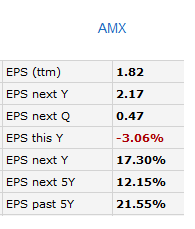 Giving the customer what the customer wants at a price the customer can afford is always a good idea, whether it is Internet access in a low-income barrio in the Dominican Republic or a low-cost monthly hook-up for an iPhone in the U.S.
That is one reason why I am long AMX. The stock has trended upward recently, but is still below the recent highs of August, and November. Current P/E is and earnings per share are projected to grow at 12.5% for the next five years, but if the fallen Apple project picks up, there might be some earnings surprises ahead. Additionally the stock offers owners exposure to Mexico, Brazil, and other Central and South American and Caribbean telecommunications growth.