During the last several years, investors have taken note of the swelling prices and hearty returns that come with productive farms. Individuals and funds are increasingly seeing farmland as an ideal hard asset class. Farmland generates not only regular income, but also capital appreciation and can be used as a hedge against inflation. Given the current volatility witnessed in the global markets, farmland returns tend to be immune to stock or bond fluctuations, making it a good diversification tool.
According to the National Council of Real Estate Investment Fiduciaries (NCREIF), farmlands in the U.S. generated a total return of 15.1% in 2011 compared to the S&P 500, which remained static during the period. Moreover, the USDA predicts net farm income in 2012 to be $91.7 billion, the third-highest recorded since 1980. Higher crop prices point to higher rental income on farmlands. But it is still hard to find exposure to any farmland holdings in any portfolio despite is attractive yields over commercial real estate property, which yields in the range of 4%-5%.
Some facts to start with:
There world has close to 7 billion people today. According to the Food and Agriculture Organization of the United Nations (FAO), that number would 8.3 billion by 2030.
2,780 kcal is the global average of what each person consumes per day.
People in developed countries consume 3,314 kcal per day, while those in developing countries consume no more than 2,674 kcal per day.
By 2030, the global average would be somewhere in the range of 3,050 kcal per day, thanks to the rising living standards in developing countries.
Click to enlarge images.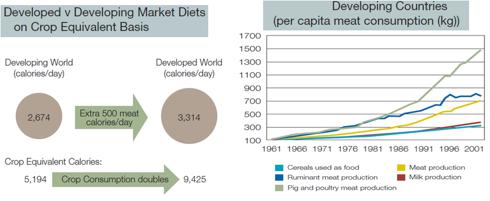 Source: Agcapita Farmland Fund, FAO and Enquirica Research.
What do these numbers hide?
Adding these numbers up, global daily calorie consumption would rise 30% to 25.3 trillion kcal by 2030 (vs. 19.5 trillion kcal now). Although an increase of that magnitude is quite manageable, things are not quite so straightforward. Here is the problem. Whereas diets in developing countries consist primarily of grains (rice, corn, wheat, etc.), diets in the wealthier parts of the world are dominated by protein, fat and sugar. With the poor getting richer, the demand for protein would shoot up -- mainly chicken, pork and beef.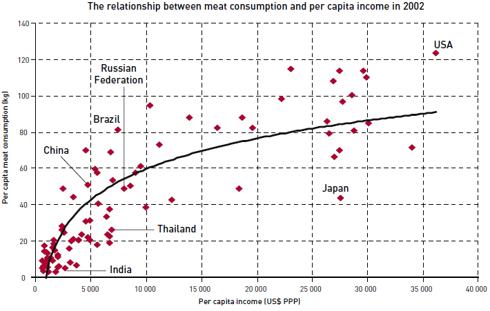 Source: FAO.
The conversion of this grain-rich diet to a more protein-rich diet would increase overall demand for grain significantly, as livestock is inefficient in terms of converting grain to energy. Here's what it takes to make 1 kilogram of the following:
Chicken: 2-3 kilograms of grain
Pork: 4 kilograms of grain
Beef: 7-8 kilograms of grain
With average daily calorie consumption growing by 30% between now and 2030 as projected, demand for grain will grow by a multiple of that.

Source: FAO.
The agriculture story is more about rising living standards. According to the Organisation for Economic Co-operation and Development (OECD), the global middle classes will increase by 3 billion people over the next 20 years. Their demand for their fair share of protein would likely put unparalleled pressure on both livestock and grain prices. China would deliver a large chunk of the 3 billion new middle class consumers the OECD projects for the next 20 years, but people all over the world will want to climb the protein ladder.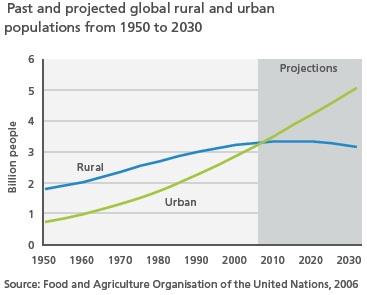 This will happen at a time when the amount of land available for agricultural use is under more pressure than ever before. Urbanization is a global phenomenon and arable land is lost every day of the year to a growing number of people who opt to live in urban areas.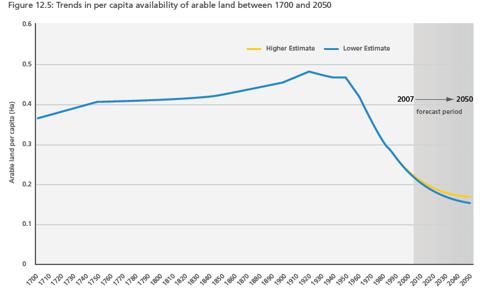 Source: FAO.
Agriculture faces the classic problem of diminishing returns. In other words, productivity growth has diminished for years and increasing global food production is becoming more difficult. A significant portion of the obvious improvements have been made in the form of machinery, biotechnology and fertilizer. This challenge can be witnessed in the reducing marginal return to fertilizer application -- a larger amount of fertilizer is required for each unit of yield. For example, in 1960 one tonne of fertilizer produced 80 tonnes of cereals. In 1995, one tonne of fertilizer produced only 20 tonnes of cereals.

Source: FAO.
Food is a commodity where only limited technological progress has been made to improve productivity. Scientists have had some success with drought-resistant crops, which should improve yields meaningfully. Also, genetically modified food will, whether we like it or not, gain some traction in years to come, but I have seen nothing that suggests to me that some groundbreaking new technology will revolutionize farming anytime soon.
Finally, a word on bio fuels. Every major oil consuming nation has committed to increase the use of biofuels, which will need farmland for production. According to International Energy Agency (NASDAQ:IEA) estimates, about 14 million hectares of land have been used for the production of biofuels, or 1% of the total arable land in 2004. This figure could increase to 45 million hectares by 2030.
Land Requirements For Biofuels Production: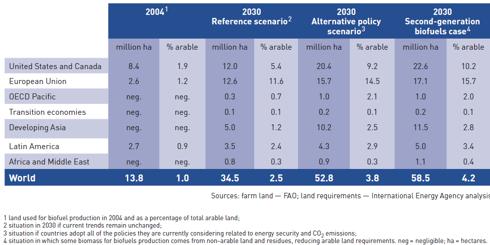 So investors are snapping up arable land in the U.S. and overseas, from Russia to Africa to South America. There are limited opportunities to play this asset class, with very few vehicles offering pure play exposure. One can look at investing in any of the following agriculture ETFs to get exposure to this sector:
This is the first in a series of articles I plan to write on farmlands. In the coming weeks, I will be discussing the China factor and various investment options available to invest in this booming asset class.
Disclosure: I have no positions in any stocks mentioned, and no plans to initiate any positions within the next 72 hours.