The Short Story
Exactech (NASDAQ:EXAC) is a micro cap orthopedic implant device manufacturer with strong management and large insider ownership that is primed to reap the rewards of the aging populations in western cultures. Supported by a growing research and development entity and a strong sales force, Exac has what it takes to compete with larger firms in this ever growing industry. Management has a lot on the line since 41 percent of the company is owned by insiders. This also ensures that management's interests do not deviate from those of the shareholders. Recent third quarter results provide further evidence of Exactech's growth potential and ability to compete with larger competitors. Exactech beat analysts' earnings estimates by four cents a share and posted a 35 percent gain in net income and 23 percent gain in revenue compared to Q3 2006.
In Depth Analysis
The Business
Exactech's business is very simple: they make orthopedic implant devices. Orthopedic implant devices are used to replace or repair a movable joint such as knees, hips and shoulders. These orthopedic implant devices, help people with damaged joints gain back strength and range of motion. Even though the company's end consumers are the patients, Exac's real customers are the orthopedic surgeons who decide which product the patient needs. Additionally, this Florida based company's biggest business is in knees, but they also have large sales in hips, shoulders, and other products such as biologics (don't worry, we'll talk about this below). Instead of analyzing the business as a whole, it would be easiest to dissect (sorry) the company's various sections.
First, we'll look at where the company's revenue comes from. The following table is a breakdown of Exac's revenue for 2006, 2005 and 2004 (from Exac's 2006 annual report):

As you may have noticed, each division at Exactech made up about the same percentage of revenue over the three year period. The only huge difference is the large increase the "other products" category. It is also important to note that revenue has increased for every product line over the three year period and revenue over all has increased 12 percent each year over the period.
Knee Products
Knees are Exactech's most important sector. Also, knee implants make up the largest part of the orthopedic industry. How is Exac going to be competitive in this 4.9 billion dollar market? The answer lies in superior products. Exac's flagship product is its Optetrack knee system. According to clinical tests, the Optetrack knee system performed 72% better than competitors' products based on wear characteristics. Exactech expects that it will increase sales for this knee system as it continues to gain acceptance from orthopedic surgeons.
One thing about orthopedic implants is that there is no "one size fits all" solution. So, depending on a patient's bone structure and injury or problem, a different product may be needed. Exactech is continually working to develop new product extensions that allow their knee system to be used in a wider range of patients.
In recent quarters, this micro-cap has seen sales success with the release of the Optetrak Rotating Bearing Knee system. This system, which was introduced in 2006, was designed differently than a traditional knee system and is driving international growth for Exactech. The Rotating Bearing Knee system is currently under review by the FDA for sale in the United States.
In addition, Exac recently rolled out Low Profile Instrumentation. This product allows surgeons to do more surgeries in a less invasive way. Patients love less invasive surgery, so this line of products could play a major role for Exactech down the line.
The strength of Exactech's knee segment was further evinced by growth in the third quarter of 2007. Sale of knee products increased 19 percent compared to the second quarter of 2007.
Currently, in the United States there are 500,000 knee operations every year. In 25 years that number is expected to grow to 3,000,000 a year. Exactech understands the importance of knee implants to their bottom line. That's why the firm has three major new knee systems in the early stages of development. These products may not come to the market for several years, but is extremely favorable that the company has a long term outlook.
Hip Products
Hip implants make up the second largest segment for Exactech at 17 percent of revenue. Similarly to the knee implants, Exactech has a wide range of products for different patients with different needs. Exactech's hip replacements are specifically designed to give the patient a wider range of motion. One particular hip replacement system, Acumatch, allows the surgeon to choose the components of the replacement at the time of surgery which gives the doctor greater flexibility. For these reasons, Exactech's hip replacement systems are growing in popularity.
Exactech recently gained FDA approval for a new ceramic hip system. Traditionally, hips systems are made with metal and plastic parts. This new ceramic hip system has much greater longevity and improved wear characteristics compared to its older counterparts. This ceramic hip system can be seen in the picture on the left.
This part of Exactech's business also saw gains in the third quarter of 2007. Revenue increased 32 percent to six million dollars compared to a similar period last year. Management attributes these gains to expansion of their Novation hip product line.
Shoulder Product
This is a huge growth area for Exactech. As you may have noticed in the revenue table above, there is no information on shoulder products. Previously, management lumped in shoulder sales with "other products." Recently, however, the company unveiled its Equinoxe Shoulder System. With unique features that give patients a better range of motion and balance, the Equinoxe system is a rapidly growing product. Year over Year revenue growth in the third quarter of 2007 was 115 percent.
Despite this large growth, management is not satisfied. In the fourth quarter of 2007 Exactech plans to launch a reverse shoulder system that will allow surgeons to deal with more complex problems.
Biologics
Biologics is the most rapidly growing area of the orthopedic implant market. In Exactech's case, they take donated bone (from organ donors) and process it to isolate proteins that stimulate bone growth. These products are then used for healing and regeneration of bone and wound tissue.
In this market, Exactech has many products that are coming onto the market which should also fuel growth.
Year over year revenue growth for this sector was a stellar 25 percent. At just six million in revenue, this piece of Exac's business does not contribute substantially to profits, but management is expecting great growth down the line.
The Industry and Competition
The orthopedic implant industry has a lot of potential. Currently this market has $24 billion in sales worldwide and is growing at 10 percent a year. Most of the growth can be attributed to the aging populations of the West, but some growth with respect to implants is occurring as younger and younger people get implants. Since implants produced today are of a higher quality than ever before, many young people decide that an implant is the best way to deal with an orthopedic problem.
With such growth potential in a huge market the competition is stiff. The biggest firm is DePuy with $4.7 billion of sales in 2006. DePuy is a subsidiary of Johnson & Johnson and accounts for 6.7 percent of the company's sales. There are many other large firms as well including the Zimmer, Biomet and Stryker. All these firms have yearly sales in excess of $1 billion.
Given this information the question is how does Exactech compete with the larger firms? After all, these bigger companies must have access to much greater resources compared to a small Southern company such as Exactech. The answer lies in Exactech's superior product quality and increasing innovation. All of the products Exac has on the market right now are extremely competitive and the company is continuously pumping out more and more innovative ideas. In 2006 alone they launched five new products. Additionally, the company has been increasing R&D substantially (more on R&D later). Exactech protects its products with a patent portfolio, which should help differentiate Exac from its competitors. Also, Exactech can make major market share gains in areas that the big boys overlook.
As Exactech grows and grows its reputation will follow and the company's moat will widen right along with it. Every time a surgeon successfully installs an implant in a patient or the firm releases a new product, Exac's moat widens just a little bit. In the long run, Exac's performance and competitive advantage will depend on the success of new products.
Growth and Research & Development
The research and development arm of Exactech is one of the most important parts of the company. This is where the firm can thrive and deliver market pounding returns for many years to come; or flounder and make us regret our investments. The company knows this, and is definitely applying ample resources to this department. In fact, in the third quarter of 2007 the company increased R&D spending by 43 percent compared to Q3 2006 and has said that it plans on continuing to increase the expenditure by similar levels in the future. The firm also has a very extensive pipeline with products set to come out in the near, medium and long term future. Given the quality of the current products on the market, Exactech has shown the value of part of their business. Management believes that its pipeline portfolio is undervalued by the market. Even though it is very hard to determine whether or not this is true, it just shows you management's confidence in their future.
It is important to understand that research projects don't always work out in even the best of companies. Above, I mentioned that Exactech has three new knee systems in the early stages of development. It's possible that all of these products will come to market; but it's also possible that none of them will be successful. Recently, Exactech announced a $1.5 million dollar write off due to the termination of a research project with Dimicron Corporation (not an orthopedic implant company). The two firms teamed up to develop to a revolutionary new hip implant, but the alliance just didn't work out and Exactech to take an eight cent per share charge for the second quarter of 2007. However, the company's pipeline remains strong and should produce quality products going forward.
Sales
The sales division at Exactech is another important part of the company. After all, the only people who deal directly with the surgeons are the salesmen. In the past, the sales force at Exactech has grown in both in size and effectiveness. The sales force has increased from 140 reps in 2000 to 218 reps in 2006, a 9.3 percent increase per year. Also, revenue per representative is has increased from $245,000 in 2000 to $368,000 in 2006, an 8.5 percent increase per year: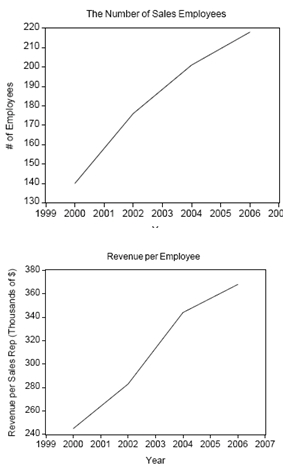 In addition to these numbers, Exactech is also adding depth to their sales management. Recently, Exactech hired Bob Purcell as Vice President of US sales. This is a great move for the company. Bob Purcell worked at DePuy, the largest firm in the industry and a subsidiary to Johnson & Johnson. Purcell served as Vice President of Sales for DePuy while the company grew from a $100 million revenue company to a $1 billion dollar revenue company. Purcell will bring a lot of experience to the management team, especially as Exactech grows into a larger and larger organization.
Management and Profitability
The management at Exactech is extremely experienced. The original founders of the company have been there 22 years and are all still a major part of the equation. Additionally, with insiders owning 41 percent of the company managements' interests won't deviate from that of shareholders. With the addition of Mr. Purcell, this firm has increased the depth of management and shown that it will continue to do so as the company expands.
In the third quarter of 2007, Exactech's gross profit margin was 66.5 percent compared to 65 percent a year earlier. Exactech currently produces 55 percent of products internally at their headquarters in Gainesville and outsources the rest of other manufacturers. Going forward, management expects to manufacture more and more products internally. This will allow for better cost and quality controls. Even though these actions would have positive affect on profit margins, management plans on keeping profit margins constant going forward. The firm is enacting a pricing strategy, where they keep prices low in order to gain market share over their larger competitors. This may hamper short run profits, but it will provide favorable effects in the long run.
The Financials
Income Statement
In Q3 2007, earnings where 21 cents a share compared to 16 cents a share in the third quarter of 2006 and the 17-18 cents a share that analysts were expecting. Beating the market's expectations resulted in a modest jump in the firm's share price. Exac's year over year earnings increased 35 percent while revenue jumped 23 percent. G&A expenses actually dropped in Q3 compared to the same period in 2006. This number has remained relatively constant between Q1 2007 and Q2 2007.
The Balance Sheet
The balance sheet reveals some very interesting data: Cash and Equivalents has decreased from $2.006 million in Q3 2006 to just $805,000 for Q3 2007. At first, these numbers are very disconcerting, but then we look at the numbers for long term debt. Long term debt has decreased from $25.29 million in Q3 2006 to $9.59 million in Q3 2007. This sharp drop in long term debt shows Exactech's financial strength.
The Cash Flow Statement
Looking into the cash flow statement tells us a little more about why the cash level has decreased so substantially (note that cash flow figures for Q3 2007 are yet to be released and all these numbers are from the Q2 2007 cash flow statement and earlier). In the last three quarters capital expenditures and the retirement of debt have increased substantially compared to Q2 2006. These cash changes have resulted in a decreased level of cash, but strong reduction in debt. Also, the large increase in capital expenditures shows that the company is pumping more money into future growth. The real gem of the cash flow statement is the cash from operating activities. For the first half of the year ending in Q2 2007 cash from operating activities was 9.39 compared to 3.09 million for the similar period in 2006. This large boost shows Exac's growing success which is likely to continue going forward.
Risks
As with any investment there are risks. Since Exactech tries to offer complete solutions to surgeons, they have to keep large amounts of inventory on hand. If something were to happen to this inventory, like it becoming out of date, Exac would be adversely affected. Another risk may be the socialization of the Health care system in the United States. With 80 percent of sales coming from within the US, a social healthcare system may negatively affect profit margins.
Valuation and Buying Point
According to traditional metrics such as the p/e, price/sales, and the peg ratio, Exactech is more attractive than competitors and the industry averages. In the following table I compare Exactech, with the Stryker Corporation (SYK), another firm in the orthopedic implant industry with a much larger 28.5 billion dollar market cap, as well as the industry averages:

Clearly, Exactech has more favorable valuation metrics than Stryker and the Industry in every area except for price to free cash flow. The fact that Stryker's price to free cash flow compared to Exactech doesn't worry me since Stryker doesn't have the growth potential that Exactech does. In addition, Exactech has a much higher level of capital expenditures, given its size, than Stryker does. Exactech's increasing capital expenditures fuels future growth. Also, these figures include a $1.5 million dollar charge against Exactech's Q2 2007 earnings for a failed research project with Dimicron Corp. (there were disagreements about how best to proceed). If you were to neglect this write off, the p/e ratio for Exactech would be lower than 28
The buying point for Exactech is very attractive. Exactech is in the process of getting FDA approval for its Rotating Bearing Knee system the company could see a surge in sales in the near term. Also, the upcoming release of the reverse shoulder system and the continued market penetration of current products may provide Exactech with a surge in profits going forward.
Conclusion
With high insider ownership and great growth prospects, Exactech has the potential to provide investors with market beating returns in the near and long term. There are many large players, but Exactech is increasing its R&D and sales focus to compete over the very long term. Exactech is firm that may provide shareholders with a great investment for many years to come.
Note: This article was originally published (.pdf) on September 19th and has since been updated.

Disclosure: Chandler Lutz owns shares of Exactech (Exac)