Continuing with the theme of our preceding article on United Guardian (NASDAQ:UG), we want to add another company to the dividend list: PetMed Express (NASDAQ:PETS).
PetMed Express is a well-known pet pharmacy that sells prescription and non-prescription products for dogs and cats. It's a small company with a capitalization of $260 million. It has a low beta, 0.56, which means that when the market moves 1% upward or downward, the stock moves 0.56% (less volatility). It pays a dividend yield of 4.66%, with a payout ratio slightly above 60% (60% of earnings is used to pay dividends).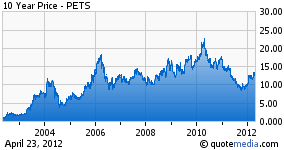 Its P/E ratio reaches a fair 16. Its return on equity shows a high 18, more than its industry and sector. And, as with United Guardian, PetMed Express is a zero-debt company. In these times of uncertainty, it's a safe driver to buy companies with low debt or that have debt under control. Again, obviously, all the financial strength ratios are great.
PetMed Express has a very good reputation. Its online business is supported by other healthcare websites for pets. Customers have a great opinion of the company, which has helped it to maintain its selling during the crisis. However, competition is very fierce in the sector. The new Wag.com, owned by Amazon (NASDAQ:AMZN), is forcing PetMed Express to lower prices. So even though it increased sales and the number of customers, the EPS went down around 20% last year from the previous year. Also, Wal-Mart (NYSE:WMT) has decided to increase its presence in the pet business. Despite the competition, PetMed Express is capable to cope with lower prices as 1) it has no debt, and 2) it is very efficient -- 77% of its orders were generated through its website vs. 72% in the same quarter in 2010.
Analysts' recommendations are neutral (neither buying nor selling) because of the EPS fall. However, from our point of view that simply shows the company will fight for its customers and that it's very fast to adapt to the new environment. Besides, there are many brands in the market and they will all find their niches, not competing directly in price on exactly the same brands.
With no debt, it's much easier for PetMed Express to resist competition and get a sustainable dividend.
Disclosure: I am long PETS.