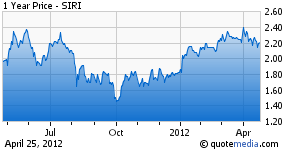 I have written several articles on Sirius XM Radio (NASDAQ:SIRI) in the last year and if you followed my articles with action you also made money. Sirius while expensive by my standards continues to execute well with gains in the stock price of about 10% from a year ago. Unlike Sirius, Pandora (NYSE:P) in its latest earnings release in early March greatly disappointed investors with a triple shot of bad news. Pandora reported poor revenue, poor earnings, and the worst cardinal sin a company can commit - poor forward guidance. I don't listen to Sirius XM anymore even though I have my portable receiver. The cost would be cheap enough if I wanted to, but I find either Pandora or my own collection more desirable.
My tastes in listening shouldn't be confused with the performance of Sirius, however. In 2011, Sirius had revenue breaking above $3 billion, marking 2011 as at least the ninth year in a row of increased revenue (although it should be noted current data reflects the merger between XM and Sirius). Gross margins have demonstrated likewise strength along with the bottom line. While Sirius does sell commercials on some programming, it is the exclusive programming driving both top and bottom line growth.
Sirius' content delivery method may become outdated at some point soon in the future. Sending satellites into orbit is far from cheap and as wireless high speed Internet continues to expand from coast to coast the differences will likely cause a tipping point in the near future. How Sirius navigates through the challenges of what is almost a certain migration to wireless IP delivery remains to be seen. Sirius has already enabled content to stream although unlike other Internet radio stations Sirius doesn't appear to gain a cost advantage because the expense of satellite delivery is largely fixed.
One method of gaining exposure to Sirius while reducing risk is writing covered calls. A December $2.50 sold for $0.19 while buying Sirius shares for $2.19 brings the net cost down to $2.00 a share. If Sirius trades above $2.50 on expiration day the investment will have a 25% gain for a little over seven months. On the other hand if Sirius doesn't move at all and closes out on expiration day at the same price of $2.19 the gain is still 9.5% for the same time period. Making almost a 10% gain in a stock that didn't move in price is very respectable.
Like Sirius, TheStreet.com Inc. (NASDAQ:TST) also trades near $2 a share. TheStreet came to my attention from an article by Bret Jensen. Bret's opinion of Jim Cramer aside, I thought the article brought up some interesting information. TheStreet.com may best be known as the site for Jim Cramer and his action alerts service, but TheStreet.com also recently made positive changes and brought in new talent.
Elisabeth DeMarse was successfully recruited as the new CEO. Elizabeth DeMarse has a very successful track record in the financial online world. Past positions include Bankrate.com and creditcards.com. According to Forbes DeMarse has served on the boards of Edgar Online and ZipRealty, clearly demonstrating a wide base of experience, knowledge and contacts instilling confidence moving forward.
Along with Elisabeth DeMarse, William Inman has also recently joined TheStreet. If you don't know the name William Inman you likely know of his work. William Inman led Bloomberg's electronic publishing and relaunch of Bloomberg.com, according to Globe Newswire.
To be sure TheStreet has issues and the first obvious one is lack of profitability. Another black eye, but healed, is the mistake of Lenny Dykstra's brief relationship with TheStreet. I remember the ads and watching the 60 minute show. For traders with experience it was clear Dykstra was going to blow up and or had no real working knowledge of the markets. TheStreet could have done a better job in screening with our current 20/20 vision on the situation. With that said, from my seat it was Dykstra using his immense popularity to work his way into TheStreet much more than TheStreet trying to play fast and loose. The upside to this (and there is a big upside) is investors can expect this not to happen again. For someone looking at TheStreet the experience is already bought and paid for by a previous investor.
I believe the previous lack of performance is fully priced into the stock. TheStreet has a relatively small market cap of $64 million. Interestingly enough TheStreet also has cash of about $65 million with no debt. This means you can buy TheStreet for less than its cash per share and get names like Jim Cramer, Elizabeth DeMarse and William Inman for zero premium over cash.
With a stock price of near $2 a share it is like buying an option that never expires. I put my money where my words are today as well. I bought shares I intend to hold until it is clear what the new talent at TheStreet can do with this web property. I would not sell calls against the stock like I would with Sirius, even if options traded for TheStreet.
Disclosure: I am long TST.
Additional disclosure: I may initiate a long in P and or SIRI in the next 72 hours.