Many investors focus on broad-based ETFs for emerging markets. However, there are some single-country funds tracking developing markets such as Chile and Peru that have been offering up good performance under the radar.
They can also benefit from moves in specific currency markets. For example, the peso has also added to the overall economic performance of Chile.
"There are a number of positive investment themes for Latin America's largest markets. Brazil, Chile, and Peru are all blessed with abundant natural resources, and should benefit from continued demand growth for commodities from emerging markets and recovering demand from developed markets. Brazil has iron ore, oil, and agricultural products, while Chile and Peru have copper and other base metals," Patricia Oey wrote in a Morningstar fund analysis.
According to the International Monetary Fund, the prospects for Latin America remain promising, with economic growth expected to pick up pace in 2013, after a slight slowdown to 3.7% in 2012 , from 4.5% in 2011.
The iShares MSCI All Peru Capped Index (NYSEARCA:EPU) is up 19% year to date. It has a 0.59% expense ratio. The fund has highest exposure to materials, financials and consumer staples.
Peru is one of the top producers of gold and silver in the world, as well as copper, zinc, textiles and fish. Although the economy and ETF have shown strong performance, the economy is sensitive to economic trends due to its' reliance on mineral and metal exporting.
The iShares MSCI Chile Index (BATS:ECH) tracks South America's fifth largest economy. The fund is up 35% over the past year and is currently in a long term uptrend, reports Brian Rezney for Morningstar. After the large 2010 earthquake, the GDP did contract about 2%, however, the total came in at 5.2% last year.
What's more convincing is that Chile is expanding at an even faster speed: GDP rose 9.8% in the first quarter this year - the fastest pace in 15 years. The fast pace of growth is cautionary for an overheating economy. Consumer prices could rise about 3.6% this year, warns the IMF.
In reality, those fears may be overblown. The Chilean central bank has an official target of 3% annual inflation, plus or minus 1% for the year . And core inflation (excluding food and energy) rose last month.
Chile's peso has appreciated from its lowest level due to the rise in copper prices, reports Sebastian Boyd for Bloomberg.
Other ETFs for Chile and Peru exposure:
Global X FTSE Andean 40 ETF (NYSEARCA:AND)
iShares S&P Latin America 40 Index Fund ETF (NYSEARCA:ILF)
iShares MSCI All Peru Capped Index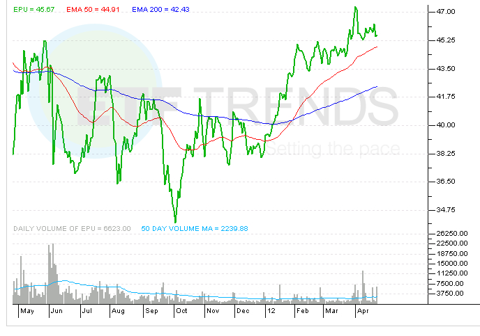 (Click to enlarge) Tisha Guerrero contributed to this article.
Disclosure: I have no positions in any stocks mentioned, and no plans to initiate any positions within the next 72 hours.