This is the second part of a mini-series I am doing for Seeking Alpha in hopes of opening up a discussion about Facebook's business model… not as we know it today, but as we will begin to see in the (not-so-distant) future. In the first article, which I recommend the readers familiarize themselves with before moving on to part two, I addressed the possibility of Facebook opening up their platform to the job market. The jobs market is not exactly a one that is busting at the seams right now, but in my mind, opening up a side of the platform that is more "business friendly" would allow them to open up many more doors within the enterprise area. In turn, these doors may open up a slew of potential revenue streams for Facebook (NASDAQ:FB)… enterprise apps/software/solutions, B2C (Business-to-Consumer) E-commerce, business data management, etc.
However, in this follow up article I will focus mainly on the macro story of Facebook, or in other words, the big picture. I will look at global demographic trends, the size of the market they are currently a player in, how much time people spend on Facebook, etc.
It is important to take a step back and evaluate the size of the industry a company is in so that we can evaluate what kind of earnings power they could have in the future. With Facebook, their earnings are currently not where should be to justify $100 billion valuation. However, there are some interesting metrics that suggest Facebook is no where near their peak earnings potential. I believe that as technology continues to evolve, and it's impact on our daily lives grows, the ability to monetize said technology will also flourish. Facebook has solidified itself as not only one of major players in the Internet space, but perhaps the major player. But enough of my subjective opinion, lets get to the numbers.
$498 Billion: Aggregate global advertising dollars spent in 2011, an increase of almost 7.3% year-over-year according to Nielson's latest report.
According to their prospectus, Facebook claimed that in 2011, advertising accounted for 85% of their total revenue. This is down from 98% in 2009, and 95% in 2010, however advertising still makes up a very large portion of their overall revenue. If we take their total revenue from 2011, $3,711,000,000 and multiply it by their noted ad contribution of 85%, we come out with roughly $3,154,000,000 of revenue from advertisements. As we can see from the chart below, this is a mere fraction of Google's 2011 advertising revenue, and not even a blip on the radar in terms of overall global advertising dollars spent in 2011: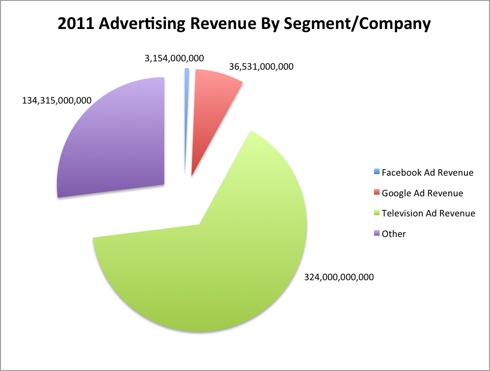 The chart above is only meant to help the readers visualize how small of a fish Facebook still is, swimming around in a massive body of water we'll call The Advertisement Ocean. Now within this giant ocean there are a number of various habitats (television, print, internet) and wildlife (companies) of all sizes. Google (NASDAQ:GOOG), with its $200 billion dollar market cap and nearly $40 billion in annual advertisement revenue is one of the largest in this sea. However, I think Facebook is on its way to making a major disruption within the advertising industry and could be on their way to eclipsing Google's revenues in the not-so-distant future. I will go into extensive detail on this subject in a future article, as I think it deserves much more attention than I give appropriately give it within this article. However, I will make one quick point on the subject and that is that as of right now, there is no company in the world that is capturing more of an individual's time than Facebook.
10.5 Billion: The average number of minutes per day spent on Facebook, not including mobile, according to their most recent IPO amendment.
I believe that an individual's time is an extremely valuable commodity. It is limited and cannot be easily produced (unless your name happens to be Marty Mcfly). Thus, when I see a Nielsen report that shows that the average user is now spending close to 8 hours a month on Facebook, compared to less than 2 hours on Google, I am thinking that a major shift is currently taking place within the Internet industry. The time spent on Facebook was also up significantly from just a year ago, when that number was roughly 5 hours a month. This also goes to show that user growth on a per head basis is not the only way Facebook can grow. In the IPO amendment cited above, where the company declared that 10.5 billion minutes per day is spent on Facebook worldwide, they also noted the number of minutes per day per user increased 14% year-over-year. If they can continue to enhance the social experience, and truly build a platform that gives users the ability to roam free within the "walls of Facebook", the company will have a whole new metric for growth (minutes per day per user) that will relieve some of the pressure to grow through net new additions alone. The swirling rumors of Microsoft (NASDAQ:MSFT) handing Bing over to Facebook is an interesting take on just how powerful a true alliance between these two tech behemoths could be. It also explains why Apple (NASDAQ:AAPL) has thrown it's weight behind Twitter (TWIT) in what could end up being be a monumental "Tech/Social" showdown. This speaks volumes on the potential for the platform and where the company can go in the future to leverage and monetize the absurd amount of time people spend on Facebook.
People go to Google when they are in need of quick information- to find a phone number, look up a movie time, find a recipe, etc. The user finds what he or she is looking for within the search results and then clicks a link and leaves Google's site. Companies then place their ads within these search results in the hope that whatever a user is currently searching for is directly relevant to his or her needs or desires. In return, the advertiser can make an impression on that individual, and perhaps gain some business from them in the near future. Google gets paid when a user chooses one company's site over another and clicks on the sponsored link.
Facebook is a different beast all together, and has thus far, not made any attempt to enter the search or content discovery side of things. Facebook has become a destination, not yet a means of discovery (which also could very well happen), which changes how brands and companies can (and will) interact with their target demographic. This will take time to figure out, but I believe in the end, will be a far more powerful and effective tool than what Google has to offer. The search results for Google are cold, bland, and distant. It is the online equivalent of looking up an old library book in the Dewey Decimal cabinet. Facebook is a much more intimate experience. It is a colorful, lively space filled with pictures of our significant others and loved ones, interactions with our friends and relatives, and updates on our activities and interests. However, even with this atmosphere of intimacy and personalization, there is significant room for brands and businesses to interact and impact our everyday experience on the site. Again, there will be more on this in the future, but in short, I believe that Facebook will eventually create its own niche segment of advertising that has the potential to claim not only a lion's share of the present day Internet ad market (roughly $72 billion for 2011), but also begin to claim market share from traditional media such as television and print.
The last thing I want to touch upon in this analysis is the Internet penetration rates in various countries around the world, and in addition, Facebook's current market share in regards to those constituents who do have online access within various countries. Presented below is table I compiled using global Internet statistics from Internet World Stats, which shows the Internet penetration rates in nearly every country in the world, and as an added bonus, it provides a very recent estimate of Facebook users within each country. I added four of my own metrics: Facebook Users as a Percentage of Current Internet Users Within the Country, Facebook Users as a % of Total Population, Current Untapped User Base (Those with Internet access whom do not have a FB account), and Potential User Base (Total Population - Current FB Users). I also shaded the countries based the percentage of Internet users who already had Facebook accounts. Red indicates that Facebook has not yet infiltrated the market, obtaining a number of accounts less than 20% of the current Internet user base in each respective country. A shading of green indicates that Facebook has already made a dent in the market, and their percentage of accounts/Internet users is already above 60% within the country.

I ranked the countries in a descending order according to their Current Untapped User Base. I like this metric because I think it shows exactly which countries Facebook still has the potential to make a large move into. There is no surprise that China is currently #1 on this list, with nearly half a billion occupants who are supposed to have zero access to Facebook. However, I was surprised at some names at the top of the list, most notably Japan, which goes to show that even as Facebook claims over 800 million accounts worldwide, it still has very large developed market for which it can still conquer. Once I compiled the data, I snooped around to see if Facebook was making any concerted efforts to capitalized on these untapped markets. Low and behold, Zuck is making the rounds seen here shaking hands with the Prime Minister of Japan, emphasizing the company's efforts to grow within the Japanese market. With Twitter experiencing rapid growth and closing in on 30 million users in Japan, Facebook sitting at less than 1/3 of that leaves a lot of room for growth on the table. This is an extremely bullish development for Facebook, and goes to show just how much growth Facebook has yet to achieve in not only the emerging markets but the developed nations as well.
Thus, it is to no surprise that in Facebook's Q1 2012 user growth by country, many of the names that found themselves highlighted in my chart above were also at the top of this list according to social media advertising and data company Optimal. The Top 15 countries, according to their net new accounts added in the first quarter were as follows: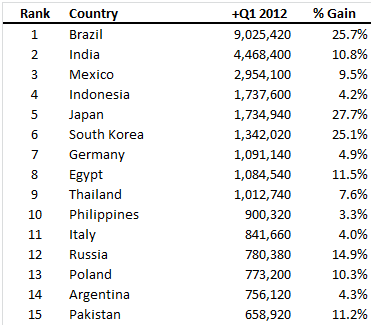 I expect this macro trend to continue, as Facebook maintains its growth into countries that have a large base of Internet users along with a low penetration rate of Facebook accounts. In many of these countries, Facebook faces little to no competition. If people think that Google's redheaded stepchild, Orkut, will maintain its social media dominance in Brazil and India then they need to have their heads examined. However, others will not be as easy. China still poses a significant challenge, even as Zuckerburg continues to perfect his mandarin and frequently visits the country. I believe they will eventually partner up with one of the Chinese Internet behemoths. Tencent makes the most sense due to the strategic relationship they have with Naspers (OTCPK:NPSNY) and Digital Sky Technologies, two very large Facebook shareholders. My article pertaining the relationship between these three companies, specifically in regards to the little-known Naspers, can be found here.
The growth story is not bulletproof. Zuckerburg and company face a number headwinds as they try to expand their reach and build upon their monetezation efforts. They are plowing a great deal of money into acquisitions, and the recent patent acquisition with Microsoft was for a "cool" $550 million. The delay of their IPO is hinting that they still have some loose ends to tie up and their books may not be ready to face the scrutinizing glare Wall Street is sure to give once they go public. The move into China will be a challenge, even more so as they have begun to crack down on on the Internet social media space as it tries to ease the political rumors swirling about the country. Zynga also looks to be losing its steam and that may weigh down on FB's bottom line in the future.
However, even with all of these challenges, I believe Facebook has a significant amount of growth still ahead. Its advertising revenue is a drop in the bucket compared to the industry leader, Google, not to mention the advertising industry is a pretty big ocean ($500 billion/year) for them to disrupt and steal market share away from traditional segments as companies and brands continue learning what are the most efficient ways to utilize Facebook's social platform. We also discovered that Facebook has the ability to be a global social powerhouse, as hundreds of millions of Internet users still do not have an account, even if you write off China as a no-go. Japan, Brazil, and India are all starting to see extreme growth in 2012, and looking at the statistics, its highly plausible Facebook could gain 100 million new users from these three countries alone. Also, we know that user growth is not the only way for Facebook to grow their reach, as the trends show that minutes per user per day is also seeing moderate growth. As Facebook continues to invest in its platform (10% of revenue went to R&D in 2011), enhance the user experience, diversify its revenue streams, and maintain a focus on innovation, we can expect this trend to continue. Based on the size of the market that Facebook is currently in (advertising), the size of markets they should eventually disrupt (ecommerce/enterprise), in addition to the massive amount of reach they have, I do believe that Facebook should be worth $75 to $100 billion dollars today. If they continue to execute on their expansion and grow their business model beyond advertising and virtual goods, they will be worth significantly more than this. Only time will tell for sure, and the jury is still out on whether or not Zuckerburg is up for the challenge, but the numbers don't lie and they hint that Facebook has an extraordinary amount of reach- maybe the largest in the world- with no sign of topping out any time soon.
Disclosure: I have no positions in any stocks mentioned, and no plans to initiate any positions within the next 72 hours.
Additional disclosure: I am long shares of Naspers (OTCPK:NPSNY)