Public Service Enterprise Group (NYSE:PEG) is an electric and natural gas utility with assets in New Jersey, Pennsylvania, New York and Connecticut.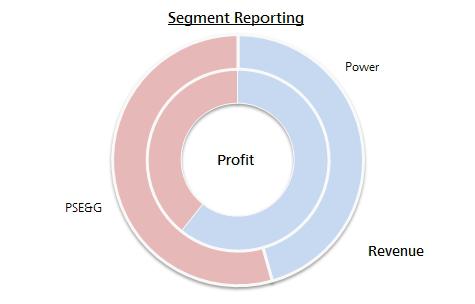 Public Service operates through two key segments, Power and PSE&G, and a third segment, Energy Holdings that produces only a very small portion of profit.
The Power segment has produced the greatest portion of profit in recent years and comprises the company's power generation assets which are operated on a wholesale basis. The Power segment generated about 56% of its electricity in 2011 through the operation of three nuclear facilities comprising five units. One unit is wholly owned while the remaining four units are partnerships with Excelon (NYSE:EXC). Public Service operates two of the facilities and Excelon operates the remainder. The unit's operating licenses expire starting in 2033 with the last in 2046.
The next largest source of electricity produced in 2011 was natural gas at 28% with coal following at 15% and other sources at 1%. Public service maintains an interest in two base load coal plants operated by a third party in Pennsylvania while the remainder of the company's load following and peaker units and are primarily natural gas, although the company does maintain two mid-sized load following coal plants as well. Overall, about 34% of the Public Service's capacity is base load, 43% is intermediate and 23% is peaking.
PSE&G is the second largest segment in terms of profitability and comprises the company's New Jersey regulated distribution and transmission assets, serving end users. For 2011, PSE&G provided 2.2 million customers electricity and 1.8 million customers natural gas. In electricity, about 57% of sales were to commercial entities, 33% to residential and 10% to industrial. In natural gas, comparable figures were 36%, 60% and 4%, respectively.
The company's smallest segment, Energy Holdings, is primarily focused on holding leveraged leases in smaller generating assets. In addition, the company owns and operates a number of solar power projects in multiple U.S. States.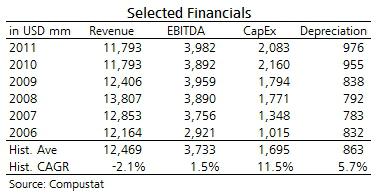 Revenue at Public Service has declined slightly from $12.2 billion in 2006 to $11.8 billion in 2011, largely driven by fuel costs. EBITDA has grown at a 1.5% compounded annual rate over the period reaching $4 billion in 2011. Capital expenditures have increased from $1 billion to $2.1 billion, an 11.5% rate of expansion due to heavy capital expenditures at the regulated utility in recent years. Such expenditures are well above the rate of depreciation.
Profits in 2012 are expected to be down, with analyst forecast EPS at $2.34 versus the prior year figure of $2.76. The primary reason for the expected decline is falling wholesale electricity prices which have been driven down by low natural gas prices and somewhat weak electricity demand. Given the forecast level of EPS, EBITDA in 2012 should be about $3.6 billion translating into $2.9 billion of gross cash flow.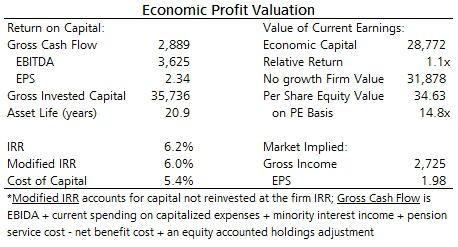 Public Service is employing some $35.8 billion of gross capital with an average asset life of 20.9 years. With $2.9 billion of gross cash flow, this translates into an IRR of 6.2% and a modified IRR of 6.0%. Given a real cost of capital of 5.4%, Public Service generates a return relative to cost of about 1.1x. On net economic capital of $28.8 billion, the firm's justified firm value, assuming no growth, is about $31.9 billion or on an equity value per share basis, $34.63.
It is likely that the market is discounting a fall in earnings below $2.34, if not this year than in the next several years, due to lower wholesale electricity prices, in turn driven by lower natural gas prices. In my view, the market is discounting about $2.00 of long-term earnings power. Turning to growth for a moment, because Public Service's returns are near the cost of capital, there is very little value in growing the firm. Even 10 years of 1% real growth would only add less than a dollar per share of value.
Public Service has a desirable set of assets for a utility in that its environmental footprint is favorable due to the relative lack of coal generation, which itself is somewhat ahead of the curve in terms of pollution controls. As with all nuclear utilities, there is always the possibility of an accident which creates significant losses for equity investors and there is no minimizing that risk. Earnings weakness is another short-term risk and the current situation is somewhat akin to catching a falling knife, although in this case it may be more like a butter knife than a chef's knife. Earnings will fall, but in my view the absolute level of earnings power over the long-term should stay above $2.00 which would make the stock at least fair value. It should be noted as well that Public Service has a low level of debt relative to most utilities, making the equity a somewhat less volatile investment. Overall, the shares represent good long-term value, in my view.
Disclosure: I have no positions in any stocks mentioned, but may initiate a long position in PEG over the next 72 hours.