Crocs, Inc. (NASDAQ:CROX) makes footwear, apparel accessories, and sporting equipment. The company is primarily known for its use of "a closed-cell resin, called Croslite, which produces a soft, lightweight, non-marking, slip and odor-resistant shoe." The shoes are reportedly very comfortable, although I have never worn them.
The company reported earnings this past Wednesday and conducted its 3Q conference call. Although the company reported record earnings, the stock dropped approximately 50% in response.
The most worrisome aspects of the 3Q were the 200% inventory increase and 165% increase in accounts receivable. The first increase can result from stuffing its sales channels, or more likely, from some of its product not selling, as shoes go out of style and inventory builds. I do not completely believe the company's explanation that it's trying to build inventory and had delays in shipments. What is the purpose of having the significant manufacturing and distribution capacity discussed in the transcript, if not to meet demand on time? The increase in accounts receivable corresponds mostly to the increase in revenue but may have also been a consequence of retailers not paying on time.
Although the stock closed this past Friday at $47.52, which is down from its recent high of $75.21, I believe the stock is still overvalued. When compared to similar companies, the fundamental value ratios for Crocs are significantly higher. For example, Nike (NYSE:NKE) trades at P/E of about 19, a P/S of approximately 2, and a P/B slightly greater than 4. The ratios of companies such as Timberland (NYSE:TBL) and Skechers USA, Inc. (NYSE:SKX) are significantly lower. The ratios for Crocs, even after the recent drop in share price, exceed these companies with values equal to about 33 for P/E, 6.5 for P/S, and 12 for P/B.
To justify the current price, Crocs must increase its revenue approximately 200% and avoid any missteps. Although possible, I think it more likely that the stock price drops in response to failure to meet future expectations.
CROX vs. NKE vs. TBL vs. SKX 1-yr chart: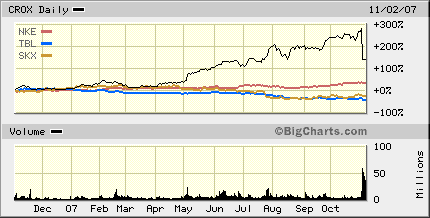 Disclosure: The author does not have a position in any stocks discussed at the time of writing.