As businesses continue to embrace the migration of operations through traditional methods to more efficient and productive online methods to maintain their company records, InternNAP Network Services (NASDAQ:INAP) stands poised to capitalize on this logical transition. InterNAP provides network solutions for businesses to move their critical processes, documentation, supply chain management, and customer relations management online. As businesses continue to increase their profit margins through higher productivity levels InterNAP will provide the business solutions for their continued growth and optimization of their current networks and workforce.
Two interesting facts to consider when gauging investor sentiment regarding InterNAP and its market in general are its short interest ratio and institutional ownership. Although nothing wax effusive has manifested itself these incremental advances are bullish nonetheless. Institutional ownership now accounts for 60% of outstanding shares. 33 new positions have been taken. 79 have increased ownership while 46 have decreased their holdings resulting in approximately a million share increase of institutional ownership. The short interest has steadily declined over the last several months leading to the upcoming earnings report. With five million shares short in the September short interest reading that number has declined to 4.5 million shares short in October.
InterNAP Network Services reports earnings on Tuesday November 6th, 2007. The average analyst consensus estimate for InterNAP is .03 per share for the third quarter and .04 per share for the fourth quarter this year. For the fiscal year 2007 InterNAP is projected to lose .20 per share. While losing .20 per share appears dreary it provides an opportunity to accumulate shares of a promising company at a very reasonable price once the consensus estimates for 2008 are considered. In 2008 the analysts predict InterNAP will profit .46 per share on revenue of approximately 300 million which equates to growth of 25-30% yoy.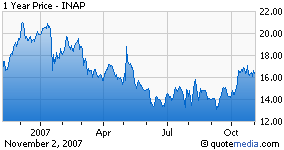 Disclosure: none