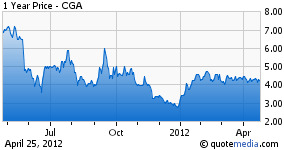 In July 2011, I wrote an article that discussed the doubts surrounding China Green Agriculture's (NYSE:CGA) credibility and the devastating effect these concerns have had on its share price. Based on its current valuation, it is clear that the company continues to be hounded by the uncertainly created last year by short seller attacks made more credible by the implosion of a multitude of reverse merger Chinese IPOs. To elaborate on how this caustic environment continues, just last night on Mad Money, Jim Cramer told a caller that he can't recommend ANY Chinese stocks except Bauidu.com (NASDAQ:BIDU) because of the history of fraud and problems in U.S. listed Chinese stocks no matter how good they may look.
CGA shares traded as high as $18.70 in December 2009, yet fetch less than $4.50 today, despite a string of solid earning reports. I've been in and out of these shares over the last couple of years and with another earnings release coming up, I've reestablished a position as the valuation metrics of these shares tell me that the company remains incredibly undervalued and the potential rewards outweigh the risks given a pair of potential upcoming catalysts.
Recent progress CGA has made defending itself against class action lawsuits, without taking any monetary hits, speaks to its success in defending itself and, one can only assume, a strong case presented against law firms that earn their living by instigating class action lawsuits against public companies:
On March 30, 2012, the judge of the First Judicial District Court of the State of Nevada in and for Carson City (the "State Court") issued an Order of Final Approval of the Settlement in the three consolidated shareholder derivative actions pending before the State Court and dismissed those actions. The dismissal and judgment was entered on April 5, 2012. As a result of this settlement, all the derivative claims are released. The plaintiffs' legal fees and expenses of $650,000 have been paid by the defendants' insurers.
The dismissal of the four derivative actions does not involve another class action lawsuit filed in the Nevada Federal Court on October 15, 2010 which has yet to be resolved.
Catalyst No. 1
Normally, one would not exert too much effort in examining the settlement of a class action lawsuit. However, given that the credibility issue continues to hurt CGA shares, I looked a little deeper into the settlement. This settlement requires CGA to adopt the certain "Corporate Governance Reforms," and goes on to list several steps the company has agreed to take. Among them, the most significant potential catalyst that could help the share price move higher, upon its implementation, follows:
The Company agrees to use its best efforts to retain either a "Big 4" audit firm or a large international audit firm for its next fiscal year (July 1, 2011 - June 30, 2012).
The actual announcement naming a Big 4 audit firm should really help the company achieve a more normalized valuation as any Big 4 firm is sure to do its homework before signing an engagement letter to perform the audit work, especially given the current environment. Only two months remain before the end of the fiscal year targeted by this stipulation.
Catalyst No. 2
CGA should be reporting earnings by May 15th, 2012 (based on prior years). Could another good quarter finally crack the "great earnings versus credibility" stalemate holding back the share price?
Valuations Matter
To get an idea of just how undervalued CGA is, the following table provides the side-by-side comparison of the company to Agrium (AGU), a major global fertilizer competitor The last two columns of the table are the most revealing, as they take the side-by-side comparison of the first two valuation metric columns one step further by calculating the share price of CGA using AGU's respective metrics, and by calculating the share price of AGU using CGAs respective metrics. The numbers are rather interesting, and illustrate how undervalued CGA would be if it can overcome its credibility issues: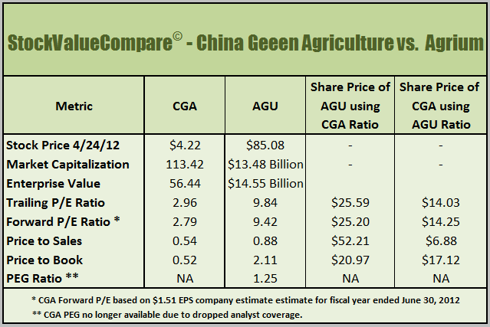 Disclosure: I am long CGA.
Additional disclosure: These are the personal views of Wall Street Titan and should not be used for your investment decisions. All investors should always do their own due diligence before investing their hard earned money.