Chuck Prince, CEO of Citigroup (NYSE:C), is gone - and the stock is down. For all the hatred Chuck inspired during his tenure (yes, those are all links to different stories), I thought there would be some sort of relief rally to make up for the $58 billion in market cap that has been wiped out in the last month. Guess not… maybe it has something to do with the "additional $8-11 billion in subprime writeoffs" that Citigroup will have to take? Hmm, I'm good at giving ranges like that when I describe my bank account while trying to impress girls - Cullen for Citi CEO? I'll save it for another time - but seriously, that amounts to half of Citi's net income last year and one-seventh of their net tangible equity and shows we aren't close to the end of the writedowns, for whatever that's worth.
Leading off with eight stories on why Chuck Prince did a terrible job has made me inadvertently jump to conclusions. I can't talk about Citi's changing/toxic corporate culture like Roger Ehrenberg, but I can try to present some perspective on Citigroup's performance during the Chuck Prince era. Did Citigroup do as terrible as everyone thinks during his tenure, or is Prince unfairly being blamed for the mortgage and credit mess gripping Wall Street?
Citi was trading just under $50 in early 2004, the first full year Prince was in charge. Valuation: 13.8x earnings. Valuation now: 8.2x earnings. I realize accrual earnings are flawed here with the variability in writedowns in particular and the differing levels of transparency, but a 40% EPS multiple compression is going to be difficult to overcome.
But Bank of America (NYSE:BAC) was trading for 16.25x earnings in early 2004, and it now trades for a flat 10x earnings - a 38.5% multiple contraction, but nonetheless, BAC is up 15% since the start of 2004, and C is down 25%.
Of course, J.P. Morgan (NYSE:JPM) is up roughly the same as BAC. JPM's EPS multiple trend during this time? Having started at 20.4x in early 2004, JPM currently trades for 8.95x trailing earnings - a 56% decline.
Citigroup stock isn't down simply because of multiple compression, as one might argue was the case with Bob Nardelli's time at Home Depot (NYSE:HD), it just hasn't grown as fast as J.P. Morgan (earnings up 150%) and Bank of America (up 101%). Citigroup has increased earnings by 22.5% under Chuck Prince, and that simply hasn't been enough to offset the declining multiples given to financials.
Alright, so earnings might be a flawed metric. Since Citigroup's balance sheet strength has been called into question with the "will-they-cut-the-dividend" analyst report sending shockwaves through the financial community, consider the change in equity during Prince's tenure relative to B of A and J.P. Morgan:
Citigroup: $98B at the end of 2003, $127.75B last quarter - or 30.34% total growth
Bank of America: $48B at the end of 2003, $135.75B last quarter - 183% growth
J.P. Morgan: $46.15B at the end of 200, $119.2B last quarter - 158% growth
By this metric, Prince and Citigroup lose again. But wait, both B of A and J.P. Morgan saw huge growth in intangible assets, whereas Citigroup showed hardly any. What happens if we strip those out and use tangible equity?
Citigroup: $56.55B in 2003, $65.55B mrq - 15.9% total growth
Bank of America: $35.6B in 2003, $57.69B mrq - 62% growth
J.P. Morgan: $31.16B in 2003, $57.76B mrq - 85.3% growth
Given the current price of Citigroup, its effective dividend yield is over 6%. Time to buy? I still don't see a coherent plan within the company, and I don't like the derivatives exposure - yet at the same time, the dividend looks to be intact and there seems to be a compelling sum-of-the-parts argument. I don't want to go much into the BAC vs. C argument here, but I think it should suffice to say that the time for change was long past due at Citigroup.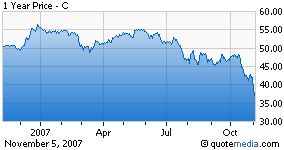 Disclosure: none