According to Sina Tech, Sohu (NASDAQ:SOHU), Baidu (NASDAQ:BIDU), and Tencent (OTCPK:TCEHY) have agreed to form a partnership in their online video units in response to the merger of Youku (NYSE:YOKU) and Tudou (NASDAQ:TUDO) to promote content sharing among the three platforms.
The Sohu-Baidu-Tencent partnership will effectively:
Challenge Youku-Tudou's dominance of China's online video market
Lower the cost of content acquisition
Enhance user experience through platform integration and content sharing
Spur additional M&A activities in the industry
Youku-Tudou's Dominance Is Not Guaranteed
In my March 12th note titled, "Youku-Tudou: A Potent Force In China's Online Video Market", I pointed out that:
China's online video industry is undergoing consolidation amid rising bandwidth and content costs, and companies are trying to establish economies of scale through M&A
Youku-Tudou will become the leading online and mobile video platform in China with no clear number 2 in sight
Smaller players, such as Ku6 Media (NASDAQ:KUTV), could become attractive acquisition targets as other large players, such as Sohu and Baidu decide to consolidate them to compete against Youku-Tudou
The Sohu-Baidu-Tencent partnership has established a faction that can effectively challenge Youku-Tudou in China's online video market.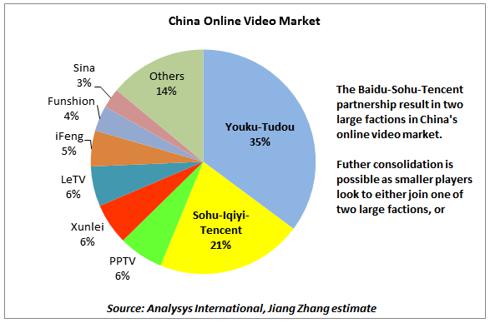 Baidu's online video unit, iQiyi, is a critical piece of the partnership. At the end of last year, the unit accounted for approximately 7% of China's online video market, compared to Sohu's 13%. Despite its relatively small market share, iQiyi generates over 230 million unique visits from PC users alone and ranks second in China on time-spent among China's online video service providers, according to both iResearch and ComScore. iQiyi's participation in this partnership is critical because it is unlikely that Sohu can challenge Youku-Tudou with Tencent alone, because Tencent's online video market is insignificant.
Content Price Should Continue to Decline As Industry Consolidates
According to Deng Ye, CEO of Sohu TV, Sohu-Baidu-Tencent will share 12 TV series total and purchase video copyrights together exclusively under the agreement. As the number of competitors that bid for contents decreases, the cost of acquisition is likely to decline and this could be a signal for margin improvements for all three companies.
Viewers Are The Ultimate Beneficiaries
In my view, the ultimate beneficiaries from the fierce competition among Chinese online video providers are the viewers. The integrated online video platform for Sohu-Baidu-Tencent will allow users to:
Access large content library from multiple channels
View quality videos sooner due to lower acquisition cost
Expect More M&A Activities Ahead
The Sohu-Baidu-Tencent partnership changed the industry landscape in which two large factions account for close to 50% of the industry market share, while smaller players, such as Sina (NASDAQ:SINA), Xunlei, PPTV, and LeTV, are fragmented among the remaining portion.
The smaller players have limited option on competing against the two large factions due to lack of competing capital for content acquisition. From a strategic perspective, the choices available to the remaining players are:
Focusing on building in-house productions to attract viewers
Merging with one of the larger factions
Forming a partnership within themselves
In my view, the third option is a real possibility among Sina, PPTV, Xunlei, and LeTV, which combine for 21% of the online video market share.
A merger or a partnership between these three players will not only result in similar synergy to that of Sohu-Baidu-Tencent pact in terms of content sharing and acquisition, but, most importantly, create an oligopoly that in theory will allow the few dominant firms to achieve long-run abnormal profit.
The reason why I believe Sina will be part of the pact is that Sina is unlikely to bet its entire future on Weibo, therefore it is likely to follow rival Sohu's footsteps to diversify its revenue stream. Since Sina already lags behind rivals in the online video space, it makes sense for the company to maintain a relevant presence via partnerships.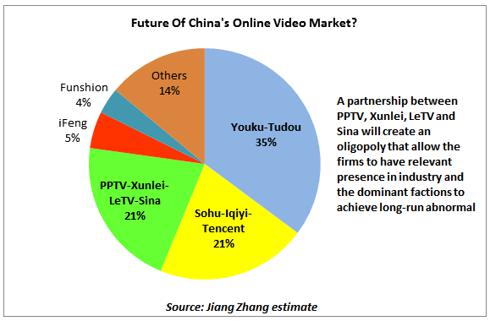 Disclosure: I have no positions in any stocks mentioned, and no plans to initiate any positions within the next 72 hours.