It's when the press starts to pay attention to a previously mundane and undercovered topic that the smart money gets into a sector. I've been fortunate enough to catch this with everything from (NASDAQ:
CROX
) and hot Chinese holdings (NASDAQ:
FMCN
), (NASDAQ:
BIDU
) and (NYSE:
CHL
) to (NASDAQ:
GOOG
) shortly after its IPO. Conversely, I missed it with Apple (NASDAQ:
AAPL
) and Amazon (NASDAQ:
AMZN
) following even the best of buying opportunities. Such is the investor's dichotomy.
Tonight, I was listening to a fav, "Bloomberg on the Economy", on Sirius and they featured a special guest espousing his views on the current water shortage and the impending crises to come worldwide. I've read about this before, and for a bit, our investment club (when we were active) owned a water ETF, but I haven't revisited it in years. Following my trip home, I opened up the paper to see that the cover of the Health & Science section was dedicated to the same topic. Before it hits Oprah and everyone buys in, it's time to roll up our sleeves and do some research.
The main ETF that garners attention is
PowerShares Water Resources (NASDAQ:PHO)
, which launched in 2005. Additionally, I've come across
Powershares Global (NASDAQ:PIO), Claymore (NYSEARCA:CGW)
and
First Trust ISE Water Index Fund (NYSEARCA:FIW)
. They all have slight differences worth investigating further, but any one of them act as a pretty good proxy for this particular situation. In some circles, aside from the cliche that countries wage war over oil, the future is countries waging war over clean water supplies. Time will tell.
These ETFs stand to benefit from the continued infrastructure boom in the developing world, where the standard of living of citizens attempts to reach parity with those in the developed world. Right now, 1 in 6 people on this planet do not have access to clean drinking water. As this becomes more of a lightning rod for non-governmental organizations and governments alike, just like vaccines, antibiotics, micro-loans, etc., we will see increased spending on water infrastructure.
As indicated in the attached chart, for the most recent 6 month period, they all exceed the return of the S&P500, which shows as essentially flat compared to 5-10% returns.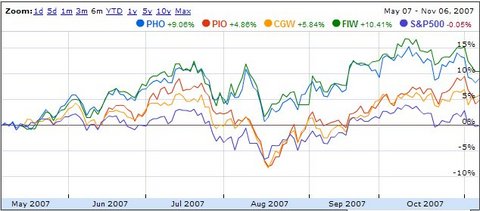 The top 10 holdings of PHO make up less than half of its weighting. Additionally, note that these are primarily small cap stocks, so you'll somewhat track the index and avoid the conglomerate distraction that occurs when you buy a (NYSE:GE) for instance, thinking you can benefit from a surge in the water treatment boon.
A few from the top:
FRANKLIN ELEC INC (NASDAQ:
FELE
)
IDEX CP (NYSE:
IEX
)
ITRON INC (NASDAQ:
ITRI
)
LAYNE CHRISTENSEN (NASDAQ:
LAYN
)
ROPER INDUST INC (NYSE:
ROP
)
TETRA TECH INC (NASDAQ:
TTEK
)
VEOLIA ENVIRONN ADS (VE)
WATTS WATER TECH A (NYSE:
WTS
)