In my previous article Protein Bomb: The Case for Long-Term Investment in Arable Farmlands, I talked about the rising protein demand and how it creates a long term prospects for investing in farmlands. We will now look at the China factor, given its 1.3 billion population, rising living standards and its effect on global food value chain.
China's goal to attain developed country status is progressing in full speed and we will now discuss how it strains the regions natural resources. China's industrial revolution that began some two decades ago has led to massive migration to urban areas. Since 1980 the number of people in Chinese cities has surged from 191 million (17% of total population) to 622 million (50% of total).
Share of population by residence (%)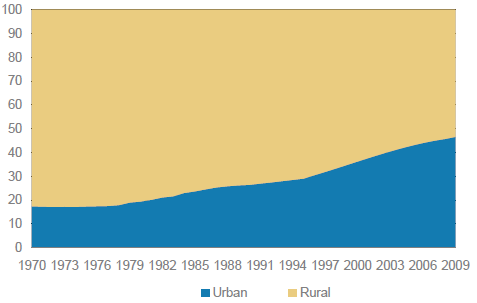 Source: Chinese National Bureau of Statistics
China has also witnessed explosive GDP growth during the period, clocking an average of 11.2%. Though analyst consensus point to GDP decelerating from 2012, consensus estimate at 8% is still high. According to IMF, 2010 per capita GDP stands at US$4,382 (19x more than 1978 of $226). This robust economic growth coupled with urbanization continues to pave the way for China's economic ascendency. The Chinese middle class will expand to 31% of the total population by 2015 (12.4% in 2005), which implies addition of around 27 million entering this economic strata every year. This would spell a golden age for the Chinese consumption story with rising income levels and poverty rates on the decline. Some forecast project China total consumption to reach 2/3rd of the current US level by 2020.
People in urban of China spend 2.7x more on food items than those living in rural area. While some of the difference can be attributed to higher prices, a significant chunk comes from higher living standards that follows urbanization.
Annual per capita food expenditure (RMB thousands)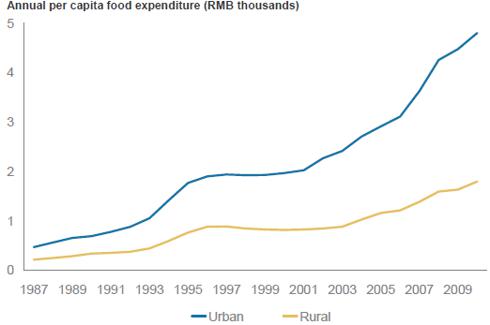 Source: CEIC
With Chinese cities on an expansion mode and migration towards urban centers continuing on a rapid pace, the ability of average Chinese citizens to upgrade their diets will continue to drive outsized growth in premium food items. It is not so much that the Chinese eat more when they move to the cities. It is rather the composition of their diets which changes. The effect gets more magnified gives its large population of 1.3 billion (4x US population).
China already is a large consumer of consumer of commodities and its share of global grain is expected to rise with rising per capita income. Moreover westernization of diet characterized by more fat- and protein-intensive meals would increase its share of grain demand.
Share of global consumption (%)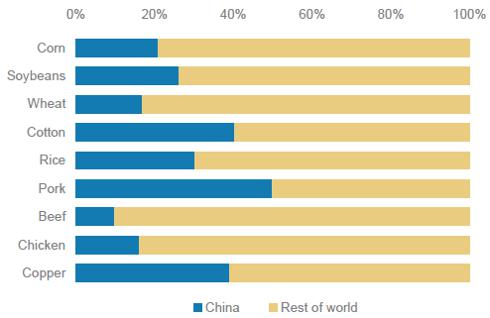 Source: FAO
The Chinese citizen diet has ample room for growth compared with the developed market. Even more important is the composition of the diet rather than the size.
Daily Calorie intake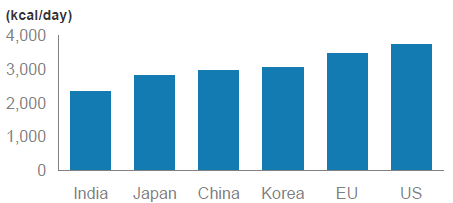 Source: FAO
Chinese diet which is currently grain intensive, would be more of protein based constituents. For example Meat, dairy, and vegetable oils collectively account for 742 kcal/day of the total Chinese diet. Now let's see what would be the intensity of China's protein demand comparing it with South Korea. For South Korea, 43% (1,300 kcal/day) of daily calories come from simple grains, and roughly 776 kcal/day come from meat, dairy, and vegetable oils. Given Chinese per-capita consumption of beef, chicken, and pork were to increase to South Korean levels, China would need to increase annual meat consumption by nearly 5.5 billion pounds, or 8%, from today's levels.
% of calories consumed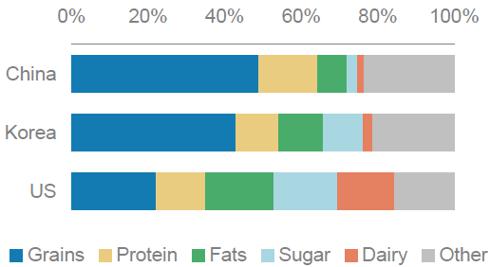 Source: FAO
China is behind the US and other industrialized nations in total protein consumption. Beef and chicken account for 26% of major protein consumption, versus 75% in the US and 51% in South Korea.
Chicken and Beef Consumption to Grow with Increased Income

Source: USDA
Agriculture accounts for close of 10% of China's GDP, employing 40% of the workforce. However in the coming years, incremental population growth with rising incomes and a shifting to protein diet, will create trends in Chinese food consumption that are likely to strain the limits China's ability to increase domestic food production enough to sustain self-sufficiency. The major challenges China faces to its aim of goal of self-sufficiency remains limited access to natural resources, with land and water.
With Chinese stuffing themselves with more meat, only the world's largest grain exporters are big enough to deliver on the scale the Chinese will need. It will be countries such as Argentina, the United States, Russia and Australia that are likely to benefit from the Chinese protein feast.
This will largely benefit the Agriculture services and logistics providers in the US, who have large global crop networks. For example, China is already the world's largest importer of soybeans, and the gap between domestic supply and demand should only widen in coming years. Companies like Archer Daniels Midland (NYSE:ADM) and Bunge (NYSE:BG) will benefit due to their material exposure to US crop logistics.
Another region, Latin America being a key supplier of food to the world would also benefit. This region is the clear candidate to capture global food demand growth because it is a structurally low-cost producer in many commodities and has plenty of available land and fresh water. Here Adecoagro (NYSE:AGRO) and Brasil foods (NYSE:BRFS) are the key players who have exposure to the China's protein story.
Disclosure: I have no positions in any stocks mentioned, and no plans to initiate any positions within the next 72 hours.