Future Technology Trends: A Historical Perspective
New technology trends usually don't come out of nowhere. Instead, they hibernate, and when their springtime comes, they flourish. Solar cells have been around for decades. But a confluence of events, including German solar energy subsidies, led to a market lift-off starting about ten years ago, peaking about four years ago, before going through its current downturn. First Solar's (NASDAQ:FSLR) current cadmium telluride thin-film business was founded in 1990, and floundered for a decade without much investor recognition before starting small-scale production in 2002.
Spring does not last forever. First Solar's spring moved into a sizzling summer where production increased from 25 MW (megawatts) in 2005 to over 1000 MW in 2009, and an IPO at $20 in 2006 skyrocketed to $311 in 2008. Then came autumn followed by a current harsh winter, where management announced a major downsizing of production a few weeks ago, and the stock price is now below its $20 IPO level.
First Solar, $18.56, Last Five-Year Price Chart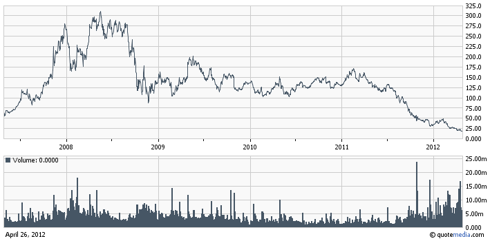 Thus, when investors show "irrational exuberance" (in the bespoken words of Alan Greenspan), based on extrapolations of current trends over several years, using smooth, rising analysts' forecasts, ride the momentum wave, but don't fall in love with it.
Cloud computing is a current hot technology trend that I have discussed in past articles (see here for latest article). In 2001, our Quan Ventures II fund invested in Elity Systems. Elity developed a rules-based software engine that rapidly processed large amounts of disparate data. In 2012, our Quan Technology Fund was fortunate enough to receive an allocation of Splunk (NASDAQ:SPLK) shares. Splunk is similar to Elity, although Splunk is much more robust in pulling-in, indexing, searching, and analyzing terabytes of unstructured data. The difference was that Elity arrived before its time, and was eventually acquired at a low valuation. Today's current powerful network processors such as the Romley chip from Intel (NASDAQ:INTC) and super-fast interconnects from Mellanox (NASDAQ:MLNX), run on EMC (EMC) servers, using VMware (NYSE:VMW) operating systems, sitting on huge data farms from Amazon (NASDAQ:AMZN) and Google (NASDAQ:GOOG), have finally created the infrastructure for mega-data analysis tools like Splunk to succeed and create an ROI for customers.
Technology is dynamic. The graveyard is overflowing with past leading tech companies that could not adjust to disruptive technologies. Twenty-five years ago, Digital Equipment - acquired by Compaq, and subsequently by Hewlett-Packard (NYSE:HP) - was a leading computer company, but then lost out to cheaper, more flexible personal computers enabled by Intel, Microsoft (NASDAQ:MSFT) and Dell (DELL). Twenty-five years ago, IBM (NYSE:IBM) was also a technology leader. Unlike Digital Equipment, IBM successfully transitioned from hardware to software and services. While IBM has deep hooks into its customers, new technology disruptions discussed below will challenge management. The sedate consumer staples sector is the other end of the spectrum. Twenty-five years ago, Coca-Cola (NYSE:KO), Nestle (OTCPK:NSRGY), and Unilever (NYSE:UL) were the leading consumer food companies, and they still are today.
Today, Nokia (NYSE:NOK) is facing a crisis as Apple (NASDAQ:AAPL) and Android-enabled smart phones from Samsung (OTC:SSNLF) and HTC (2498.TW) have passed it by. Nokia is now a struggling mobile hand-set manufacturer that has lost control of its operating system and related applications that define the smart phone world today. Similarly, companies like SAP (NYSE:SAP), IBM , and Oracle (NYSE:ORCL) are slowly losing out to software-as-a-service (SAAS) companies like Salesforce.com (NYSE:CRM). Their reaction was to acquire leading SaaS companies like Success Factors and Taleo. But the cannibalization of their core business in future years will be difficult to overcome. In the future, relational databases (e.g. Oracle or IBM's DB2) will need to embrace the extraction and organization of unstructured data sources provided by innovative companies like Splunk and privately-held Factual. Factual has a very disruptive technology for data-driven decision making, harnessing terabytes of "clean" data that is directly sourced.
Cisco (NASDAQ:CSCO) is an interesting example of a company that has maintained its market leadership by acquiring leading-edge technologies, and distributing those technologies into Cisco's global client base as part of an integrated, proprietary solution. The emerging OpenFlow communication protocol, however, may commoditize network hardware from companies like Cisco (and this commoditization could occur even if Cisco incorporates OpenFlow into its routing network). That said, OpenFlow will take years to move from early-adopters with tremendous networking resources like Google, to the mainstream enterprise and telecom markets.
OpenFlow is a protocol that allows software running on two or more routers to determine the most efficient network pathway for packet transport. OpenFlow can be viewed as an enabler of Software Defined Networks (SDNs). These SDN's could replace the slower, pre-defined access control lists and routing protocols that are used today. Google has already adopted SDN into its network architecture - see here. The leading independent SDN's are privately-held Big Switch Networks, Nicira, and Arista Networks.
As is often the case, the most innovative, leading-edge/bleeding-edge technology companies are venture-backed. While the track record of many venture funds have been spotty at best for over a decade, there are a few VCs that are well-positioned in the next wave of disruptive technologies. Index Ventures comes to mind, as an early-stage investor in both Factual and Big Switch Networks.
Rob Kalman contributed to this article.