Onyx Pharmaceutical (NASDAQ:ONXX) stock price jumped almost 9% yesterday as shown below: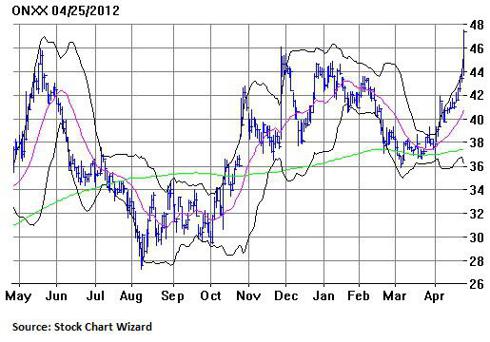 Today, the company announced that an FDA advisory committee is to review the company's new drug application for carfilzomib for the treatment of relapsed and refractory multiple myeloma. According to the press release, "Multiple myeloma is a deadly disease for which there are no cures, and we are committed to bringing carfilzomib to patients as quickly as possible." Additionally, the press release stated that multiple myeloma is the second most common hematologic cancer and results from an abnormality of plasma cells, usually in the bone marrow and that more than 50,000 people in the U.S. are living with multiple myeloma. Worldwide, the number of people afflicted with multiple myeloma is more than 180,000.
There's also been some recent buzz related to Onyx Pharmaceutical potentially being acquired by Bayer. The acquisition of Onyx by Bayer makes sense, as the companies have been working closely together for the development and marketing of Nexavar® (sorafenib) and regorafenib. Nexavar® is an oral anti-cancer therapy for liver cancer and for the treatment of advanced kidney cancer. Regorafenib is a late-stage oncology compound and is currently being investigated in clinical trials for potential treatment of various types of tumors.
Competitors to Onyx include Genentech (private), Novartis (NYSE:NVS) and Pfizer (NYSE:PFE).
With Onyx's recent spike, an investor might desire to continue to invest in the company, but protect the investment in case the stock price decides to come back to earth. A protected covered call enables an investor to continue to profit from an increase in a stock's price and also protect the position from a large drop in stock price. A protected covered call can be entered by selling a call option against a stock and using some of the proceeds from selling the call option to purchase protective put option. Using PowerOptions tools to search for protected covered calls revealed an Onyx Pharmaceutical protected covered call as the highest returning position as shown below:

Not too far behind Onyx Pharmaceutical were memory storage company Fusion-io (NYSE:FIO), weight management and nutrition company Harbalife (NYSE:HLF), online travel company Priceline.com (NASDAQ:PCLN) and online professional networking company LinkedIn (LNKD).
For the protected covered call search, profitable companies were included in the search by searching for a Price-to-Earnings ratio of greater than zero. Additionally, the maximum potential loss was limited to 8%, as a loss of 8% or less can typically be recovered fairly quickly using option income investing strategies.
The highest returning Onyx Pharmaceutical position has a potential return of 4.0% (60.8% annualized) and a maximum potential loss of 6.9%. The maximum loss for the position is limited to 6.9%, even if the price of the stock goes all the way to zero. The Onyx Pharmaceutical protected covered call shown above can be entered by selling the 2012 May 47 call option for $2.90 and purchasing the 2012 May 42 put option at $0.80. A profit/loss graph for one contract of the position is shown below: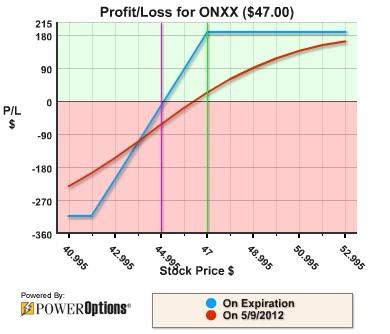 For a stock price less than the $42 put option strike price, the value of the protected covered call remains unchanged, even if the price of the stock drops all the way to zero. Additionally, if the price of the stock increases to around $55 the position can most likely be rolled in order to realize additional potential return.
Disclosure: I have no positions in any stocks mentioned, and no plans to initiate any positions within the next 72 hours.