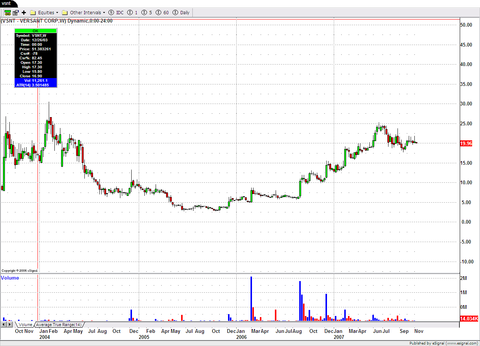 As market speculators, we have to digest everything in the markets. From the extravagant headlines to the not so sexy ones. We must also use logic and rationality to dumb things down and to see reality as they are. I will not pose much of an opinion here, but merely suggest it, and take note of interesting prices in the markets. Because at the end of the day, it is the price that moves us to act and to think and to criticize.
The Nasdaq 100 index, an index I also use in conjunction with the NYSE index, is currently at 2200 levels. But lets see the price movement as it is, because with our eyes, when we look at charts, we see formations that really are not there because our eyes play tricks on us. Most people look at a chart and see lines. I see price.
Facts:
Bottom of the Bear Market: 10/11/02 @ 890 level
Rally to the top prior to correction: 1/23/04 @ 1559 level
Correction Bottom levels: 8/13/04 @ 1301 levels
Rally to top prior to correction: 1/07/05 @ 1635 levels
Correction Bottom Levels: 4/22/05 @ 1401 levels
Rally to top prior to correction: 1/13/06 @ 1761 levels
Correction Bottom Levels: 7/21/06 @1446 levels
Rally to top prior to correction: 2/23/07 @ 1851 levels
Correction to Bottom levels: 3/09/07 @ 1710 Levels
Next Rally High: 7/20/07 @ 2060 levels
Next Correction Bottom:  8/17/07 @ 1805 levels
Currently: 2200.46 levels
Analysis
Notice the bottom price movement: 890, 1301, 1401, 1446, 1710, and 1805.
From this along with further analysis, I will say that the market, tech especially, will take lead and should take lead. And I do believe Cisco (NASDAQ:CSCO), even if they do come in line, will increase guidance and the conference call will be satisfying for Wall Street to say that the telecom is still in play.
Enter Versant Corporation (NASDAQ:VSNT)
The Group's principal activity is the provision of object-oriented data management and data integration software for real-time computing infrastructure of enterprises. The Group's core products are Versant Object database management system, highly scalable database management system and client server architecture. The Group licenses its products directly to end-users, principally through four types of licenses--development licenses, deployment server licenses, deployment client licenses and project licenses. The Group operates in the United States, Germany, the United Kingdom, France, Australia and India.
The company isn't covered by any analysts nor is it a losing company. Well it was, but it's back to profitability by cutting down costs. The company also has little to no debt, and a good amount of cash on hand given this small company with a market cap of only 73.19 million. And the shares outstanding? Only 3.9 million O/S, which means that it will move fast in a strong tech market. While it may not be best of breed, with no analyst sponsorship it is "zero of breed" as I call it, which implies lack or little to no institutional sponsorship. This is probably the case because last fiscal year was their first year of profitability. What gets me is their strong results as of late, with about $2.95 in cash, which implies that the stock is cheap with $11 million in cash.
Not only that; in their recent quarterly performance, they began raking in profits with quarterly revenues up some 40%. For the quarter, Versant reported revenues of $5.2 million from its continuing operations, compared to $3.8 million for the comparable period last year, representing an increase of approximately 40%. License revenues increased 51% from $1.9 million in the third quarter of 2006 to $2.9 million in the third quarter of 2007. Maintenance revenues increased 29% from $1.7 million in the third quarter of 2006 to $2.2 million in the third quarter of 2007. Versant also reported an increase in cash and cash equivalents of approximately $0.5 million during the quarter, resulting in a cash and cash equivalents balance of approximately $14.5 million as of July 31, 2007. Based on the first three quarters' performance in fiscal 2007, Versant is raising its guidance for fiscal 2007. The Company expects total revenue for full year fiscal 2007 to be in the range of $19.6 million to $20.1 million. For fiscal 2007, the Company estimates net income to be in the range of $6.7 million to $7.0 million, resulting in estimated diluted net income per share between approximately $1.79 and $1.87 for fiscal 2007.
Disclosure: Author has a long position in VSNT