The single best-performing stock in the restaurant sector last year was Chipotle Mexican Grill (NYSE:CMG). It has been a bonafied high-flier, rising 87% since the beginning of 2011. As is often the case with high-fliers, there is good growth and a strong story propelling the stock higher. Chipotle is a simple concept restaurant that specializes in burritos and tacos made to order. In the most recent quarter, it reported 35% year-over-year (YoY) earnings growth and 26% YoY revenue growth. It has excellent ROE, superior cash flow and a pristine balance sheet. That the company is well managed and displaying robust growth is hard to dispute.
However, sometimes expectations can get ahead of even the best results. Or investor emotion ("momentum" if you will) can get ahead of results. Such appears to be the case with CMG. While Chipotle has increased revenue 26% and earnings 35% in the last year, the stock price has climbed 49%. This is less a story of expanding growth than one of an expanding earnings multiple. Expanding all the way to the 55ish P/E multiple at which it currently trades. For comparison's sake, slower growing rivals like McDonald's (NYSE:MCD) and Yum Brands (NYSE:YUM) trade at P/Es of 17 and 23, respectively.
But fundamentals seldom motivate my trading ideas. Charts do. And the chart tells me that the time to short CMG is here or near.
Looking back over the last 16 months, we see that CMG has formed a rising "channel." In the first quarter a steep rise took it back to the top of the channel, and when it broke under the steep trendline that had supported the rise throughout 2012, I shorted.
(Click charts to enlarge)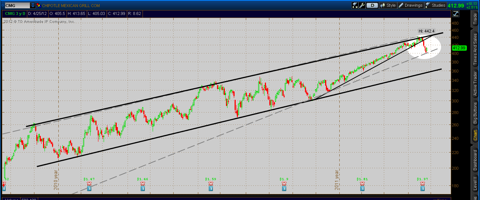 Initially, I only noticed the breakdown within the channel. I figured the trade was good for a couple percent. We got our couple of percent in just a few days, but it turns out there is much more at stake. If we go back six years and look at a logarithmic chart, CMG has formed a very clear rising (bearish) wedge. This pattern typically resolves to the downside, and given the time frame and price range involved, a downside resolution could likely be quite significant. CMG is currently sitting on the wedge's bottom support trendline. Even if it doesn't break down here, it would appear that the pattern is within months of a resolution one way or the other.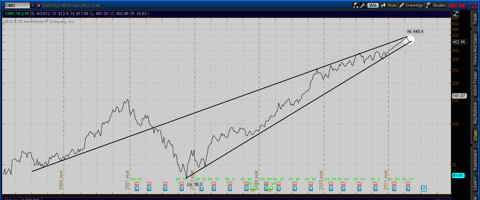 The chart is my impetus for the trade, but I believe the fundamentals support the case.
2008 was very unkind to CMG, as it was to just about every stock. This, despite Chipotle's strong fundamental performance. The company generated 22% revenue growth and 11% earnings growth, but the multiple contracted from 40+ to 20. Since bottoming in late 2008, the multiple has steadily grown from 20 to 60. Multiples expanded for most of CMG's restaurant competitors in 2011-12 as well, but none like the 50% expansion CMG has experienced - going from a P/E of 40 at the beginning of 2011, to 60 just a week ago. Since 2008, earnings have increased 186% while the share price has risen over 650% and the P/E ratio has risen over 170%. This is a rise primarily driven not by earnings, but by expansion of the earnings multiple.
The history of "hot" restaurant chains is as troubling as the pricey valuation. We've seen this movie before. Cheesecake factory (NASDAQ:CAKE), P.F. Chang's (NASDAQ:PFCB), and Red Robin Gourmet Burgers (NASDAQ:RRGB) all surged between 600-1000% during multi-year runs in the last decade. All topped out and pulled back over 50% before regrouping.
I don't think the good folks at Chipotle are going to forget how to make burritos or that management will make a giant mistake. There doesn't have to be a catastrophic catalyst for the price to contract. If the market just turns its attention elsewhere and the momentum crowd moves to a different target, the multiple will contract. The stock would need to drop 28% to bring the TTM earnings of 7.26 down to a P/E of 40.
In summary, Chipotle is an outstanding company whose stock has likely gotten ahead of itself. The chart sets up very bearishly, and a break to the downside of the rising (bearish) wedge pattern I've noted above could mean significant downside. To those who are long CMG, I would seriously consider taking profits on a break to the downside of that pattern. To those looking for a short opportunity, one may soon be at hand in CMG.
Disclosure: I am short CMG.