iShares S&P Global Telecommunications (NYSEARCA:IXP) fared better during the past year than it has during any one- year period since its 2001 inception—a lot better, in fact. IXP suffered severe losses during the bear market of 2002, then stumbled along for the next three years, with six positive quarters and six negative quarters between 2003 and 2005. Since then the fund has taken off, surpassing its pre–bear market highs early last year, generating seven consecutive positive quarters and gaining nearly 37% for the year ending November 2. That could mean that IXP is due for a correction. But it also may suggest that IXP is on firmer ground than it was a few years ago, in a very different environment for the telecommunications sector.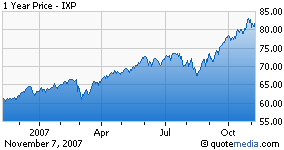 Telecommunications stocks in general have surged during the past year, but IXP has fared especially well in that same period—better than have 87% of funds in Morningstar's communications category for the 12 months through early November. IXP's returns stand out over the long run too: The fund's returns of 21.08% and 19.88%, respectively, for the three- and five-year periods ending November 2 ranked it in the top percentile of its category.
One reason IXP has outperformed its telecom competition is its international breadth. IXP invests in stocks from dozens of countries, typically keeping about 70% of its assets invested in foreign markets. So while the performance of domestic telecommunications funds depends upon the continually fluctuating environment in the U.S. telecom sector, this fund benefits from the diversification that results from its global mandate—and from the fact that many of the world's most profitable markets and many of the world's most successful telecommunications companies reside outside the U.S. Only a handful of the largest telecom firms in the world even operate in the U.S.
Consider the differences between the year-to-date returns of IXP and its domestic cousin, iShares Dow Jones U.S. Telecommunications (BATS:IYZ). IYZ as of November 2 had gained about the same amount as had the S&P 500—around 7%—while IXP had surged more than 29%. That rally jolted IXP from number 22 on the ETF Momentum Table as of August 21 to number six last week, while IYZ plummeted from number 16 to number 28.
Another characteristic that makes IXP stand out is its extremely top-heavy portfolio. The 46 stocks that recently made up IXP's portfolio had an average market capitalization of nearly $95 billion, and about 80% of the fund's holdings were considered giant-cap by Morningstar. In other words, only the largest telecom firms in the world make it into this fund's portfolio. In fact, six of the world's ten largest mobile network providers are represented within IXP's top ten holdings.
While cell phones are now ubiquitous in most industrialized countries, many parts of the world still have little access to any kind of telephone. Telecommunications firms throughout the world are working quickly to change that and are making a sizable profit in the process. Meanwhile, consumers in the industrialized world are becoming increasingly dependent on their phones' many functions, from email and Web surfing to audio playback and photo storage. Between those two enormous trends, telecommunications firms have a host of new markets to compete for and countless new products to sell.
Companies like top holding AT&T are scrambling to find new ways to deliver telecommunications services through whichever technologically advanced device appears to be well- positioned for the latest product cycle. AT&T's launch of the iPhone last June is sure to help the company's wireless unit slug it out in the lucrative but ultracompetitive U.S. market, where the firm remains a dominant presence in nearly every corner of the telecommunications industry. At the same time, companies like number nine holding América Móvil are rapidly winning over markets in such countries as the Dominican Republic and Puerto Rico. América Móvil, which now has 169 million wireless subscribers and operations in 16 countries, was recently singled out by Morningstar as one of the most enticing international telecom stocks.
Whether IXP continues its recent rally will depend in large part on the fate of its two top holdings, AT&T and Vodafone, which together make up about 28% of the fund's total assets. Both companies currently are enjoying steady growth and dominant market positions. Shareholders and prospective shareholders here should keep in mind that evolving technologies, unpredictable regulatory hurdles and intense competition constantly reshuffle the landscape in this sector. Still, this fund could be a good match for investors who are looking for a small stake in a fund that offers strong potential growth, won't move in lock-step with U.S. markets and provides exposure to shares of big com- panies with strong cash flows.