You don't have to agree with every aspect of "Dow Theory" to appreciate one of its most venerable features. In particular, the Dow Jones Transportation Index should lead the way higher for the Dow Jones Industrial Average.
Why has this particular axiom maintained a level of popularity for more than a century? In essence, transporters "take" materials to the industrial giants that "make" goods. It follows that if transportation companies are increasing profits, their share prices should rise, thereafter blazing a trail for industrial producers.
Granted, the theoretical construct may or may not strike a chord with the investing population today. Some argue that the movement of raw goods is less critical in service-oriented economies.
Nevertheless, a large percentage of technical traders do pay attention to the relationship between the price of the transports segment and the price of the industrials sector. I myself view changes in the price ratio between the iShares DJ Transports (BATS:IYT) and the SPDR Dow Jones Industrials Average (NYSEARCA:DIA), or IYT:DIA.
In a word or three, when the IYT:DIA line is climbing, the transportation segment is outperforming the indistrials segment. This is what many Dow theorists and technicians like to see in a healthy bull market period. Indeed, this is precisely what we witnessed from the lows of October 2011 to the start of February 2012.
Click to enlarge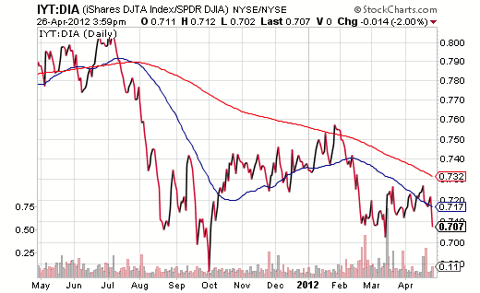 Since the beginning of February, however, IYT:DIA has trended downward. It is below a 50-day as well as a 200-day moving average. And while the drop-off isn't as dramatic as what occurred in July 2011, the direction is still disconcerting.
The headlines may ballyhoo a blowout earnings season for Apple, or they may trumpet an overwhelming majority of corporations beating their profit expectations. Still, United Parcel Service (NYSE:UPS) registered a dismal 2.4% decline in its quarterly earnings. Was the UPS "miss" an isolated incident? Is air and truck delivery in decent shape? Or, conversely, is there sufficient reason to believe that global commerce is weakening?
One thing is for certain: The ETFs that are hitting fresh 52-week highs typically excel in conservative investing environments. The winners include dividend funds like iShares High Dividend Equity (NYSEARCA:HDV), high-yield corporate bonds like SPDR High Yield Corporate (NYSEARCA:JNK), REITs like Vanguard REIT (NYSEARCA:VNQ), pharmaceuticals like PowerShares Dynamic Pharmaceuticals (NYSEARCA:PJP) and intermediate-term investment grade corporate credit like iShares Intermediate Corporate Credit Bond (NYSEARCA:CIU).
In truth, with the S&P 500 near 1,400 and the Nasdaq well above 3,000, I wouldn't sweat underperformance from iShares Transports (IYT). Then again, smart ETF investors have stop-limit orders and/or hedges to protect against the possibility of a drastic downturn.
Disclosure: Gary Gordon, MS, CFP is the president of Pacific Park Financial, Inc., a Registered Investment Adviser with the SEC. Gary Gordon, Pacific Park Financial, Inc, and/or its clients may hold positions in the ETFs, mutual funds, and/or any investment asset mentioned above. The commentary does not constitute individualized investment advice. The opinions offered herein are not personalized recommendations to buy, sell or hold securities. At times, issuers of exchange-traded products compensate Pacific Park Financial, Inc. or its subsidiaries for advertising at the ETF Expert web site. ETF Expert content is created independently of any advertising relationships.