A family member from Washington DC visited us in Toronto this weekend and as we got to talking about how much 'green' was in the news, she was surprised at the difference in waste management in Canada versus the U.S. Fortunately for Toronto residents, our city has made very good progress in forcing residents to recycle. The end result is that it really is in your best interest to recycle. While organic waste and recycling is picked up every week, garbage is capped at two bags and is only picked up every other week. If you didn't have an incentive to recycle properly before, you will one your garage smells like a landfill.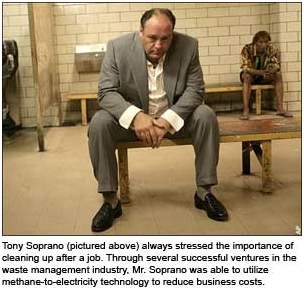 So what does this have to do with finance? Well, obviously the waste management business is benefiting from this. Not only has it become easier to make use of waste through specific sorting by the different recycling boxes residents use, but there are now more ways than ever to make use of this waste.
Startech Environmental (OTC:STHK.OB) is a pioneer in the waste management field. Using their recycling technology, the Plasma Converter, Startech is capable of converting both hazardous and non-hazardous waste to useful commercial products. These products include metals, silicates, chemicals, and various forms of fuels for electricity generation.
A more common approach to creating value from trash involves using the methane gas given off by organic waste to power a generator and produce electricity. There are few business models out there that are as attractive as this. A business can charge you for a service, the byproducts of which allow them to subsequently profit even more.
BFI Canada [TSX: BFC.UN] provides waste management service to Canada as well as the Southern & Northeastern U.S. states and is benefitting from these developments. Methane gases, which are created by the decomposition of organic waste, power an 11 MW generator at BFI's Seneca Meadows site in Waterloo, NY.
Casella Waste (NASDAQ: CWST) is redesigning existing landfills to convert methane gas to electricity and plans on harvesting as much as 35 MW when complete.
Lastly, Waste Management (NYSE: WMI), is making significant headway into this field. WMI details several environmental projects on their website. And why wouldn't they? They're saving cash and generating positive PR for the company. WMI currently uses solar panels to reduce their power use at their Arizona landfill site. They also provide 1/4 of the energy used at the BMW plant in Greenville, South Carolina by methane to electricity conversion.
So there you have it. Businesses are 'cleaning up' by creating efficient methods of cleaning up.
Full Disclosure: Author does not hold a position in any of the securities mentioned.