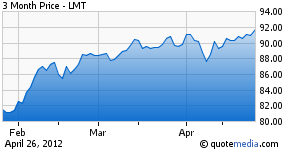 This week Lockheed Martin (NYSE:LMT) broke out from the pack of its competitors by reporting growth in both revenue and earnings (see earnings call transcript). Recent trends have seen defense contractors with declining revenue and some profit increases. The concern with Lockheed is this performance will continue despite the negative potential of defense spending reductions and a recent strike at their Fort Worth, Tex. aircraft production facility. Lockheed's stock closed Thursday at $91.70 just 54 cents below its 52 week high and $25.76 above its 52 week low.
Lockheed has over the last year had growth in earnings thanks to an emphasis on cutting costs primarily reducing the size of their workforce and paying back pension liabilities. The last quarter it saw a decline in net income of 58 cents and profit by 17 cents a share. At that time the prediction for 2012 was $45 billion in revenue which remained consistent with previous estimates.
The first quarter of 2012 was much better as net sales increased $700 million year-to-year with earnings of $2.02 a share. The company, though, did hold firm on its predictions of $45-46 billion in sales for the year although it increased projected profit $50 million to $5.075-$5.125 billion.
Much of the improved performance was in the Aeronautics division. Sales grew by $554 million thanks to production of the F-35 Joint Strike Fighter (JSF), C-5B and C-130J transports and work on the F-16 fighter. The F-35 which is the most expensive defense program in world history will slowly increase its contribution to revenue as annual production rates increase. Right now the U.S. and its Allies are buying 30-32 aircraft a year but as the full rates of production are reached this number could easily double or triple.
Lockheed also had increased sales at the Electronics Systems division while the Information Systems and Space Systems saw declines. Even so all four made operating profits with Electronics leading the pack at $541 million. Only Information Systems profit was lower then last year's.
There has been some bad news for the company this past week. Workers at the Fort Worth F-35 production facility rejected the company's contract offer and went on strike. Previous strikes at the location have lasted upwards of 3 weeks and reports indicate that this one might last longer. The dispute as with many is over healthcare and pension proposals.
The strike could have a significant impact on production of the F-35 at a time when the program already faces pressures from cost increases and schedule problems. These delays could cause production to be further stretched out and delayed which would negatively affect revenue and earnings from what is the key component of Lockheed's aerospace future.
Overall the next few years will be difficult for the large defense contractors. Revenue and profit will be reduced from the recent past when the U.S. and its Allies were spending billions on the fighting in Iraq and Afghanistan. Many are trying to adjust to the new market by reducing costs including those related to personnel like health insurance and pensions. Manufacturing companies like Lockheed, Boeing (NYSE:BA) and United Technologies (NYSE:UTX) also have unionized components of their workforce that might lead to more strikes, delays in programs and reduced payments from the government.
Lockheed has had a good quarter starting out but going into the rest of 2012 results might not be so upbeat. The stock price has seen good growth along with the market as whole and is certainly a winner from the dividend side of things. Keeping the price this high might prove more difficult unless Lockheed is able to lock in some big contracts, keep performing on the F-35 and further adjust its costs.
Disclosure: I have no positions in any stocks mentioned, and no plans to initiate any positions within the next 72 hours.