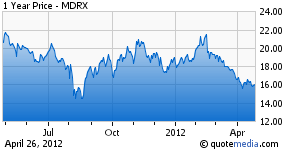 Allscripts (NASDAQ:MDRX) is today's disaster du jour.
The company lost nearly half its value in overnight trading after disappointing on earnings, warning on the future, and blowing out most of its top management in a coup staged by CEO Glen Tullman.
Allscripts blamed development costs in its earnings release but there were hints of trouble beforehand:
I covered the company for some years at ZDNet, during its go-go period, and had I been allowed to invest in the sector at that time I would have avoided it.
The reason was a series of deals in 2010 through which Misys got back its stake in the company while the company was acquiring rival Eclypsis.
To me the whole thing had the smell of a roll-up, buying market share without regard to what was behind the product curtain. Misys CEO Mike Lawrie came out smelling like a rose, and is now head of Computer Sciences Corp. But Allscripts, which was billing itself as a Software as a Service outfit at the time of the Misys deal, was always going to have trouble merging disparate product lines. Losing Gomez should have been investors' clue to get out.
Why was Tullman in such a hurry for market share? Blame it on that sweet, sweet stimulus cash.
CEO Tullman was always a political player. He was on the board of the health IT industry's certification committee before becoming part of the committee that drafted the "meaningful use" rules under which $19.2 billion in HITECH stimulus cash is now being handed out. Play the government game too long and you're very likely to take your eye off the ball.
With the firing of Eclypsis' former head, Phil Pead, plus three board members supporting him, plus the exit of Chief Financial Officer Bill Davis Tullman looks like the captain of the Titanic. Offering access via iPad is not going to solve the problem.
Analysts are surprised, given the earnings miss, that Tullman is staying while Pead is being shown the door. Some are calling for Tullman's head. But that would just leave Allscripts headless.
There are assets here. The company does have software used by clinics and hospitals that could be upgraded centrally. It's in the right place on the technology map. You could even call it a "cloud" medical software vendor.
But even with the latest drop in price the company is still larger, by market cap, than anyone else in the SaaS records business. It's logical that rivals like Cerner (NASDAQ:CERN), McKesson (NYSE:MCK) or privately-held Epic might be interested, but what Allscripts needs right now is an operations person, someone who knows software, not a financial engineer.
An insurance company like UnitedHealth (NYSE:UNH) or Aetna (NYSE:AET) might come in, or a mainline tech company like Hewlett-Packard (NYSE:HPQ) or Dell (NASDAQ:DELL) that wants market share might be interested.
But to attract a bid Allscripts has to fall harder than it's bound to fall today. Wait for this dead cat to bounce before you even think of getting in. And sell at the first sign of a bid.
Disclosure: I have no positions in any stocks mentioned, and no plans to initiate any positions within the next 72 hours.