In the past few years, few people have been completely wrong on the data center sector like Jim Cramer. Back in October 2009, he covered Equinix (NASDAQ:EQIX) in his "sell block" on CNBC, with several negative comments on the whole industry that can be resumed by the following highlights:
Get out of the data-center stocks.

I think the data center industry is in decline.

I see an industry that's about to be brought low by new technology, so I think you should sell, sell, sell.

(the video is still available at Data Center Knowledge, at this link)
While Jim Cramer admits that he is not an expert in technology, few calls have been wrong by such a large magnitude - unless, of course, we quote him once more.
First, a quick look at how data center stocks performed in 2010, courtesy of DCK: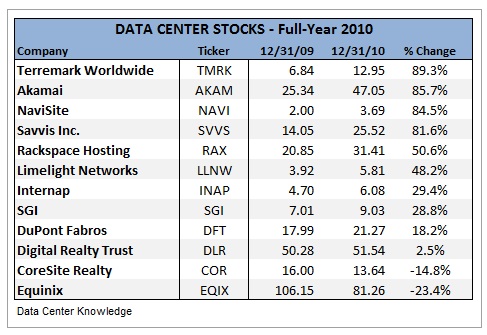 While his call on Equinix might sound right looking at this chart, as the company was one of the few players ending the year with a negative result due to a relatively small revenue warning in the last part of 2010, the data center industry achieved performances unparalleled by most sectors.
In January 2011, Jim was still bearish on Equinix, and the whole industry:
"A server play... I would be a seller of EQIX because I don't think the data centers, the physical space, is going to grow the way people think."
Nothing like a quick look at 2011 results to call his forecast slightly wrong, again. In 2011, three companies in the sector were bought out by larger players:
Click to enlarge

Investors in these companies enjoyed, on average, a 50% premium on their end-of-2010 stock price. Most data center companies delivered double-digit increases in price in 2011, as resumed in this chart: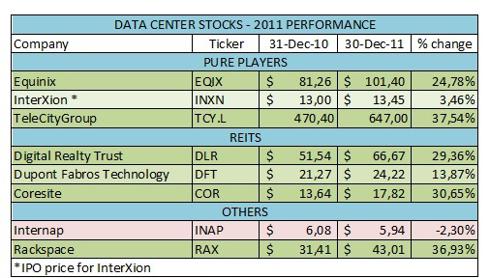 The first quarter of 2012 saw a very strong start for the sector, with several players beating their 2011 performance in just three months: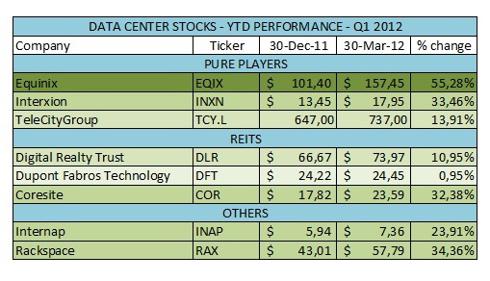 If you can't beat them, join them
Equinix delivered another solid quarter this week on Wednesday, beating analysts' expectations and increasing guidance for 2012.
Here is what Jim has to say about the company, which is now trading roughly 70% higher than at the time of his first, negative comments:
The big tech themes were in our faces these last 48 hours and while we all tend to focus, rightfully so, on the wonder that is Apple (NASDAQ:AAPL), all you need to do is take a look at the numbers coming from Equinix, Citrix (NASDAQ:CTXS), Xilinx (NASDAQ:XLNX) and Cirrus Logic (NASDAQ:CRUS) to know that there's a ton of strength out there in the ordering for cloud, big data, sophisticated cell phone demand and good features in those cell phones.

The huge number from Equinix bodes well for a continuation of the big data, big cloud secular growth stories. I regard EQIX, like F5 (NASDAQ:FFIV), as an integral manager to all of the data on the Web and where it gets stored.
Losing such a great contrarian indicator may pose investors several questions, including the main one: time for a correction, given the fact that most data center players have enjoyed very strong runs in the last few months?
Jokes apart, even Jim Cramer has finally come to the conclusion that the data center sector is at the intersection of several secular trends (internet growth, cloud computing, IT outsourcing, mobility, etc.) that will guarantee the sector strong growth for the next several years.
Nice to see you onboard, Jim.
Disclosure: I am long EQIX.