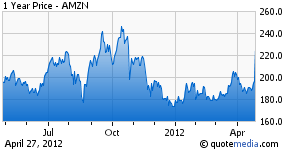 Amazon.com's (NASDAQ:AMZN) blow-out quarter has many bears rethinking their assumptions, and shorts squeezed to the wall.
The highlight is that the Kindle Fire grabbed over 50% of the Android tablet market within four months of its launch. Some are even wondering whether Amazon is losing money on the tablet at all.
The whole idea of a cheap tablet was to provide a conduit for selling digital files and for turning Amazon's store into users' default shopping experience. The Kindle isn't the only subsidy Amazon is offering customers, after all. Those who spend $79/year for Amazon Prime shipping are also getting to watch videos for nothing.
What the bulls noticed most is that those efforts are paying off in increased margins. Most of the top-selling products on the site are now digital products, which cost nothing to store or ship.
Amazon has been spending money to get into other new markets as well. It entered the industrial supply market this week, competing directly with W.W. Grainger (NYSE:GWW). It has become more aggressive in competing with Wal-Mart.com (NYSE:WMT). The e-book antitrust action by the Department of Justice is expected to benefit Amazon.
What the Amazon bulls ignored is that Amazon earnings were actually down from a year earlier, to 28 cents per share from 44. This implies a current PE of over 200. As the air gets thinner with those kinds of numbers, skeptics emerge.
What have the skeptics got to stand on?
Digital files may be profitable, but they cost less. Top-line growth suffers in the transition.

Even Apple has yet to make a substantial portion of its income selling files, as opposed to selling hardware. Why should Amazon be different?

Now that Amazon dominates Android hardware, will the software truly fork from what Google (NASDAQ:GOOG) offers?

Amazon's payroll is growing rapidly.
I see all that, but Amazon.com is now defining cloud computing. The Application Program Interface to its Amazon Web Services is becoming a de-factor public cloud standard, and it already has a huge share of that hosting market. That's a play on enterprise computing transition no other online company can offer.
At almost $225/share there is a lot for Amazon to justify. But it's justifying the multiple based on current results. Jeff Bezos is the new king of tech and who is to say his reign won't go as well as the last king's?