There is a tide in the affairs of men.
Which, taken at the flood, leads on to fortune...

-- William Shakespeare, CEO, Globe Theater, London
Procter and Gamble (NYSE:PG) sprang to prominence in the early twentieth century by introducing revolutionary, paradigm-changing technologies like Ivory floating soap, which saved many an "oops."
In 1961 they did it again, when they test-marketed another game-changing technology that irrevocably altered traditional child-rearing practices and the lives of the large member class of the human race known as parents. This product is the Pampers brand disposable diaper.
Fifties-model babies, such as myself, always sported cotton diapers, which were leaky and labor intensive to wash, though fortunately we had adults to do this for us. There was a disposable cotton inner diaper, an outer diaper made of toweling, all of which had to be fastened with large safety pins, and then a pair of waterproof plastic panties over the top to hold everything together. Along came the Pampers and the rest is history.
Procter & Gamble also manufacture a diverse range of other well-known brand name products, for example Ariel, Bold, Tide, Downy, Fairy, Cascada, Bounty, Braun, Crest, Dolce & Gabbana, Duracell, Iams pet food, Fixodent, Gillette, Head & Shoulders, Hugo Boss, Max Factor, Mr. Clean, Tampax, and Vicks medicines.
Click to enlarge.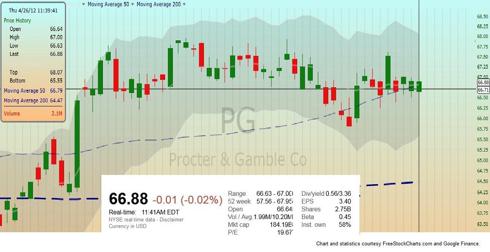 The stock is currently trading at $66.88 with a P/E ratio of 19.67 and a dividend of 3.36%. The dividend payout ratio is 57.68%, which is high, but not outrageous and should not be a cause for concern as the company announced a 7% dividend increase on April 13, 2012.
P&G has been paying a dividend for 122 consecutive years since its incorporation in 1890. This marks the 56th consecutive year that the company has increased the dividend, which is an outstanding record by any metric and can reasonably be expected to continue.
If there is any such thing as a buy and hold stock, this is it, and it is not easy to pick up cheaply. On Thursday May 6th, 2010, the stock opened at $61.91 and closed at $60.75 after touching $39.37. However this was the date of the infamous "Flash Crash" on which stocks momentarily plunged for reasons that have never been fully explained, but believed to be caused by computerized trading algorithms running amok.
However, there is no harm in putting in a bid for the stock at a seemingly unlikely price below the current level, as prices of even the strongest stocks tend to move with the market on days when there is apprehension about global economic data, especially the ongoing European debt crisis.
Although not a European stock per se, P&G sells its products in 160 countries, and every supermarket and pharmacy in Europe carries P&G products. But even in a climate of fiscal restraint, it is unlikely that many mothers will revert to hand-washing diapers as an austerity measure so P&G is a good defensive stock.
If you are comfortable with option plays and can afford 200 shares, a decent play would be to issue orders to your broker as follows.

There are three possible outcomes to this trade:
The sale of the put and the call would return $553 to you, and if the stock was called away in January at a price over $67.50 you would make a profit of $58 plus $553 plus the dividend, so close to 9% annualized.
If the stock finished between $67.50 and $65 on January expiration, you would get the same return as in 1, minus $58.
If the stock fell below $65 at January expiration, you would have another 100 shares put to you, at which point, taking into account the premium received when you sold the call and the put, your average basis for the 200 shares, you now owned would be $63.20 and you would also collect the dividend on the 100 shares you bought to open the trade.
Outcome 3 would actually be your most desirable result, assuming you want to own P&G for the long term, as you would now own more of the stock for less money.
Disclosure: I have no positions in any stocks mentioned, and no plans to initiate any positions within the next 72 hours.