Is Nordstrom Still A Good Buy?
I have been a big fan of Nordstrom (JWN) since I lived in California in the 1980s. When my family moved to Wisconsin, we always placed Nordstrom on our destination list when I visited my family in Los Angeles. We shopped there for children's clothing and shoes, I found unique shoes there for myself, and my wife and daughters loved their clothing (and still do!).
Recently, my wife asked me to make sure that we held some Nordstrom stock and I purchased some for her. In addition, JWN is a holding in my new "Sustained Momentum" model on Covestor. But besides the ever-present piano player (which apparently may be going by the wayside) by the escalator on the first floor, and the wonderful Nordstrom Rack division, which now is on our list of must-stop-and-check when we journey to the Mall of America, is this stock still a good buy after a rather significant price appreciation?
Since I mentioned price appreciation, let me point out that Nordstrom closed today (4/25/12) at $55.18 up $1.25 or 2.32% on the day. Looking at the StockCharts 'point & figure' chart on JWN:
Click to enlarge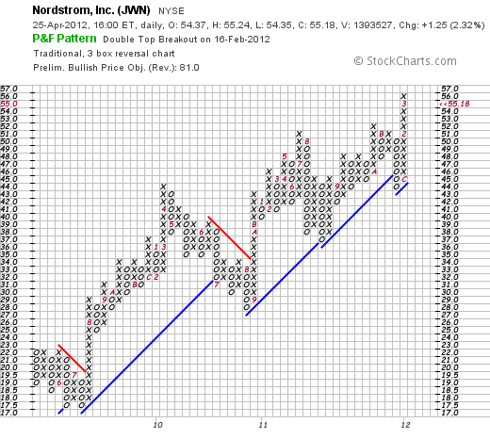 We can easily see the powerful uptrend this stock has experienced from its low at $17.50 in July 2009, to its recent price of $55.18. The stock underwent minor corrections in mid-2010 and 2011, but has once again resumed its upward momentum.
Nordstrom is more than just lattes and shoes. It has shown its savvy in adapting to a world of internet retail with recent purchases of Bonobos, which makes men's clothing, and the 2011 acquisition of HauteLook and Sole Society. This same article points out how Nordstrom is hiring up to 400 tech workers to staff its retail e-commerce division. It is becoming increasingly important to develop an internet presence to deal with the ever-growing domination of that space by Amazon (AMZN) and similar companies.
But brick-and-mortar sales must always define a retailer. And the best measure of the vitality of a retailer is not just the growth in sales, but the numbers reflecting same-store sales growth. And Nordstrom has much to crow about on this front as well. On April 9, 2012, Nordstrom reported same store sales numbers for the five-week period ended March 31, 2012. The company overall increased sales at an 8.6% clip, broken down as 9.3% for the mainline Nordstrom stores and 7.3% for the Rack Division. These numbers are quite impressive.
In terms of the latest quarter, Nordstrom reported quarterly results on February 16, 2012, with earnings coming in at $1.11, $.01 ahead of expectations, and revenue of $3.27 billion ahead of $3.15 billion expected. During the quarter, the company posted 7.1% same store sales growth. However, the company suggested that 2012 same store sales numbers would only come in at a modest 4-6% growth rate. (We can now see that this retailer is continuing to perform at a higher growth rate in same store sales than guidance would have us expect.) It guided to $3.30 to $3.45/share in 2012. However, this guidance was below expectations at that time of $3.60/share and the stock initially dropped on this announcement.
Examining the Morningstar.com "Financials" on Nordstrom, we can see that revenue has grown fairly steadily (with a slight dip in 2009) from $8.8 billion in 2008 to $10.9 billion in the year ended January 2012. Earnings growth has been less impressive - after dipping from $2.88/share in 2008 to $1.83/share in 2009, earnings recovered to $2.75/share in year ending January, 2011, to $3.14/share in the trailing twelve months (TTM). Shares outstanding have decreased from 249 million in 2008 to 218 million in the year ended January, 2012.
Latest figures from Morningstar show that Nordstrom has $5.6 billion in current assets against total current liabilities of $2.6 billion for a current ratio over 2. Free cash flow has improved from $(340) million in 2008 to $665 million in the TTM.
Turning to the Yahoo "Key Statistics" for some valuation numbers on Nordstrom , we can see that this is a large cap stock with a market capitalization of $11.47 billion. The trailing P/E is a moderate 17.57 with a forward P/E of 13.90 (fye Jan 28, 2014). Turning to the PEG for a feel for valuation of this growth stock, JWN is at a reasonable 1.37 ratio.
Nordstrom has 207.9 million shares outstanding, with 157.09 million that float. There were 5.61 million shares out short as of March 30, 2012, with a fairly significant short interest ratio of 3.90. The company pays a forward annual dividend of $1.08 resulting in a yield of 2.00%. This is an increase from the trailing dividend of $.98/share. The company can well afford its dividend with a payout ratio of 29%. Nordstrom last split its stock in July 2005, when it distributed shares for a 2:1 stock split.
Certainly, Nordstrom appeals to the wealthy shopper that seems to be less affected than the average shopper in this stressed economic time. The Nordstrom Rack discount division broadens this retailer's appeal for the middle-income shopper. The combined Nordstrom/Rack approach has enabled Nordstrom to maintain its appeal through the economic downturn.
But is Nordstrom still a 'good buy'? This is one of those instances where I must admit that my wife is right. It was a good decision to buy shares. (Her views are more in the Peter Lynch style of buying shares in companies you know possibly from your 'daughter at the mall'!) Now of course I am fortunate that she doesn't read my financial blogs and I trust all of you not to mention this to her.
Seriously, the company is exceeding its own guidance on same store sales growth, it exceeded expectations on earnings and revenue the last quarter, the P/E isn't rich and the PEG is under 1.5. The company has been building its revenue steadily, with perhaps a slower growth in earnings. Free cash flow is solid and growing and the balance sheet looks strong. The dividend is attractive and the company is increasing its payout with lots of room to do so again in the future. Technically, the stock is on a tear, and with its reasonable valuation, an improving overall economy, and the brilliant execution of this once Seattle shoe store expanding its reach across America, the future seems bright for JWN.
Now if somebody can please ask my wife and family to slow down some of their own purchases...
Disclosure: I am long JWN, AMZN.
Additional disclosure: I have a position in Nordstrom in my Covestor 'Sustained Momentum' Model and my wife shops frequently online at the store.
This article was written by
Robert Freedland is a medical professional by trade and an amateur investor who has been blogging on Stock Pick Bob's Advice since 2003. He has been investing in the stock market for 46 years, having made his first purchase at the age of 13 of five shares of Global Marine in September 1967. He enjoys sharing his philosophy and perspective on investing, both by blogging and podcasting. Visit Bob's blog: Stock Pick Bob's Advice (http://bobsadviceforstocks.tripod.com/bobsadviceforstocks/). Since 2009, he has been managing portfolios on Covestor, which now include Growth and Momentum (http://covestor.com/robert-freedland/growth-and-momentum), Sustained Momentum (http://covestor.com/robert-freedland/sustained-momentum), Healthcare (http://covestor.com/robert-freedland/healthcare) and Large Cap Momentum (http://covestor.com/robert-freedland/large-cap-momentum).