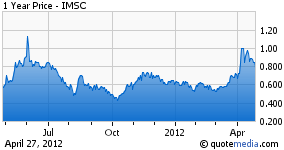 With new leaders, revenue possibilities, and positive outlook on government approvals, Implant Sciences Corp. (IMSC.PK) has positioned itself as an emerging player in the Security, Safety and Defense (SS&D) industry. IMSC develops explosives and narcotics trace detection systems to quickly collect and analyze samples for transportation, military and workforce safety and security purposes.
Explosive attacks, and their perpetrators, are difficult to identify as their tools are often inconspicuously disguised. Explosives do, however, leave microscopic traces on bomb-makers. Implant Sciences' technology, commercial products such as the QS-H150 Portable Explosives Detector and the QS-B220 Benchtop Explosives and Narcotics Detector, detect those traces in minute amounts (parts per billion) anywhere from hands and clothing of perpetrators to the door handle of their car. Other technologies require disposable traps that must be wiped or sprayed over a sampling. Disposable products incur a high cost-of-use and obvious direct contact with subjects. The Federal Transit Administration detailed the drawbacks of swab sample collection in a 2004 study of Explosive Detection Devices:
The greatest limitation of the equipment reviewed in this study was that the operator is required to handle the object to collect a swab sample. Improvements that could be made to change the sampling method are desirable. A vapor-based system, which would sample the air surrounding the package without touching it, would be superior.
Implant Sciences' proprietary systems outperform competitors' products with lower cost-of-use, non-contact sample harvesting (think dust buster, not cotton swabs), and non-radioactive ionization. Similar products offered by Smiths Detection, Inc. (OTCPK:SMGKF) and Morpho Detection, Inc. (OTCPK:SAFRY) use radioactive material in their ionization component, a deterrent to clients due to their inability to service products in the field, and shorter product lifespan - not to mention the inherent safety issues in radioactive material moving among the public. While Implant Sciences continues to generate revenue globally, major sales in the United States depend on certification by the Transportation Security Administration (TSA), probable by August. And certification appears likely with the addition of long-time advisor Bill McGann to Implant Sciences' management team.
As of March 19, McGann joined Implant Sciences as Chief Operating Officer, bringing with him a long history in the Trace Detection and Sciences field. McGann co-founded the first TSA-certified Explosive Trace Detector (ETD) provider, Ion Track Instruments, which General Electric (NYSE:GE) Security acquired for $190 million in 2002. GE pursued McGann as Chief Technology Officer for GE Security following the purchase; he lead GE globally in the Security sector before moving to United Technologies Corporation (NYSE:UTX) as VP Engineering, Global Fire Products. Of accepting the position at Implant Sciences, McGann stated, "I have seen enough to know that this Company has the technology, distribution infrastructure and management team to execute as leaders in the ETD space and transform the security equipment industry". Implant Sciences has been hiring aggressively in the second quarter in expectation of increased production and new revenue streams. Marketing Programs Manager Cheryl Debelis joined Implant Sciences, along with Andrew Anderson as Director of Engineering and Charles Fertitta as Quality Manager.
Production increases point towards a likely TSA approval in the fourth quarter, along with recent increase in international marketing. The QS-H150 portable explosives detection device and the QS-B220 Benchtop device were deployed at the Summit of the Americas in Columbia earlier this month for active use by the Columbian National Police in safeguarding heads of state from much of the Western Hemisphere. The devices will also be showcased at the upcoming Counter Terrorism Expo in London, one of the leading events for military, government, and law enforcement officials in the counterterrorism field. In March, Implant Sciences announced shipment of the QS-H150 to the United Kingdom, Taiwan and India for use in building security and by law enforcement; they have now sold over 1500 units to more than 30 countries worldwide.
Although Implant Sciences' products have bright prospects in transportation and military implementation, current national sales channels may be restricted to law enforcement and private businesses. Implant Sciences received their twelfth new patent in March for a "Narcotics and Explosives Particle Removal System" that will continue to open new market options, specifically in narcotics detection. For private companies the QS-B220 offers immediate narcotics detection for employees, circumventing costly traditional drug screening. Law Enforcement officials, most recently in Mississippi and Massachusetts, purchased the QS-H150 for use alongside K-9 detection squads. Opening distribution channels to local law enforcement agencies models the early marketing move of Taser International, Inc., (TASR) another SS&D sector company. Taser recognized the need to move from private citizen marketing towards law enforcement early in the decade:
It was critical to first prove the effectiveness of our technology in the professional law enforcement community.
Similarly, Implant Sciences is opening marketing options with national and local law enforcement businesses as they await approval by the TSA, a significant move towards capturing a greater domestic sales channel. For their 2011 fiscal year, sales of law enforcement products accounted for nearly 55% of Taser's $90 million in sales. Taser, however, has faced repeated and expensive litigation issues in recent years due to the direct-contact nature of their products, a problem Implant Sciences would not encounter with their vapor-sampling process; unlike competitors, Implant Sciences requires no contact for proper sampling (see below).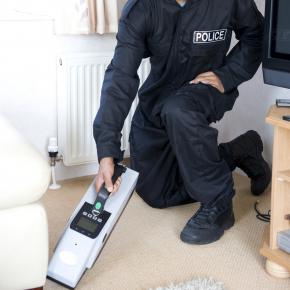 Law Enforcement Using the QS-H150
Another vote of confidence ahead of the anticipated decision by the TSA came from DMRJ Group, Implant Sciences' primary investor, who extended maturity of all indebtedness to September 30th of this year, from March 30th, as was set in agreement dating back to 2009. On the extension, DMRJ Managing Director David Levy commented, "Implant Sciences has made significant progress in achieving market success. They are shipping QS-B220 systems internationally, and have developed strong relationships with TSL and TSA, which are so critical to the domestic market." Though a ruling by the TSA could be perceived as a binary event, Implant Sciences continues to work towards diversified revenue streams notwithstanding.
Disclosure: I have no positions in any stocks mentioned, but may initiate a long position in IMSC.PK over the next 72 hours.