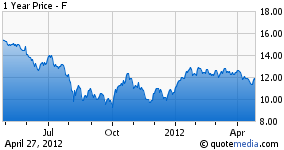 Ford (NYSE:F) didn't need bailouts like General Motors (NYSE:GM).
This has caused many people, like several family member's of mine and several commentators even here at SA, to have a political-like loyalty to them. It's a great marketing angle, and shows off the Ford spirit.
For investors, there's also likely a huge opportunity going forward, as Ford begins to get back on its feet as it's already starting to do.
Great Management. The managing team at Ford has been amazing over the last several years, seeing the company through a time others were going bankrupt, only to pay off debts regularly, increase incomes, and play with taxes in the most profitable manner possible. They're even now paying a 5 cent dividend just a couple of years after the very company was in danger of disappearing. That's Ford tough.
Asian Sales. China's economy is slowing down, but unless there's an actual recession, demand for Fords will be up over the next few years, especially as hundreds of millions of people enter the middle class for the very first time.
Sales and Rev. Ford's sales and revenue have increased steadily since several years ago, posting a 5% gain in March compared to March of 2011. Most of the boost was for the F-series trucks, and the slowest grower was the Lincoln series, which is a tragedy to me because the Lincolns are gorgeous. But I digress. Ford's future growth is likely to be their truck line, where their bread and butter is.
Interest Payments. Their interest paid has been dropping by chunks every year for the last few years, mostly because of repaid debt. They got a one-time cash boost from their taxes, as I'll talk about below, and a good portion of that is going to pay off debts. That shows the company is dedicated to slow and steady growth because paying off debt is a sure-fire way to make growth more likely over time and cut risks for investors. It's better to cut necessary debt payments by X than to increase one's income by X if for no other reason than increased security.
Better Credit. In light of everything above, Ford's credit was recently upgraded, and for good reason. This makes profitability easier for Ford and will push down the price of future debt over the long haul.
Future Dividends. When Ford eventually begins paying substantial dividends again (and I think that's inevitable, within the next decade), it'll allow investors to be getting 5-20% returns on the stock price paid now -- whether it's a good deal just depends on how fast this occurs. I'm bullish over the next 5 years.
Of course, it's not all wonderful news for Ford. A huge portion of their income last year was a one-time thing because of reaping in domestic and foreign tax deferments from the last several years. The overall impact was about 11.5b, which means that we likely won't see numbers even close to that next year without startling growth which is likely impossible. Still, that the income is a one-time ordeal is likely priced into the stock right now, which is why it would look "cheap" on a superficial level at least.
Overall, Ford is a great stock that has a future probably as rewarding as it's long past. I'm personally looking into buying the company, but am mostly waiting to see what happens with Asian growth first because that is likely one of the biggest medium term impacts to the stock market as a whole as well as F specifically, like I've said in my other articles about copper and commodities.
Disclosure: I have no positions in any stocks mentioned, and no plans to initiate any positions within the next 72 hours.