In my past two articles, I highlighted oil companies working the Silo Field. There is little surprise that most of the results have not been released, as I think many of the players are working the bugs out of their drilling and completion methods. For all the excitement surrounding the Silo Field, we have found the horizontal Niobrara to have "difficult geology". There is a different story coming from the Wattenberg Field, though. It is not only cheap to drill here ($4 million to $5 million), but its been repeatable and pay back times are short.
It is difficult to talk about the Niobrara and not bring up Noble (NYSE:NBL). It has 860,000 net acres in the DJ Basin, and has increased production 32% to 74 MBoe/d. Only 58% of this production is liquids, but we are not in the Bakken here, and the cheap well costs help to offset this. In my opinion, Noble is the leader here, with 32% of its 2012 cap ex program being spent on this play.
Click to enlarge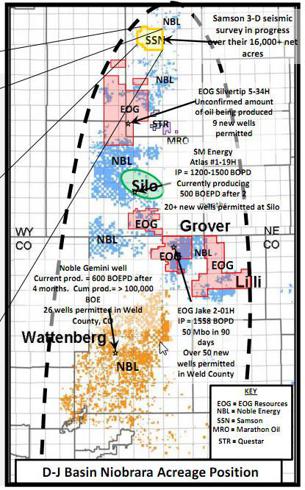 The image above gives an idea of the location of Noble's acreage in the DJ Basin. It is experimenting with longer laterals and has planned 12 to 15 this year; 75% of locations will be drilled on multi-well pads.
Noble has done a very good job of providing data in Wattenberg. The center of this field has a high GOR (gas to oil ratio). This area has an average 30 day IP rate of 750 Boe/d, with 40% of production being liquids. Its core area stretches around the high GOR area. Its 30 day IP rate average is 550 Boe/d, with 60% liquids content. Its extension area is to the northeast of Wattenberg Field; 30 day IP rates have averaged 480 Boe/d, with 75% liquids content. Well spacing is being evaluated at 40 and 80 acres. Given the additional pay zones, this may be possible.
Additional upside has been seen in northern Colorado. Noble has stated this area has produced much like the Wattenberg Field extension. 30 day IP rates have been approximately 550 Boe/d, and liquids content 85% (about 10% better than the extension area). Noble plans to drill 35 to 40 wells here in 2012.
Noble outlines the DJ Basin quite well with respect to results based on four key areas and the composition of production:
High GOR area: 20% oil, 22% NGLs, and 58% gas
Core area: 43% oil, 16% NGLs, and 41% gas
Extension area: 66% oil, 10% NGLs, and 24% gas
Northern Colorado: 79% oil, 6% NGLs, and 15% gas
Noble's most important completion to date is its Wells Ranch AE29-68HN. This 39 stage 9120 foot lateral was 78% liquids with a 7 month pay back. It has an EUR of over 750 MBoe, with a well cost between $7 million and $8 million. The image below shows the Niobrara and the different types of production each area provides.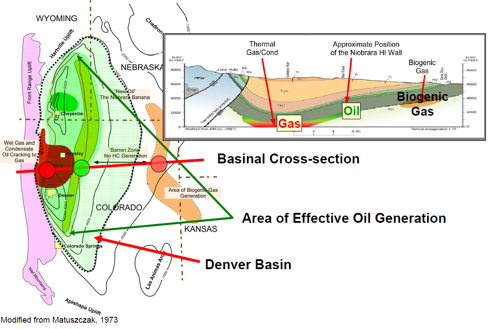 PDC Energy (PETD) has 71,400 net acres in the Wattenberg Field. It completed 17 horizontal Niobrara wells last year. Liquids content of 70 to 80% with EURs between 300 and 500 MBoe. It has averaged a 4000 foot 16 stage lateral and a peak 30 day IP rate of 450 to 800 Boe/d. PDC Energy has an average 24 hour and 30 day IP rates of 601 and 474 Boe/d. These numbers can be a little misleading, as improvements in drilling and completion methods are averaged into these initial production rates. If the first horizontal Niobrara wells are compared to the most recent, EURs improve from 300 to 500 MBoe. The IRR (Internal Rate of Return) also improves from 49% to 161% for a total PV10 improvement of $4.64 million.
Whiting (NYSE:WLL) has 73,611 net acres in its Redtail Niobrara Prospect. This acreage is in northern Colorado, to the northeast of Wattenberg Field. It has reported well costs of $4 to $5.5 million. It plans to drill eight wells in 2012. Back in August of 2011, Whiting reported the IP rate for the Wildhorse 16-13H at 1321 Boe/d. This was a 4,113 foot lateral with 21 stage frac. Whiting also four poor results:
Pawnee 16-13H: IP rate of 141 Boe/d
Terrace 36-11H: IP rate of 105 Boe/d
Chalk Bluffs 36-13H: IP rate of 99 Boe/d
Whiting decided to change well orientation to a northeast azimuth from an east to west orientation. The Horsetail 18-0733H had an IP rate of 718 Boe/d from a 6296 foot lateral. This well was drilled 12 miles northeast of the Wildhorse well. Whiting will have one rig running in 2012. This is an interesting area as Whiting is northeast of the Wattenberg Field extension area. Given the results, it is very possible we have a much larger extension area than expected.
In summary, well results point to better EURs in the Wattenberg Field, but given the higher gas production may not be as economical as the Wattenberg extension or northern Colorado. It is my opinion northern Colorado may be better as it has seen results produce 76% oil and 85% total liquids. I would expect results will continue to get better and costs decrease through pad drilling and longer laterals.
Disclosure: I have no positions in any stocks mentioned, and no plans to initiate any positions within the next 72 hours.
Additional disclosure: This is not a buy recommendation.