In part one of this series, I addressed Noble's (NYSE:NBL) production success throughout the DJ Basin. It has been one of the top players with good results throughout Colorado. EOG Resources (NYSE:EOG) has also done quite well. The Niobrara is one of the best examples why EOG Resources has gone from a natural gas has-been, to possibly the best large cap play on US unconventional liquids. By April of 2010, it had over 400,000 net acres in the Niobrara with a per acre cost of $35.
Click to enlarge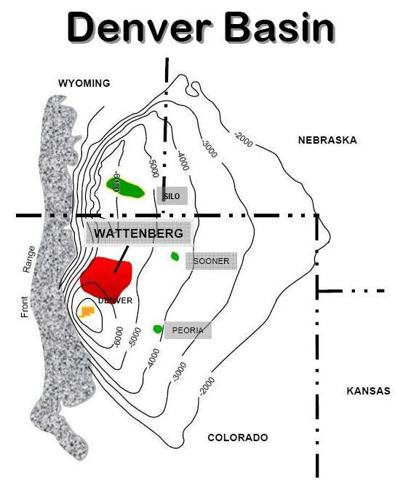 EOG has been credited with starting the horizontal development of the Niobrara. In 2009, its Jake 2-01H had an IP rate of 1558 Bo/d. What's more interesting is EOG's belief that the Niobrara has lower initial production, but a flatter decline curve. So longer term, these wells will hold production numbers higher. EOG's Red Pole 10-16H had an IP rate of 1100 Bo/d and was unstimulated. Three other wells completed by EOG were not as good, but still economic in 2011:
Fox Creek 3-35H: 553 Bo/d
Jersey 12-25H: 404 Bo/d
Bessie 9-11H: 432 Bo/d
EOG Resources took a different approach to the DJ Basin than other producers. Many have concentrated on the Wattenberg Field, and moved to the northeast from that initial area. EOG started permitting in northern Colorado and has focused much of it program here. Not only has it had some of the best short lateral results in the play, it has also found the percentages of oil in production have been much higher than that of other areas.
Carrizo (NASDAQ:CRZO) has 58,773 net acres in the Niobrara at 320 acre well spacing. Initial tests to downspace to 160-acre spacing have found no well communication to this point. Current EURs for this acreage is 250 MBoe. Its EURs are lower than I would place on its acreage in the Wattenberg Field extension, which has 12 wells on production. A rough range for IP rates here are 725 to 650 Bo/d. Production is 80% liquids and 20% rich gas. Its 5,000-foot, 15 stage frac design costs $3.6 million. At $85 oil, these wells pay back in 1.5 years. Carrizo has also noted some difficulty with geosteering the Niobrara, but this seems to be something several of the players are trying to improve upon. I like Carrizo here, as it has good acreage with reasonable well costs when compared to competitors. It should see continued downspacing.
Bonanza Creek (NYSE:BCEI) is one of my favorite companies and is a stock I own. It has 29,292 net acres in Wattenberg Field (59% oil) and 33,426 net acres in the North Park Basin (100% oil). Its Wattenberg Field acreage is quite good, and is surrounded by some of the best producers in the play:
EOG Resources
Noble
Anadarko (NYSE:APC)
Marathon (NYSE:MRO)
PDC Energy (PETD)
Bonanza's horizontal Niobrara IP rates (24 hour and 30 day) in Wattenberg are:
State Antelope #11-2HZ: 738 and 362 Boe/d (72% oil)
North Platte #44-11-28HZ: 887 and 599 Boe/d (60% oil)
State Antelope #11-14-1HZ: 886 and 516 Boe/d (78% oil)
State Whitetail #14-11-36HZ: 642 and 356 Boe/d (76% oil)
These four wells had lateral lengths of 4672 to 3501 feet, and completed with 16 frac stages. The North Platte well is to the southeast of its acreage, and had the best IP rates, but lowest oil percentage. The other three wells are to the east of its acreage. State Whitetail's rates were low, but only 12 of the 16 frac stages had been completed.
Competitors in the same general area of Wattenberg have had good IP rate results. Noble's 24 hour and 30 day IP rates are:
Wells Ranch USX AE 7-99HZ: 480 and 345 Boe/d (81% oil)
Wells Ranch USX AE 21-99HZ: 602 and 259 Boe/d (57% oil)
Wells Ranch USX AE 31-99HZB: 919 and 481 Boe/d (67% oil)
Wells Ranch USX BB 15-65HN: 626 and 474 Boe/d (77% oil)
70 Ranch USX BB 25-99HZ: 895 and 410 Boe/d (61% oil)
Wells Ranch USX AE 29-68HN: 900 and 837 Boe/d (87% oil)
All of these wells are to the west of Bonanza's acreage. The well to pay attention to is the sixth on the list. Wells Ranch USX AE 29-68HN is a 9120 foot lateral with 39 stages. The IP rate is not near as important as the 30 day as this well saw a decrease in production decline.
PDC Energy's acreage is to the north of Bonanza's. Its well results are:
Wilson 34-34H: 758 and 554 Boe/d (80% oil)
Frank Trust 14-36H: 736 and 501 Boe/d (72% oil)
Frank Trust 11-11H: 437 and 258 Boe/d (69% oil)
Rickards 41-10H: 625 and 320 Boe/d (58% oil)
Its Wilson well is to the northwest and had much better production with higher a higher oil percentage. The theme we see here, has to do with better production to the north. The percentage of oil in production increases to the north.
EOG Resources has two well results, both very close to Bonanza's three State wells:
Anschutz Windmill 5-23H: 30 day IP of 304 Boe/d
Anschutz Windmill 4-22H: 30 day IP of 382 Boe/d
Bonanza has performed very well in the horizontal Niobrara and in some respects outperformed very good producers. It has an average 30 day IP rate is 469 Boe/d and an EUR of 312 MBoe. Average well costs are $4 million. The image below shows the multiple pay zones in this area.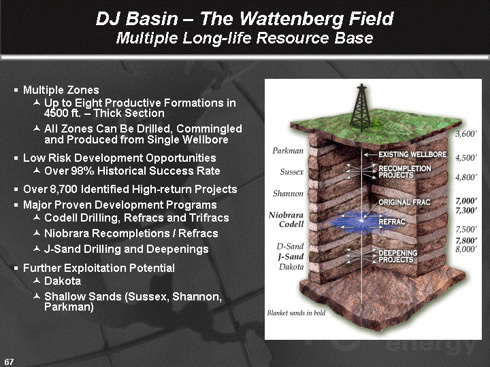 These horizontals can be intermingled with verticals targeting the Niobrara/Codell. Each of these wells have EUR of 78 MBoe at a well cost of $955000.
Outside of the DJ Basin is the North Park Basin also prospective for the horizontal Niobrara. Bonanza's acreage is offset that of EOG's. Average 30 day IP rates are 304 Boe/d and EURs are 211 MBoe. Wells costs are approximately $5.1 million. Although the rates or total resource are less than that of Wattenberg, a higher percentage of oil is produced.
In summary, the Wattenberg Field is a low-cost play with multiple pay zones. Not all of these zones are economical, but the Horizontal Niobrara and vertical Codell are. As I have stated in earlier articles on the Niobrara, the core area of the Wattenberg has higher EURs, but more of the production is gas. Further from the center of Wattenberg EURs decrease, but liquids production increases. Northeast of this field is referred to as the Wattenberg extension, and liquids production increases dramatically. This area has seen significant well development, and in my opinion is proven. Northern Colorado has seen less development, but has seen liquids production of 88% in areas. Increased use of pad drilling and longer laterals should further reduce costs and increase production, making this play even more appealing.
Disclosure: I am long BCEI.
Additional disclosure: This is not a buy recommendation.