The five companies covered in this article have an average Earning Per Share (EPS) Growth projection for the next year of over 108%. A company's EPS is conceivably the most important statistic to understand before investing in a stock. Each time you consider starting a position in a stock, you should prudently scrutinize its profitability EPS information.
The reason earnings are so vital to investors is that they tell you about the relative profitability of a company. EPS is the most important derivative of profitability for a shareholder. Earnings per share is defined as the net income of a company divided by the shares of common stock outstanding. With the EPS measure, you are looking at the amount of money left over for shareholders. The value is reported after taxes are subtracted.
Additionally, the five stocks we look at have vastly outperformed the broader market, with an average performance of 36% for 2012. I believe we are in for an upswing in equity prices. According to a recent Thomson Reuters report, April's U.S. consumer sentiment rose as Americans expect the economy to slowly improve. This bodes well for stocks. While recent improvements in the overall economy were viewed as being slightly less promising, the outlook for the recovery is still improved.
Another boost to stocks may come from improving fundamentals, as earnings continue to impress. This earnings season has been quite impressive. With 40% of the S&P 500 reporting, 75% have beat analyst expectations. This is up from the average of only 60% analyst beats. Year-over-year earnings growth is 6.3%, currently.
Finally, our five stocks have share prices trading under $10. Stocks trading for under $10 often tend to have increased volatility. However, as we all know, the higher the risk, the higher the reward. The stocks selected are S&P 500 stocks with market caps of more than $2 billion. We use a speculative screen to find companies that may provide more bang for your buck if the market looks like it's going to move up near term.
Now, simply screening for top S&P 500 top performing stocks with high EPS growth rates and share prices under $10 is only the first step to finding winners that may provide alpha. In the following sections, we will take a closer look at these stocks to determine if the price appreciation is justified. I will perform a brief review of the fundamental and technical state of each company. Additionally, we will discern if any upside potential exists based on sector, industry or company specific catalyst. The following table depicts summary statistics and Friday's performance for the stocks.
Click to enlarge

Bank of America Corporation (BAC) and Regions Financial Corp. (RF)
Two banks topped the list. Bank of America being one of the largest and Regions Financial one of the regional players. Nevertheless, they both are trading for approximately half their book values. I am positive on both these banks. I posit there are several industry catalysts for the banking sector. I expect it to continue its upward thrust. First, the eurozone has not fallen apart as many have predicted. The eurozone appears to be losing its influence on the broader markets. Bond yields of the eurozone peripheral sovereigns were rocketing higher have sunk to manageable levels with the back-door liquidity injections engineered by the ECB via the LTRO.
Secondly, U.S. banks are well ahead of their European peers with regard to capital requirements. Many have excess capital and excess reserves. The sector is flush with liquidity, capital and reserves. U.S. banks have improving fundamentals and EPS growth projections. U.S. bank earnings are up 40% this year and EPS growth rates are expected to come in at 20% next year. U.S. banks are trading at low price-to-earnings multiples even when taking into account lower earnings expectations and are trading at approximately five multiples below normal. The EU banks will inevitably have to retract certain credit lines to meet new requirements, creating an opening for U.S. banks to take market share. Let's take a closer look at Bank of America's and Regions Financial's current fundamental and technical statistics.
Bank of America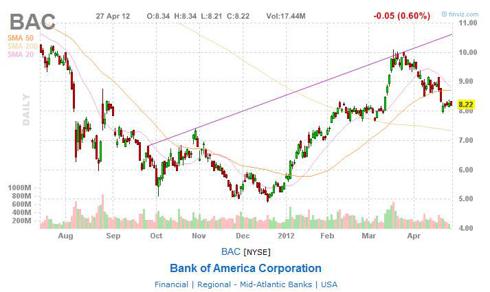 Bank of America has an EPS growth rate of 70.97% for next year. BAC is up 49.01% for the year. Nevertheless, the stock is trading down 35% from its 52 week high and approximately 15% from its recent high. The company has many fundamental positives. BAC has a forward P/E ratio of 7.80. BAC has a price to book ratio of 0.38. The stock recently achieved the coveted Golden Cross where the 50 day crosses the 200 day sma, although the stock has pulled back to below its 50 day sma which is bearish technically. I see this as an excellent buying opportunity. Bank of America has been on a tremendous run and consolidation in the shares is expected. Bank of America continues to work on its balance sheet, which should provide a catalyst for investors to buy the stock. The bank recently bested Wall Street's expectations regarding the latest earnings report.
Regions Financial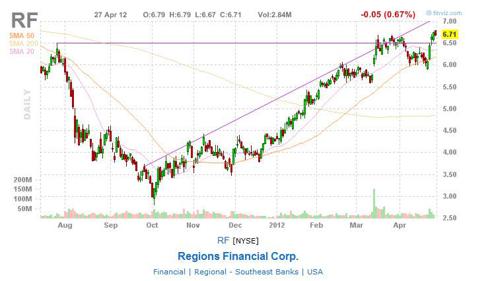 RF has an EPS growth rate of 54.17% for next year. RF is up 57.34% for the year. The stock is trading down 8% from its 52 week high. The company has many fundamental positives. RF has a forward P/E ratio of 9.12. Regions has a price to book ratio of 0.52. The stock recently achieved the coveted Golden Cross in February where the 50 day crosses the 200 day sma and is in a well-defined uptrend. I see this as an excellent buying opportunity.
There are always headwinds for every sector and the banking sector is no different. A major headwind for the banks is the Dodd-Frank Wall Street Reform and Consumer Protection Act halving the fees banks can charge retailers each time a customer swipes a debit card. The regulation cut the fees from 48 cents for an average purchase of $38 to 24 cents, costing banks $8-$10 billion a year. Additionally, other federal regulations changed the ways banks are allowed to charge overdraft fees on checking accounts, costing them more money.
Nonetheless, I believe these banks have continuing upside potential, based on company specific and macroeconomic catalysts. As the issues of the eurozone, U.S. and the world fade from the forefront of investors' minds and a renewed focus on fundamentals and company specific catalysts emerges, I expect these banks to continue their upward march. I see this as a buying opportunity for these bank stocks.
PulteGroup, Inc. (PHM)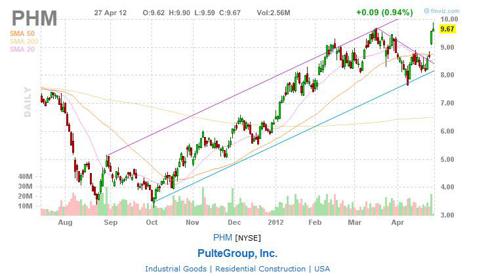 If you're not already in housing stocks, you have missed the boat. Pulte is my pick to avoid even though the fundamentals and technicals look good, the stock is extremely overbought. Furthermore, there are major headwinds for the housing market that will keep it skidding along the bottom for some time in my view.
First and foremost, people may be feeling better about things, nevertheless buying a home is a huge undertaking. I don't see buyers returning in droves until things are more certain regarding the disposition of global macroeconomic and geopolitical concerns.
Secondly, many people had to make hard choices recently regarding paying their bills due to losing jobs or receiving reduced pay and have blemishes on their credit reports. At the same time, mortgage requirements and regulations have made it nearly impossible to qualify. These two conditions make the cancellation rates go through the roof. It is easy to write a new home contract, the hard part is getting the home closed. Let's see how the summer goes… then we'll know if housing is back on track.
Alcoa Inc. (AA)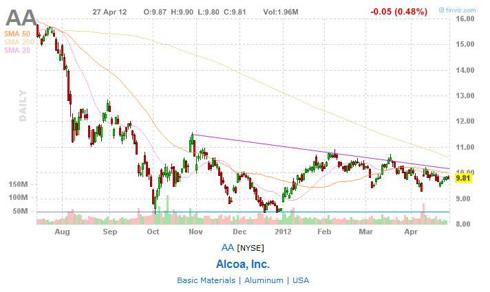 Alcoa keeps getting batted up and down, based on the conflicting economic data coming out of China. Look, it just blew away earnings and guided higher and have gone nowhere. I see this as an excellent buying opportunity. You have to ignore the macro noise and gyrations in the monthly economic numbers. Have courage in your convictions and stick to your guns. I believe China is growing by leaps and bounds. I have no confidence in anything they say. Alcoa is a screaming buy. Let's review some of the key statistics.
The company has many fundamental positives. AA has an EPS growth rate of 54.17% for next year. AA is up 14.39% for the year. The stock is trading down 44.96% from its 52 week high. AA has a forward P/E ratio of 10.49. AA has a price to book ratio of 0.74 and a current dividend yield of 1.12%. I see this as an excellent buying opportunity.
Micron Technology Inc. (MU)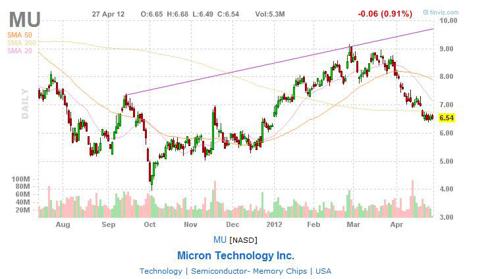 Micron was included in Bank of America's Global Wave Booster stocks. BAC strategists recently published an update on the firm's "Global Wave" model. The Global Wave turned positive, which historically preceded a 14.2 percent gain in global stocks (as measured by the MSCI All Country World Index). The report included the firm's list of "Boosters" - the stocks that perform well during an economic upturn. Micron is one of them. Characteristics of the boosters include low S&P quality ranking, small capitalization, negative correlation to bonds, cyclical earnings growth and high dispersion in earnings estimates.
Micron is set to move higher for multiple reasons. I believe the stock is currently undervalued due to the fact the possible upside from the Cloud paradigm shift is not currently priced into the stock. Jefferies & Co. semiconductor analyst Sundeep Bajikar recently initiated coverage of Micron with a Buy rating and an $11 price target. Bajikar sees both NAND Flash memory chips and DRAM chips profiting from the build-out of cloud computing facilities and the subsequent adoption of solid-state drives, or SSDs. This is a big positive for the stock.
Additionally, the company has many fundamental positives. MU has an astounding EPS growth rate of 206.90% for next year. MU is up 5% for the year and pulled back significantly from its recent highs. The stock is trading down 44.48% from its 52 week high. MU has a forward P/E ratio of 10.65. MU has a price to book ratio of 0.82. I see this as an excellent buying opportunity.
Conclusion
All these stocks are expecting to have significant earnings growth next year. Nonetheless, Pulte has run too far too fast. In my mind, the new home market's fate will not be decided until after August. Moreover, the stock just hit a multi-year high. If you aren't already in, you're too late. The other stocks have had healthy pullbacks and are primed for the next leg up. As usual, use this information as a starting point for your own due diligence and research methods before determining whether or not to buy or sell a security. If you choose to start a position in any stock, I suggest layering in a quarter at a time on a weekly basis to reduce risk and setting a 5% trailing stop loss order to minimize losses.
Disclosure: I am long AA.