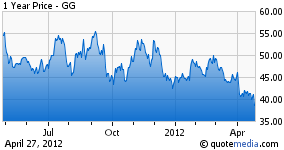 One of the big problems in today's markets is that the rise of active trading has shrunk the timeline by which the market as a whole evaluates everything: If a company outperforms earnings expectations, the stock soars; if it falls short, the stock tanks. This tends to breed excessive volatility and shatter the notion that markets are efficient means for price discovery. But for the astute speculator, it can create some fantastic opportunities.
One such opportunity emerging today is that of Goldcorp (NYSE:GG), whose recently announced earnings fell short of expectations. Goldcorp CEO Chuck Jeannes attributed the decline in earnings to adverse ground conditions at one of the firm's mines as well as lower grade in other areas of the mine.
While this is obviously not good news, I don't think the basic story around Goldcorp - which I highlighted in my previous coverage - has changed. Specifically, the main reasons to be bullish on Goldcorp are the following:
GG is the lowest cost per ounce major producer, with a very healthy debt/equity ratio of under 3%. From this perspective, I regard Goldcorp as the safest major miner with a market cap of over $10 billion to own.
The company boasts positive earnings and issues dividends, so there is the opportunity to get paid while you wait.
Goldcorp is well-diversified from a jurisdictional standpoint, with operations in Mexico, Argentina, United States, Canada, Guatemala, Honduras, Dominican Republic and Chile.
GG has an abundance of exploration partnerships to ensure future growth.
I have a bias for executives who are also the founders, although a close second is management that has been there for a long time and presided over successful operations - and that is precisely what describes Goldcorp's management team. A team with success and long, deep roots in the organization is one that (1) has already proven itself and (2) because of its time spent there, is more likely to have established a winning culture that inspires a loyal team rather than a rotating cast of mercenaries. As the saying goes, morale isn't built up, it's filtered down - and management teams with years of commitment to a succeeding organization are vital ingredients for building team morale up, which is vital toward sustaining success.
The chart below helps us to put things in perspective. Goldcorp is at 52 week lows, and given that last year was not a particularly strong year for gold stocks, I find this to be especially meaningful. Personally I'm comfortable adding to my position in GG here, although if we can fall to $35 or lower I'll be especially keen on adding a larger position. Goldcorp is currently trading at around 1.48X book value; if the share price falls to $26, it will be trading right at book value. That would be an amazing deal, in my opinion, although I don't think we'll get there without a broad market crash, which I regard as unlikely (as I've noted in my previous articles, I believe a weak bond market and ongoing expansion of the money supply will send equities as a whole higher over the next few years). So I'll be looking to accumulate between $35 and $40.
(Click to enlarge)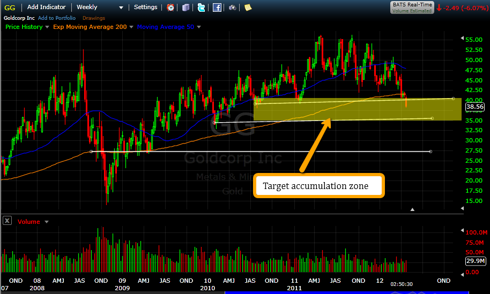 In terms of when to exit, Goldcorp is one to hold until the top of the bull market in gold, which I suspect is thousands of dollars away. Remember in the gold bull market of the '70s, gold bullion peaked before stocks did; gold stocks didn't peak until 1980 (see my previous post comparing the current bull market to the one in the 70s). I suspect Goldcorp will be much, much higher by the time the peak in successful gold mining stocks comes. I anticipate GG being well past $100/share by the time the top is here, and will be issuing larger dividends alongside the ride up in share price. I believe patient investors will be well-rewarded.
Disclosure: I am long GG.