Perficient, Inc. (NASDAQ:PRFT) provides information technology consulting services in areas including enterprise business integration, enterprise business intelligence and enterprise content management. The company follows a mix of organic and inorganic growth strategy which has resulted in a strong growth in both revenue and earnings (Rev CAGR of 48% between 2002 and 2006). The stock won the recognition from the market in the form of an approx 3600% gains between April 2003 lows and October 2007 highs. However, with a tapering in the organic growth in the middle of this year, the stock has been depicting a weakness for the past few months. The acuity of the weakness become visible when the stock lost almost one third of its value in the past month. The stock touched $15.5 levels, the lowest for the year, prior to the announcement of Q3 results.
PRFT announced Q3 results on November 8. Barring the Q3 revenues lagging expectations, we believe that the results are positive. While the Q3 EPS surpassed the estimates of 20c by a cent, it posted an year on year growth of 60% in net income. Revenue guidance for Q4 came in-line. But what impresses us more is the earnings call take-away that the company is well on its way to meet its mark of doubling the business to $500M through 2010. Management appears convinced that the organic growth has bottomed out, and the company is expecting an improvement in organic growth to 5-10% in Q4 from 4% for Q3 (and a target of 10-15% for FY '08). The company continued with a clean balance sheet. Repayment of all outstanding debt balances, including the cash portion of the BoldTech acquisition would provide Perficient an access to $50M of unused credit facility. This will help the company to boldly move ahead with its acquisitive growth strategy. A dip in the IT spending in the medium to long-term time frames can certainly hurt the company.
However, the cues arising from the company tells a different story – one that exudes confidence. Perficient is going back to campuses for recruitment. Its plans to ramp up the headcount at the off shore development center at Hangzhou, China indicates the plans of the company to leverage the offshore capability. This has to be seen in the context of the company's comment that it will pursue more enterprise accounts in 2008 that will provide the company with more room while pricing. Towards the speculative side, the company believes in the possibility of regaining a $4M backlog project that the company lost when this client got acquired (the acquirer turns out be a client of PRFT).
PRFT jumped 10.4% following the announcement of results. We believe that the broad market weakness could have been a factor that restricted the stock from making further gains. With improving fundamentals, the stock has good upside potential.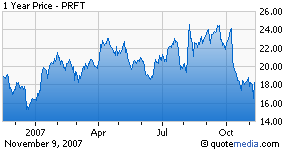 Disclosure: none