There have been a number of stories written on the housing market in both print media and online sites. There are also a number of web sites which give bits and pieces of information on housing data. I collected data from these numerous sources to come up with a story that makes sense for investors.
For the past year or so, housing stocks (like Beazer Homes (NYSE:BZH), Centex (CTX-OLD), D.R. Horton (NYSE:DHI), Hovnanian (NYSE:HOV), KB Homes (NYSE:KBH), M.D.C Holdings (NYSE:MDC), Meritage (NYSE:MTH), Pulte Homes (NYSE:PHM), Standard Pacific (SPF) and the broad housing market ETF (NYSEARCA:XHB)) have tumbled more than half. Without far sight, most of the builders were building houses without any prudent forecasting. There was a joke on the homebuilders that "if there is need for five homes, five builders will come to the market and each will build five new homes."
This year, existing home sales plummeted to 5.01 million and are expected to sell 19% below last year's sales. Foreclosures have reached 446,726 as of the end of September, a 100 percent increase since last year. There are 10 months of excessive inventory in the market as new homes are competing with existing homes. Consumers accumulated abundant non-revolving debt.
There were a number of factors involved in the housing slump, including sub prime mortgages, excessive lending more than fair value, excessive supply, over-estimation of population growth and the false impression of immigrant purchasing power. Here I tried to make some sense of the housing bubble by plotting the data that I collected from various sources. I hope this will make some sense in understanding why housing stocks are in a slump. (Click on any graph to enlarge)
Median Home Price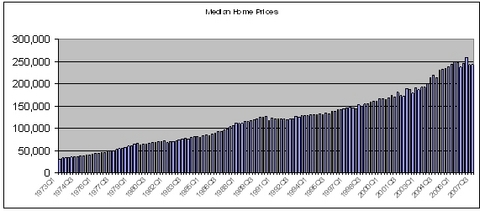 Here I plotted median home prices from Census Bureau data from the beginning of 1973 to the third quarter of 2007. Though it appears that the median home prices appreciated consistently, there is some excessive growth in between and corrected as time passed by. The median home prices peaked at $125,000 during the fourth quarter of 1989, and settled back to $119,500 during the first quarter of 1992. That was not a major correction.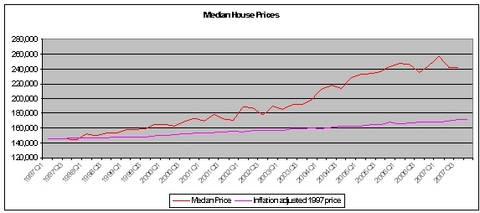 However, the trend in the past decade looks very different. The median home price in 1997 was $145,000 and peaked at $257,400 in the first quarter of 2007, a whopping 78% growth in 10 years. In the above graph, the top line represents the median home price and the second line represents the 1997 home price, adjusted every quarter with corresponding inflation in that quarter which ended at $171,500 as of third quarter 2007. Since the decline in median house price started in the second quarter, the current median home price is $241,700, which is $70,200 more than the inflation adjusted 1997 base price.
In 2002, Census Bureau estimated the maximum median price affordable is $205,600, which is $224,900 in 2007 when adjusted for inflation. I hope that this will give big picture in future median home prices.
Cycles in New Home Sales
It is very interesting that new home sales also go through their own economic cycles. When plotting historical new home sales by quarter after quarter the cycles are clearly visible. The new home sale boom started when the economy picked up in the early nineties and extended all the way to late 2005. This may be one of the most prolonged expansions for almost 15 years. The new home sales decline started in early 2006 and appears to continue all the way into mid or late 2008.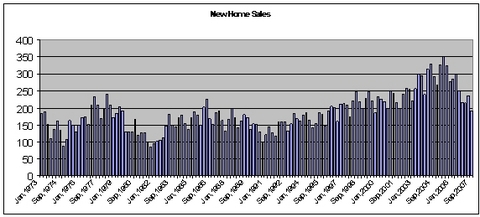 Excessive Inventory
The next graph is plotted with existing home sales and new home sales. As mentioned earlier, existing home sales have similar cycles as new home sales; they peaked in 2006 and started declining this year. As per Realty.org, which tracks existing home sales, existing home sales peaked in 2005 at 7 million and 2007 sales are expected below 5.5 million.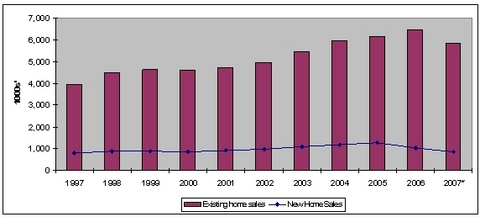 Loose Lending or Binge Borrowing?
The borrowing costs came down significantly during 2003 due to fears of deflation which sent both short term and long term rates to historically low ranges. In June 2003, the 30 year fixed home mortgage was at 5.23% and 1 year ARM was at 3.52 %. The cost borrowing came to so low that many consumers were tempted to buy bigger homes at low mortgage rates or very low adjusted mortgage rates.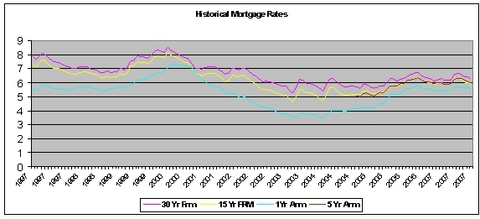 Accelerated Borrowing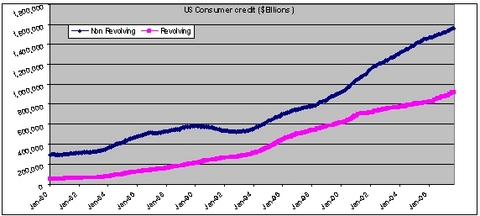 As per Federal Reserve data, consumers have $1.5 trillion in non-revolving and $900 billion in revolving debt. That is 18 percent of the GDP, but it came down 1 percent from the first quarter of 2004. However, total consumer debt is at $2.5 trillion dollars, which is historically unprecedented.
When both consumer revolving and non-revolving debt plotted on the graph from 1980, we see that the borrowing has accelerated from early 1995 and continued at the same pace all the way to late 2006. Part of the reason is excessive consumer borrowing as line of credit, sub-prime loans and excessive lending beyond the fair value of the houses.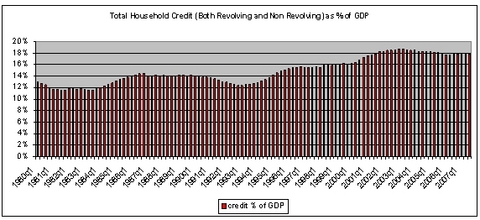 Another interesting phenomenon is that while plotting total consumer debt (adding both revolving and non-revolving debt) as a percentage of the absolute GDP of that year, one could observe the cyclical nature of borrowing. Probably it is the market's self-correction mechanism.
In 1980s and early 90s, the sustainable debt to GDP was 12 percent and anything above was corrected in following years.
Now consumer debt picked up since 1997 and slightly came down with the stock market correction in the spring of 2000. However, borrowing leaped from late 2000 and never slowed down as a percentage of the GDP. Does this mean that the invisible market force brings the debt ratios back to its normal 12 percent range? Does it mean more foreclosures and bankruptcies on the horizon? Can we expect more existing home sales and inventory glut in the market, as a result? The other answer to the problem is that our GDP has to grow 50% to bring consumer debt to a sustainable 12% level. Our disposable income has to grow 50 percent more, which I seriously doubt will happen in the very near future. So, can you predict by the bottom by extending this graph and finding the time horizon? I will leave you to your own conclusions.
Disclosure: none
References: