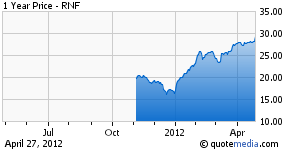 Rentech Nitrogen Partners (NYSE:RNF) just announced its first cash distribution of $1.06. This exceeded the prediction in my article last month of 90 cents - $1.00. Also mentioned in its release was that "Rentech Nitrogen believes that it is well positioned to exceed its forecast of cash available for distribution, $2.34 per common unit." They also announced that the first quarter conference call will be held on May 11th.
So why do I think this article is important today? It is because only the savvy investors know about RNF currently. When constant distributions get paid, more earnings information comes out on the news, the general public will learn about how Rentech Nitrogen has a solid business model. That is when real stock appreciation will take place.
Also from my article last month, I spoke about the dip in price of Ammonia and UAN, but that it should bounce back. Well it sure did.
Reviewing the March report, prices at the Gulf for ammonia were about $400, with an estimated farmgate price of $570 a ton. However, retail prices have not shown this decrease, and prices are still over $800 a ton in the Central Midwest. Prices for UAN bottomed out, and are coming back up in price, now at $255 a ton for 32% at the Gulf, and $430 a ton in Iowa. In December, 30% farmgate prices were estimated to be $364 a ton, and today fair value suggests $335.
Here is the report from April 16th. The first line says a lot to me: "First it was urea and UAN prices shooting sharply higher. Now ammonia costs could be ready to follow suit, which could make it more difficult to find bargains this summer."
April prices at the Gulf for Ammonia were about $500, with a fair value price of $730 a ton. Prices are somewhat stable in Iowa and Illinois, where it is selling for $784 and $833 a ton, respectively. Prices for UAN at the Gulf are $407.50 for 32%, up over $150 a ton in just over a month. 30% farmgate prices are sitting around $460, up $100 from December and $125 from March.
I also reported on natural gas prices, which is what Rentech Nitrogen uses in its process. In March, the price was historically low at $2.40 per thousand cubic feet. Today, it's closer to $2.10. There is additional margin available, and the stockholders will benefit.
Below I want to compare projected earnings, distributions and forward PE for RNF, CVR Partners (NYSE:UAN) and Terra Nitrogen (NYSE:TNH). I used data from MSN for RNF and UAN, but there is little forward looking statements about TNH. I will use an estimate from this article from Chris Damas. I am going to estimate RNF to distribute at least $2.50 a share in 2012.
| | | | | |
| --- | --- | --- | --- | --- |
| Stock Ticker | Price | 2012 Proj. Earnings | Proj. Distributions | Forward P/E |
| RNF | 29.50 | 2.63 | 2.50 | 11.22 |
| UAN | 27.50 | 1.61 | 1.89 | 17.08 |
| TNH | 277.50 | 15.45 | 12.58 | 17.97 |
Note: For TNH I had to use current earnings and PE ratio.
UAN has sat in the $26-28 range for awhile, and has solid ground there after announcing projected distributions through 2017. The current yield is 6.87%. TNH and UAN have followed each other in the market. Their current yield is 5.57%.
For RNF to match UAN and TNH, their stock price would have to be $36.40 a share to reduce their expected yield to 6.87% ($44.88 for 5.57% yield) and $44.70 for a forward PE of 17. To match the yield of UAN, the upside potential is 23%. I am confident that Rentech Nitrogen will reach $36 a share, and I'm going to set a price target between my PE window and yield windows, and say that $40 a share is a realistic price for RNF.
Conclusion: RNF will continue to gain popularity as more people learn about the company. Fertilizer needs are high, and natural gas prices are not going to rise much over the next couple years. I would expect another bump in the price after the May 11th phone call.