Earlier in April, I wrote an article stating the case that Zynga (NASDAQ:ZNGA) was going to be a better play on the IPO of Facebook (NASDAQ:FB). If you work hard enough, you might be able to convince me that the executives at both companies ran across my article and decided to do every foolish thing they could think of to prove me wrong.
Zynga seems to be intent on driving their company into the ground. I believe every investor becomes spooked when insiders begin selling shares. Normally insiders have to wait 165 days after an IPO to dump shares, but according to The Wall Street Journal, CEO Mark Pincus and various other insiders have sold as many as 43 million shares for close to $12 each as part of a secondary offering.
What was the reason given? It was meant to protect the share price by increasing the float. By the time my article was published, shares were trading at $12.00 per share, and today they are trading at $8.90. That is a nice protection of the share price. It seems they are looking out for themselves instead of looking out for the best of the company. Once the executives started the selling, of course, fund managers were going to follow suit.
Click to enlarge.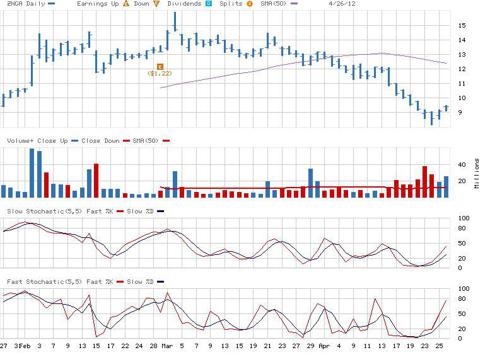 Zynga's purchase of OMGpop also seems to have been a desperate attempt by a company who is desperate to find earnings somewhere. Hopefully this game will bring some revenue to the company, but I can't see them gaining the $200 million to justify paying for this company. The social game, "Draw Something" currently has over 35 million monthly active users, but I think they paid too much for a trend based game.
If they are really the leader in social gaming, they should just trust that their people can develop the games that will be at the top of the appdata leaderboard. Apple (NASDAQ:AAPL) never makes acquisitions, and they continue to produce innovative products to dominate their sector. Zynga should follow Apple's lead and continue to develop popular games from within.
Facebook definitely has not done very well on the acquisition front either. It seems that their IPO may be delayed due to Mark Zuckerberg's unilateral acquisition of Instagram for a reported $1 billion. This acquisition is conveniently before the IPO, and before shareholders can speak out about the action. This may go down as an error on Zuckerberg's part.
After seeing Facebook and Zynga's most recent reports for the quarter, both were very disappointing. Zynga and Facebook continue to struggle to monetize their dominance very well and this is concerning to me. I have decided to stay away from both of these stocks until their executives start making better decisions, and until Zynga can prove that it can earn a profit. Poorly run companies are bad investments in my book, and I have changed my mind.
Disclosure: I am long AAPL.