By Nathan Slaughter
The SPDR S&P Metals & Mining ETF (AMEX: XME) ($61.36) is a play on hard assets like precious metals (gold), industrial metals (copper, aluminum), steel, and coal.According to studies conducted by research firm Ibbotson, this group has a very low correlation with other traditional asset classes, and a modest stake can boost long-term returns with negligible additional risk -- and that has certainly been the case lately.
The fund mirrors the performance of the S&P Metals & Mining Select Industry Index. Over the past five years, the index has delivered sizzling annual returns of +29.8% -- and since inception, XME has done a good job of tracking this benchmark.
The fund's portfolio is relatively concentrated and only contains about 25 names. And at roughly 45% of assets, the biggest portfolio concentration is in the steel sector, which continues to enjoy a tremendous rally amid unprecedented global demand from China and other emerging markets. For example, the fund has cashed in gains on Nucor (NYSE: NUE), whose profits have soared from $62 million to $1.7 billion over the past three years. AK Steel (NYSE: AKS), whose shares have soared over +200% so far this year, has been another big portfolio winner.
All told, XME has delivered impressive gains of +45% over the past 12 months -- ahead of about 90% of its rivals in the natural resources category. There have been several factors behind the run-up in many portfolio holdings, including industry consolidation. The falling dollar has also played a role. Many commodities are denominated in U.S. dollars, so a weaker dollar makes them more attractive to foreign investors -- further pushing up their prices.
Clearly, XME has been in the right place at the right time, and investors shouldn't grow accustomed to red-hot annual gains of nearly +50%.
Nevertheless, while day-to-day returns are likely to be volatile given the cyclical nature of many commodity prices (as well as the fund's narrow focus), we think long-term shareholders will ultimately be rewarded for their patience. After all, to a certain extent this fund is a play on the continued economic expansion that is taking place throughout the world's emerging markets. Construction requires large amounts of steel, copper, and other basic building materials, and there is a finite supply of these resources to go around.
Still, given the risks, the fund is best left to aggressive investors and even then in limited doses. That being said, we do think investing in hard assets can be an integral component of a well-rounded portfolio, and XME is an ideal way to gain exposure to this sector.
Good investing!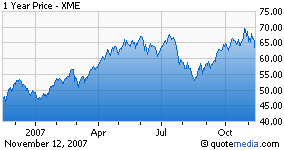 Disclosure: none