General Electric (NYSE: GE) started its journey as a manufacturer of household items in the United States. With the passage of time, the company has transformed into a technology and financial services giant that not only generates jobs but also supports the U.S. economy whenever it is needed. Now, it trades over a million shares daily and is the fourth biggest mover on the NYSE. So far, General Electric is playing pretty well with its stock lying within a range of $15 to $21 and has paid over 2.4% in taxes on $82 billion in profits.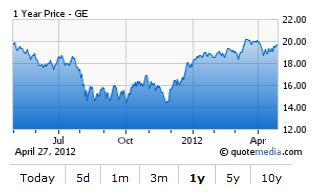 The company is now focusing on green technology to approach the savvy market. Currently, the company deals with Italy's Enel Green Power to help it in running a wind project in Oklahoma, USA. It is considered to be one of the huge projects of General Electric in which it has 51% of shares with an initial building cost of approximately $376 million at its Oklahoma location. The company is already taking part in other wind projects in Kansas and Texas as a solid wind energy space operator to make environment green and clean.
Company is also focusing on its aircraft technology and this is a good movement for its investors. Due to pollution free environment and increasing costs of fuel, the focus of GE Aviation is to design and produce fuel efficient and pollution free engines for airplanes. It is heard that GE Aviation will sign off a contract to sell its 19 engines fuel efficient airplanes to Kenya Airways, though, American Federal Aviation Administration will not allow direct flights, but it is a right step in a right direction so far. Company's 2011 annual fiscal report indicates that the profit in this area might be low due to its high investments in R&D division. Although, the dividends for the long term investors will not be impressive due to high investments but this will surely help it to secure a good market position in the future.
Healthcare division of General Electric is developing drugs which will be used in the treatment of lung and liver oncology. It has also collaborated with Dyax (DYAX) to bind and commercialize peptides to c-Met. The agreement will not only open up a new door of research in these drugs, but also, it will provide milestone and royalty payments to support Dyax. The stability of this partnership is very important for GE as it will help its healthcare division to contribute its earnings in the financial division of the company.
Recently, the company has signed a five years contract with the Nigerian Government to offer its power distribution services across the country in which $10 billion will be invested in the power distribution sector in Nigeria. This agreement will help in the electricity generation and production in Nigeria which will definitely affect its economy.
The company has also won a $200 million deal in which it will have to provide power generation services and the steam turbine technology to a power plant in Saudi Arabia. This power plant will work on a combined-cycle operation technology to produce around 4 gigawatts power annually. As a matter of fact, the company won this deal because of its already established relationship with Saudi Arabian Power Distribution Company.
In the past ten years, the company's overall performance in terms of stock was not too much satisfactory and stellar. But with the changing trends in the energy industry, the company is transforming its old fossil fuel technology in the new green technology. The safety of stock market investment depends upon the conglomerate structure of a company; the decline in one industry often opens up a path for the other one to rise. In my view, investors should invest in General Electric while keeping an eye on its deals with Nigeria and Saudi Arabia. Another reason to make an investment in this company is that General Electric stock was fell by 75% in the financial meltdown and the company had to suffer a lot. But now, the company has not only refocused on manufacturing but also it has made commitments to its investors that it will not let itself to be over-extended. Due to the resumption growth in the world, its technology products' demand has grown. The company not only declined loan write-offs but also improved its balance sheet and business which is now a best time for the investors to buy its stock.
It is only General Electric which not only competing hard with Siemens (SI) in the manufacture of industrial components, but in the financial services its competitors are Citigroup (C) and Bank of America (BAC), and in turbines and other high tech components, it is competing with United Technologies (UTX). The company is seeing an outstanding growth in its various business units. Its energy segment has grown 15% annually along with a growth of 14% in its aircraft division. The company's household sector, that produces computing systems and lighting etc, has grown at an impressive 54% pace. Its year-over-year growth rate with the return of liquidity was 93% which is much better than its other competitors.
All in all, GE is getting its financial footing again and is a good choice for a savvy investor to buy its stock because of its savvy and innovative marketing capacity.
Disclosure: I have no positions in any stocks mentioned, and no plans to initiate any positions within the next 72 hours.