Actionable Items:
Highest Positive Spread: LMP Corporate Loan Fund (NYSE:TLI)
Lowest Negative Spread: Gabelli Utility Trust (NYSE:GUT)
Focus Stock(s) of the Week: Aberdeen Chile Fund (NYSEMKT:CH)
Last Week's Focus Stock: Aberdeen Chile Fund
CEF Weekly Review: On average, the 13 closed-end fund (CEF) types registered a share price increase of 0.9% for the week ending 4/27/12. The high-low spread (average percentage price change difference between the highest and lowest fund types) registered this week was again a narrow +1.3% versus +1.3% the previous week. On an aggregate unweighted basis, the weekly average price change for the approximately 600 CEFs in the GrowthIncome database was +0.9%
The PowerShares CEF Income Composite (NYSEARCA:PCEF), an ETF that invests in taxable income CEFs, increased 1.1% for the week. PCEF is up 6.3% YTD on price appreciation. Currently, PCEF's trailing twelve months' yield is 8.2%. The S&P 500 increased 1.8% during the week on a continuation of tepid share volume (see below). The S&P 500 has gained 11.6% YTD.
CEF Weekly Fund Type Performance: All 13 fund types registered share price appreciation for the week. The bias was for equity-oriented CEFs as the S&P advanced 1.8% for the period.
WrldEqFnds which was the fund type leader last week, up 0.8%, was the laggard this week posting a modest average share price increase of 0.3%. The two India funds appeared to weigh down the fund type's average. Standard & Poor's cut India's long-term rating outlook to negative from stable citing slowing growth and a ballooning current account deficit.
SpecEqFnds led the fund type average share price advance for the week increasing 1.6% on the strength of its real estate sector. This sector may have benefited from the general impression of a bottoming in housing. GenEqFnds were up 1.3% and favored small-cap and private equity sectors.
After three weeks of consecutive declines ConvtSecFnds advanced to "show" position, up 1.2%. Two of the Calamos convertible CEFs (CHY & CHI) advanced approximately 2.3%.
images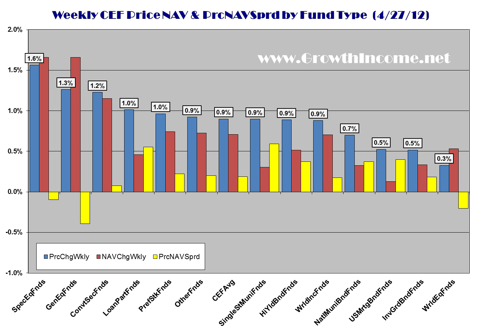 Weekly CEF Winners and Losers: There were a number of small single-state muni funds that generated significant positive PrcNAVSprds. These included both New Jersey (BLJ) and New York (AYN & NYH). However, these are thinly traded issues with wide bid and ask quotes.
One of the CEF's with the greatest positive PrcNAVSprd* for the week was LMP Corporate Loan Fund . TLI's share price advanced 3.8% while it's NAV per share increased 0.5% generating a positive PrcNAVSprd of 3.4%.
TLI is selling at a 2.0% discount and at an annualized monthly distribution yield of 6.7%. Last week (April 17th), TLI announced an increased its monthly distribution at a rate of 8.6% to $0.0695 from $0.064 per share. The shares go ex-dividend May 16th. Since its distribution announcement the shares are only up 2.8%.
One of the CEF(s) with the greatest negative PrcNAVSprd for the week was Gabelli Utility Trust . GUT's share price declined 1.0% while its NAV increased 2.2% generating a negative PrcNAVSprd of 3.2%. GUT is one of the franchise CEFs that trades at excessive premiums due to its association with a storied investment advisor and whose distributions are supported with a return-of-capital.
GUT trades at a premium of 43.4% and at an annualized monthly distribution yield of 7.6%. Over the past three and five years GUT's premium has averaged 41.8% and 35.8%, respectively.
GUT employs a managed distribution program and utilizes a return-of-capital to sustain its monthly distribution rate. Since March 2007, GUT's NAV per share has dropped 34.4% versus the Eqcome CEF Index's NAV of 14.1%. This may suggest its distribution strategy has had a deleterious impact on its intrinsic value, or simply put, "its eating its young" to maintain the distribution rate.
The issue of premiums and distributions was a topic of a recent article we wrote entitled, "How Marginal CEF Investors Are Being "Gamed" (4/24/12).
This is one of the few weeks where the stock with the greatest positive PrcNAVSprd may be more attractive than the least.
Significant Events: Prudential Investments announced the initial public offering of the Prudential Short Duration High Yield Fund (NYSE:ISD). ISD raised $699 million in its common share offering (assuming full exercise of the underwriters' overallotment option, which may not occur) and its shares began trading on the New York Stock Exchange under that symbol.
ISD seeks to provide investors with a high level of current income. It invests in a portfolio consisting primarily of higher-rated, below investment-grade fixed income instruments. It seeks to maintain a weighted average portfolio duration of three years or less and an average maturity of five years or less.
CEF Focus Stock(s) for the Week: Our focus stock this week is the same as last week, Aberdeen Chile Fund. CH advanced a modest 0.5% last week after bouncing 2.3% off its weekly low as it stumbled out of the gate on Monday with the S&P 500 decline of 0.8%.
As expressed here last week, Chile is usually associated with copper production as it is the largest exporter of this critical manufacturing material. While CH's investment portfolio is exposed to copper through some of the holdings in Chilean conglomerates, the bulk of its portfolio is investment in consumer staples, financial and communication enterprises.
Copper rebounded significantly this week jumping 3.8% as expressed by the copper ETN (NYSEARCA:JJC) while the iShares MSCI Chile Index Fund ETF (NYSEARCA:ECH) was flat for the week.
According to the International Monetary Fund, the prospects for Latin America remain promising, with economic growth expected to pick up pace in 2013, after a slight slowdown to 3.7% in 2012 from 4.5% in 2011.
As the adjacent chart demonstrates, CH has been lagging both the copper ETN and the country's ETF going back a year. Depending on one's global economic outlook, CH may be a way to play catch up on both Chile and copper.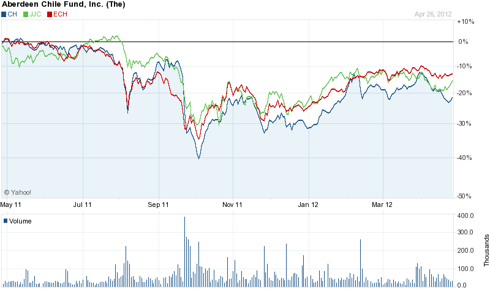 CH trades at a 5% premium and its most recent annualized quarterly managed distribution yield is currently at 10%. Since distributions are from capital gains, the amount of the quarterly distribution can vary quarter to quarter.
Last Week's Focus Stock(s): See above.
---
[*] All things being equal, price and NAV should move in tandem. A price movement greater than the NAV generates a positive PrcNAVSprd and may be interpreted as negative on a near-term basis and indicate that the stock is overvalued relative to its NAV which in theory is the stock's intrinsic value. The opposite would be true for a negative PrcNAVSprd.
Disclosure: I am long PCEF, CH. I own a diversified portfolio of CEFs and ETFs and am long stocks in the CEFBig10™ and CEFMuni10™. The first is a balanced equity-income portfolio (CEFBig10™) and the second a tax-exempt income portfolio (CEFMuni10™).