On February 23, 2012, I provided advance warning of an impending decline in silver to the Seeking Alpha readership, and also provided targets for the decline. On February 28, 2012, we issued a suggestion to ElliottWaveTrader.net members to exit short-term metals positions, and for aggressive traders to even short the market, as the Elliott Wave pattern off the lows had completed. The very next day, on February 29, 2012, Ben Bernanke was in front of Congress providing his semi-annual report on the economy, and the precious metals market entered into what some termed a "flash crash." Some of our members made 500% returns in that one day.
However, all Chairman Bernanke did in front of Congress was reiterate the Fed's position on the economy, which was clearly stated on January 25th. He did not provide the market with any news it did not have before, and he did not deviate from the statement of the Fed which was published a month earlier. So, why would a reiteration of a previously published, widely-known position of the Fed be viewed by so-called experts as the "cause" of the termed "flash crash?"
I want to paint a picture for you about the common misconception regarding how news supposedly "moves markets," so you can make a determination as to whether you would be able to make a reasonable trade decision based upon such "news." We will then bring it full circle in order to identify where we currently stand regarding silver.
Fed January 25th Announcement - No QE3 - Silver Rises 10%
After the Fed's statement of January 25th, the silver futures rose strongly from the $31.50 region to the $34.50 region within several days, with the significant amount of that almost 10% rise occurring within the first 24 hours. At the time, many pointed to this Fed statement of the 25th as "causing" this 10% rise in silver, even though it was clear that QE3 was not being contemplated.
Fed February 15th Notes Release - No QE3 - Silver Rises 15%
The notes to the Fed meeting of January 24-25 were released on February 15th for all to read. Even though the public already knew the Fed's position, which was announced on January 25th, silver rose strongly from the $32.75 region to the $37.50 region, another 15% rise within a week.
Bernanke's February 29th Testimony - No QE3 - Silver Plummets 11% In One Day
So, on February 29th, while testifying in front of Congress, Mr. Bernanke once again reiterated the Fed's position, which was already presented on January 25th and February 15th. Now, if one were to engage in the standard linear analysis utilized by almost every economist and market analyst, then you would be buying silver expecting another double digit rise, which many people did. However, silver did the exact opposite - it fell by double digits.
If you may recall, it was at the end of the rise that culminated in our February 28th sell signal, when most market "gurus" were suggesting and entering long positions in the metals. In fact, a day or two before the top on February 29th, we saw some large option positions being initiated in the metals. The strong drop almost immediately thereafter, which has now resulted in a total 19% correction in the silver price, has left investors in this market scratching their heads. Why did the same position statement of the Fed, which "caused" two previous double digit rallies, now cause an almost 20% total correction? Well, let's take it one step further before we answer that question.
Fed April 25th Announcement - No QE3 - Silver Bottomed and Gained 5%?
On the morning of April 25, 2012, silver started the day with a small rise and topped at the $31.00 region early that morning, which we shorted in our Trading Room. Throughout the rest of the morning, silver declined a little over 3%. However, once the Fed issued its announcement in the early afternoon, which was simply a reiteration of the same position it has taken all year, silver seemed to have reversed hard to the upside and, by the next day, was trading even higher than the level from which it fell the prior day. By Friday, within 48 hours after the same statement presented all year by the Fed, silver had gained almost 5% from the lows hit just before the Fed announcement.
Again, this must be making precious metals enthusiasts scratching their heads in disbelief, while trying to figure out if there was a comma that may have been added in the latest statement, from which we may be able to glean a hint of QE3. But, alas, no such hint can been seen from the Fed's statement, which has been rather consistent all year with regard to no QE3.
So, I feel compelled to reiterate a very counter-intuitive position I have stated over and over again with regard to investing: Ignore the news, as it will only lead you astray! Rather, these markets are moved by sentiment, and such movements are patterned.
When we use Elliott Wave analysis to track metals, news does not fit into our equation. We did not know what Mr. Bernanke was going to say on the 29th, nor did it matter to us when we suggested to exit short-term precious metal positions and short the market the day before he spoke, when everyone else was just entering the metals market.
Nor did we know what was going to be announced in the news when we explained to you last week that we see a potential decline about to occur for the upcoming week, which can potentially be the final decline in silver before it would begin another uptrend phase. In fact, silver declined 6% this past week from its high to low points, and many of our subscribers had some very nice short trades over this past week after we called the top this past week in our Trading Room, within pennies of the top in real time.
Lastly, we pointed to the $30 region in the futures in late February as a potential bottoming zone, yes, again, without knowing what the news would be. So, it seems that the exact same Fed news that "caused" the 20% decline that started on February 29th may have also "caused" the bottom to this corrective decline this past week in the $30 region.
If one were to view this situation from an intellectually honest perspective, one should come to the conclusion that the same Fed news cannot be the true "cause" for both the rise and fall of silver. Rather, it is the public mood, or sentiment, which interprets this publicized "news," which then affects the price of the metal. If the positive sentiment was peaking and turning negative, as it did on February 28, then the market will react negatively to such "news," as it did on February 29th. This was the peak we identified which caused us to sell our long positions, and then short the market just hours before the top of the peak.
But, if the market's negative sentiment has now bottomed, and is ready to turn positive again, then the market will react positively to the exact same "news," as it seems to have done on Wednesday. This perspective also provides an explanation as to why markets seemingly go up on bad news or down on good news.
Because this method of analysis is so counter-intuitive, and undermines all popular beliefs, most people will simply attempt to find some reason as to why this perspective must be wrong. But, I would simply like to remind you of something that Ben Franklin stated centuries ago, which is clearly not quoted enough:
So convenient a thing is it is to be a reasonable creature, since it enables one to find or to make a reason for everything one has a mind to do.
Has Silver Bottomed?
Even before this corrective decline began on February 29th, our position was that the correction we expected to begin around that time was going to target the $30-$32 region in the futures from the $37 region, with a possibility that we may get as low as $29. As we moved through the corrective decline, we set an ideal target level in early March around the $30.25-$30.40 region, which seemed to provide the best confluence for a bottom region for silver. While we saw two potential bottoming patterns setting up in the market during March and early April at higher levels, the market invalidated those bottoming patterns, only to drop just 25 cents below our ideal target zone, and seemingly reverse on strong buying volume.
Furthermore, it does seem that the sentiment for silver had become worse just prior to that low, which definitely furthers the bullish perspective. One of our subscribers noted the article in Barron's this week in which the author states that "the metal is out of favor - with investors, industrialists, and even coin collectors - and may stay that way for the foreseeable future." The author even boldly stated that "silver's best days are behind it."
Yet, again, we have another author/analyst pointing to the current conditions in the market, and linearly projecting the current conditions into the future; in other words, "predicting the present." Furthermore, as one of our very active and astute Elliott Wave Trader members, Stanley J. G. Crouch, CEO, EXP Wealth Enhancement, LLC, and CIO and Senior Managing Director at Aegis Capital Corp in NYC, noted regarding this Barron's article, the author, in bolstering her opinion regarding silver's demise, quotes "forward-looking" analysts from financial institutions that could not even foresee their own insolvency.
In truth, Barron's has a wonderful track record of producing such articles as a signal for a market low. Ultimately, when something is recognized as such a widespread conclusion that a large publication, such as Barron's, publishes this perspective in such a decisive manner, it more often than not means that the sentiment has run its course in the current direction, and is about to turn, or has, in fact, already turned.
While we may still need a little more information in the upcoming week to decisively ascertain that the bottom is in, it is looking promising thus far. The only concern I have at this time is I would still like to see it move up over the declining trend line for our next break out signal, and which should also provide us with five waves up from the lows. While it is still a lower-percentage possibility that one more low may be seen in silver, in my opinion, investors should be looking for an entry into the silver market shortly if they do not already have a position.
So, for now I would like to see one more small push up in the silver market, followed by a corrective decline or consolidation. Thereafter, any rally that takes out the next high made over the declining trend line would be another buy signal. Once that phase of the rally occurs, the target region will most likely be between the .382 and .618 extension within the $34-$37 region, and the correction/consolidation that occurs after that level is hit will be the final opportunity to add the remaining capital you have allocated to this trade, with our next target region being the $41-$45.50 region, depending upon how the market moves up.
(Click to enlarge)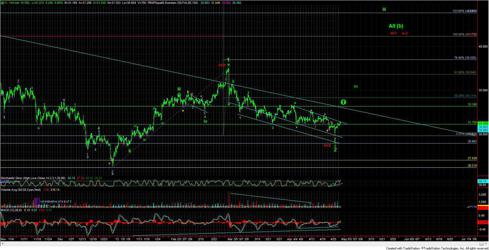 Disclosure: I am long SLV.