The Belgian Economy
Belgium is a founding member of the European Union and lies in the heart of one of the most highly industrialized regions in the world. It has a very high GNP, along with a highly productive work force. It has a high export per capita dominated by machinery, chemicals, finished diamonds, metals and foodstuffs. It was the first country on continental Europe to undergo an industrial revolution in the 19th century. The current public debt is about 99% of the GDP and a 3% budget deficit is expected due to the ongoing banking crisis and European sovereign debt crisis. About 80% of Belgium's trade is with fellow EU member states, though the country is trying to diversify and expand trade with other countries.
I have been creating short lists and watch lists for stocks that offer decent investment opportunity and worth closer inspection. In this article, I introduce a few Belgian stocks that have attractive dividend yields and potential for dividend growth.
Dividends as Stock Screen
I firmly believe that dividends are real cash and hard to fake. They are paid out of positive cash flow and while accounting gimmicks (and even fraud) can be used to window dress earnings per share, dividends are typically honest. I use inconsistent dividend history and/or big cuts to exclude stocks. I prefer stocks with increasing dividend amounts in native currency. I do understand that the US dollar amount may vary due to conversion rates but since I don't use dividends as income that does not bother me at all.
I have included a simple chart for each company that shows the dividend distributed in the last few years (in Euros). Some companies make it straightforward to collate dividend history while for others I had to sift through previous annual reports in PDF format. Luckily, every company in my short-list listed the dividend history. I plan to include a measure of "dividend pride" as introduced by fellow Seeking Alpha blogger - SDS. The number of clicks is the count of mouse clicks it takes to find dividend history for at least the last 5 years. I try to find dividend history for last 10 years, but beyond 5 years, I find it acceptable to look into past annual reports. The latest dividend distribution and yield is quoted in USD assuming a Euro to Dollar conversion rate of 1.308.
Stock

Ticker

ADR
Ratio

Price
(Euro)

EPS
(Euro)

P/E
(Euro)

Price
(NYSEARCA:USD)

Div Amt

Yield

Div Growth
1-Yr

Div Growth
3-Yr

Div Growth
5-Yr

Num Clicks
to Div Info

Anheuser-Busch InBev

(NYSE:BUD)

1

54.12

3.13

17.29

70.86

1.56912

2.21%

50.00%

62.43%

10.76%

3

Belgacom

0.2

23.27

2.41

9.66

6.05

0.570114

9.42%

0.00%

0.00%

2.90%

3

Delhaize

(DEG)

1

36.66

5.07

7.23

48.04

2.301376

4.79%

2.33%

5.95%

5.92%

2

NV Bekaert

0.1

22.84

3.27

6.98

3.85

0.152989

3.97%

-29.81%

7.95%

7.11%

2

Solvay

0.1

88.9

7

12.70

12.14

0.401433

3.31%

0.00%

1.57%

1.86%

1

Umicore

0.5

43.1

2.69

16.02

24.45

0.6538

2.67%

25.00%

15.44%

18.95%

4
Withholding Tax on Dividends
Belgium withholds tax on dividends at the rate of 25% for non-resident investors. An individual investor can file for tax credit on Form 1040 if the shares are held in a regular brokerage account subject to certain limitations. Amounts up to $300 ($600 for joint returns) can be claimed directly on the 1040 but greater amounts or carry-forward/backward requires Form 1116. If the shares are held in a tax deferred account like IRA or 401(k), then there is no mechanism to recover the withholding foreign tax, and is lost thereby reducing the effective dividend yield. As always, consult your tax advisor on all tax-related matters since each individual case is different and I am definitely qualified to advice.
Anheuser-Busch InBev NV (BUD)
AB InBev is a Belgian-Brazilian beverages company that is headquartered in Belgium. It is world's largest brewer with fourteen brands that generate over revenues of more than 1 billion USD. Its most famous brands include Beck's, Budweiser, Stella Artois and Brahma. The company grew to its current scale due to numerous mergers - Anheuser-Busch (United States biggest brewer) merged with InBev in 2008. InBev itself was formed by the merger of Interbrew and AmBev, where AmBev was formed with the merger of two biggest Brazilian brewers - Antartica and Brahma. It is one of the largest brewers in China, which is the world's biggest beer market. Finally, AB InBev also owns 50% of Groupo Modelo which is a big Mexican brewer. Its biggest competitors include Diageo (NYSE:DEO), Molson Coors (NYSE:TAP) and Boston Beer (NYSE:SAM) (that brews Samuel Adams).
The company is one of two Belgian companies that have a secondary sponsored listing on the NYSE. It reports its financial results in US Dollars, given that close to half its annual revenue is derived from the US. AB InBev does not need much introduction, and there are a few articles that discuss the investment thesis quite well. The company forecasts rising volumes in the US and Brazil for the current year. The company has a great dividend growth history starting, from 2008, when the latest merger was completed. The current yield is 2.2% based on approximate dividend distribution of US $1.56 per share. I find this extremely attractive, especially since I am optimistic about the continued growth in Brazil and China. I will most likely be a buyer of BUD shares if they dip 10% to $63.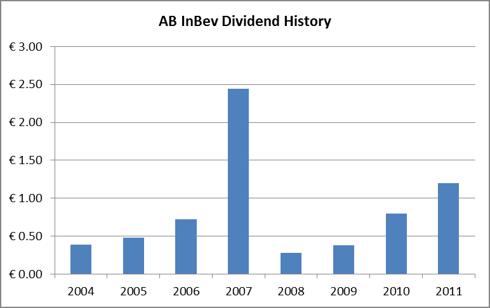 Belgacom (OTCPK:BGAOY)
Almost all countries have one or more telecom stocks that offer good dividend yields, as these have become like utilities. Most telecom companies have consistent revenue and dependable profits in spite of large capital expenditure to keep with fast moving technology. Belgacom is no exception. It is Belgium's largest telecom company that is majority owned by the government. The company offers telephony, television and Internet services to residential and commercial customers. It also offers mobile communications under the Proximus brand. The group also provides ICT services via its Telindus subsidiary and international carrier activities are carried under the brand of BICS. Belgacom also operates in Luxembourg, where it is the second largest mobile operator.
Belgacom is a small telecom company and not widely followed by analysts or investors, especially here in the US. It has a very attractive dividend yield of 9.4% based on a distribution amount of $0.57 per ADR share. There has been no growth, unfortunately for the last 5 years, which could be considered a good thing if someone just wants stable income. I personally strive for dividend growth, since that validates the business model as well. The P/E is also reasonable, at less than 10. Belgacom is focused on the Belgium market, and would be a great diversification for someone already invested in other markets. I would have jumped in, even if the company had 2-5% dividend growth in the last 3 years.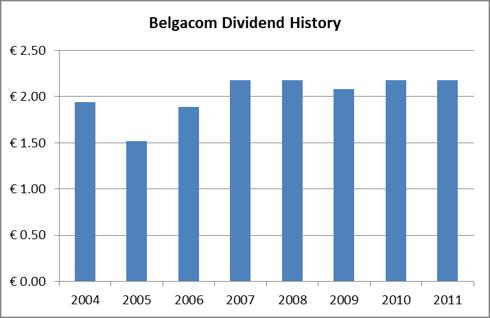 Delhaize NV (DEG)
Delhaize is a major Belgian food retailer that was founded in the 19th century. It operates supermarkets in United States (Food Lion, Hannaford, Sweetbay, Bottom Dollar), Belgium (Delhaize, Shop & Go), Albania, Bulgaria, Greece, Romania, Serbia and as far as Indonesia. It used to be present in Czech and Germany, but has since exited these countries. It has more than 2800 stores around the world. Its biggest competitors are Ahold (AHONY.PK), Walmart (NYSE:WMT), Kroger (NYSE:KR), and Supervalu (NYSE:SVU).
Delhaize has grown revenues every year for the last four years, which is quite commendable. The free cash flow is also very attractive. The current dividend yield is 4.8% based on expected distribution of $2.3 per ADR. The current payout ratio is extremely manageable, at about 35%. The dividend has grown at a slow rate of 6% for the last 5+ years, though the latest increase was only 2.3%, which is a bit disappointing. P/E is only 7 based on 2011 EPS. I like the wide reach of Delhaize's market and am adding it to my watch list for further due diligence.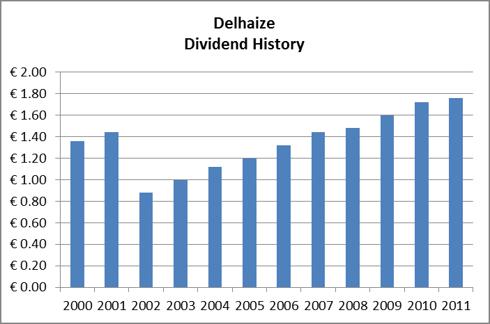 NV Bekaert (OTCPK:BEKAY)
Bekaert is an industrial company focused on metal transformation and coatings. It is the world's largest independent manufacturer of drawn steel wire products. Its steel cords are used in one out of every four tire in the world. The company was founded in 1880 and has operations in more than 120 countries. Its other products include fibers for concrete re-inforcement, nylon coated wires and profiled wire for reinforcing flexible pipes.
The company had a great 2010 and a tough 2011, so the latest results do not look very attractive. The dividend had grown at a steady rate of 7%, but the latest amount looks like a major cut of 30%. The current yield is almost 4% based on distribution amount of $0.15 per ADR. The trading volume on OTC is quite thin, so I am a bit skeptical, even though I prefer to invest in industrials over all other kinds of companies. I plan to watch the company for the coming few quarters and then decide.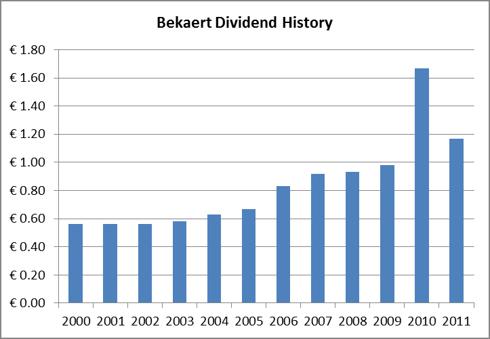 Solvay (OTCPK:SVYZY)
Solvay is a giant chemical company that makes special and essential chemicals and plastics. It used to have a pharma division as well that it sold to Abbott (NYSE:ABT) in 2009. Its biggest product is soda ash (sodium carbonate), made by the Solvay process, which was developed by the company's founder, Ernest Solvay in 1860. Solvay acquired Rhodia, a French chemical giant last year. Solvay makes specialty polymers and vinyls as well.
The company has a dividend yield of 3.3% based on a distribution amount of $0.65. The dividend growth has been anemic, at less than 2% over the last 5+ years, which is discouraging, given the special nature of their chemicals and plastics business as well as inorganic growth.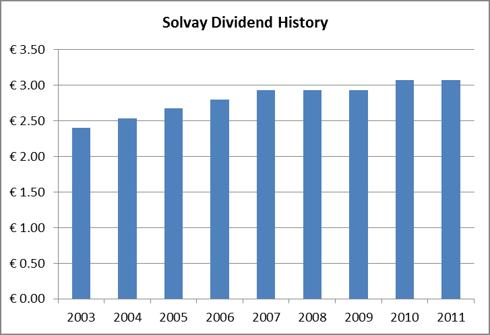 Umicore NV (OTCPK:UMICY)
Umicore is a materials technology company with a focus on metallurgy, chemistry and materials science. It was formed by the merger of four mining companies in 1989. The company then positioned itself as a specialty materials company in the late 1990s focusing on precious metals, zinc products and advanced materials based on cobalt and germanium. It has a large automotive catalyst division and makes materials for rechargeable batteries and photovoltaics, fuel cells and recycling. In the latest financial year it recorded double digit growth in most business units
Umicore has a dividend yield of approximately 2.4%, based on distribution amount of $0.65 per ADR. It has increased the dividend at a very impressive rate of 19% over the last 5 years, and 25% in the most recent financial year. The current P/E is also attractive at 16. The company's net debt has come down gradually over the last few years. I consider this a positive signal, especially when a company is also buying back stock and increasing earnings and dividends. It would be a great investment if only the trading volume on the OTC wasn't close to nil.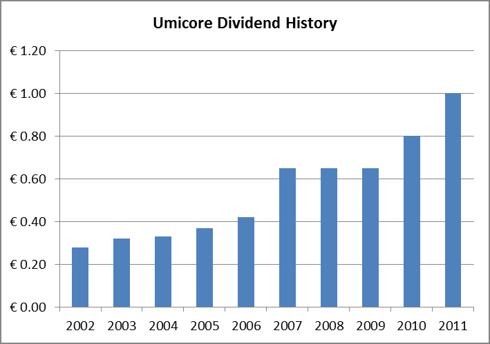 Concluding Remarks
I am not sure whether US will continue to be an economic superpower in the coming five decades in the face of mounting federal debt and increasing trade imbalance. I also want to reduce geo-political risks. Additionally, the US market is at a 4-year high, and there are few bargains in the dividend bucket. I am slowly selling some of holdings at multi-year highs and investing sale proceeds along with any new savings into foreign dividend paying companies. At present, I do not hold any stock from Belgium, but have added a few stocks to my lists for further due diligence.
Disclosure: I have no positions in any stocks mentioned, and no plans to initiate any positions within the next 72 hours.