Realty Income Corporation (NYSE:O), The Monthly Dividend Company®, recently declared its 502nd consecutive common stock monthly dividend ($0.1458125 per share) representing an annualized amount of $1.74975 per share (payable on May 15, 2012 to shareholders of record as of May 1, 2012). Through March 31, 2012, the Company has paid 500 consecutive monthly dividends, and over $2.2 billion in monthly dividends since 1969.
In addition, the Escondido-based triple-net REIT announced results for the first quarter ended March 31, 2012. Included in the Q-12 results (as compared to the same period in 2011) Realty Income posted the following:
· Revenue increased 17.9 percent to $114.7 million
· FFO available to common stockholders increased 6.9 percent to $60.7 million
· AFFO available to common stockholders increased 13.9 percent to $66.3 million
· FFO per share decreased 4.2 percent to $0.46, and includes non-cash preferred stock redemption charge of $0.03 per share
· AFFO per share increased 2.0 percent to $0.50
· Net income available to common stockholders per share was $.20
· Portfolio occupancy was 96.6 percent
· Invested $10.7 million in two new properties
· Dividends paid per common share increased 0.9 percent
Drill Down on Earnings Call Notes
Realty Income's First Quarter 2012 Earnings Call was recorded on April 26, 2012 and I have provided some highlights below.
Regarding 17.9 percent increase in Q1-12 revenue - Paul Meurer (EVP, CFO, and Treasurer):
This obviously reflects the significant amount of new acquisitions over the past year…So our balance sheet continues to be well positioned to support our acquisition growth. Our current debt to total market capitalization is 24 percent and preferred stock outstanding still represents only 8 percent of our capital structure. Our $425 million credit facility has just $43 million of borrowings at quarter end and of course some of that was paid off with the preferred add-on offering earlier this month in April. We have no debt maturities until 2013.So in summary we currently have excellent liquidity…
Regarding well-balanced diversification - Tom Lewis (CEO):
The portfolio continued to generate very consistent revenue throughout the first quarter. And at the end of the quarter, our 15 largest tenants accounted for about 49.4 percent of revenue…the portfolio continues to be well diversified. We have 2,631 properties at the end of the quarter, 38 different industries, 137 different tenants in 49 states and we anticipate materially adding to that in the second quarter through acquisitions.
Regarding enhanced acquisition guidance - John Case (EVP and CIO):
We sourced approximately $6 billion in acquisition opportunities so far this year. This activity is comprised of 1300 properties, leased to 115 tenants, and 33 industries…and about half of the properties were analyzing are leased to investment grade tenants…given our level of activity to date, we're raising our acquisition estimates for 2012 of $650 million from our previously announced $500 million. We currently believe our initial cap rates should average from 7.5 percent to 7.75 percent for the year.
Regarding AFFO and Dividend Growth - Tom Lewis:
We think the acquisitions continue to play a big role obviously in our ability to grow the revenue, and the AFFO, which will drive dividend oncreases, but also really adjusting the make-up of the portfolio, where we want to move up the credit curve relating to tenant quality and then be selective in terms of retail, in what sectors we want to be in, and also outside.
Regarding a possible larger dividend increase - Tom Lewis:
As we continue to raise the monthly dividend a bit each quarter, it has been our custom every year in August that our Board Meeting sit down and see if a fixed dividend increase is warranted each year, and now we are seeing AFFO payout ratios which falls at 87 percent and that should drop further as the year goes on when we see FFO growth. So I would anticipate that the board will meet and consider a fifth and larger increase this year, which obviously would be positive for shareholders.
Summing up the Q1-12
Realty Income is maintaining exceptional consistency in its well-balanced platform. In addition, the $5.24 billion (market-cap) REIT has continued to execute its capital markets strategies with "excellent liquidity" and well-balanced debt and equity. The common shares are trading at $39.27 (52-high is $32.59) and the dividend yield is 4.5 percent.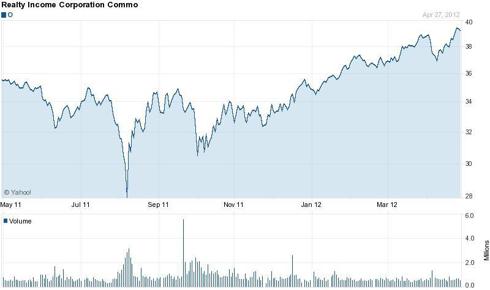 Disclosure: I have no positions in any stocks mentioned, and no plans to initiate any positions within the next 72 hours.