By G C Mays
It came as no surprise when Compass Minerals (NYSE:CMP) reported sluggish Q1 sales due to unseasonably warm weather. The mild winter resulted in a 52 percent year over year reduction in snow events, which resulted in a steep decline in salt sales. Stable sales volumes and pricing from the specialty fertilizer segment was the company's lone bright spot in the quarter, in contrast to the marked decline in sales volumes of potash by industry leaders like Potash Corp. (NYSE:POT), Mosaic (NYSE:MOS), and Agrium (NYSE:AGU), although Agrium does not officially report its Q1 earnings until May 9th.
Specialty Fertilizer
Fertilizer sales rose 6 percent to $58.5 million as the company sold 96,000 tons of potash for an average realized price of $613 per ton compared to 95,000 tons sold at an average realized price of $583 per ton for a total of $55.4 million over the same period a year ago.
The company sells sulfate of potash or SOP, a type of potash that's used by growers that have a need for fertilizer with a low chloride content. Intrepid Potash (NYSE:IPI) is another firm that sells SOP; they will be reporting on May 2nd and it will be interesting to see if the firmness in volume and pricing is consistent for both companies. SOP is typically priced at a premium to Muriate of potash or KCI, the product sold by leading north American fertilizer companies.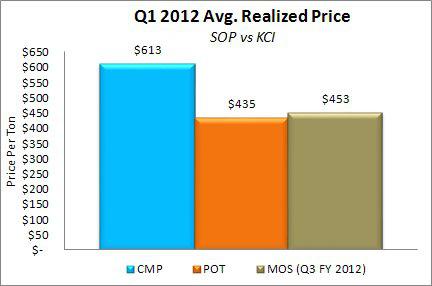 Source: The Mays Report
The above graph illustrates a price premium of $160 to $178 per ton, which is greater than the historical $100 to $150 per ton premium that Compass Minerals has become accustomed to. Its unclear why the premium exceeded the historical range by such a large amount in the first quarter. The company expects its potash per unit costs to increase by $100 per ton beginning in the 2nd quarter and continuing through the end of 2012 due to the poor potash harvest last year. The company expects to sell 85,000 tons of potash during the second quarter and 375,000 tons for the full year.
Salt
The mild winter melted away salt sales as the company's Q1 tons sold declined by 27 percent and were the fewest since the firm went public in 2003. Salt segment sales make up just over 80 percent of the company's total revenues.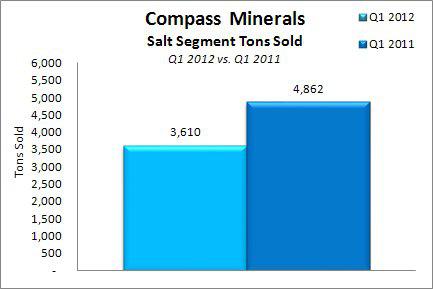 Source: The Mays Report
First quarter salt segment revenues of $254.3 million is 23 percent less than the $332.4 million the company earned in the same period one year ago. Operating margins also declined from 23.2 to 20.6 percent and were negatively affected by lower production levels and third-party purchases of salt, all of which were the result of the tornado in August 2011 at the company's Goderich Ontario plant.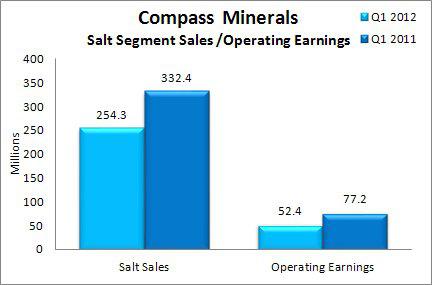 Source: The Mays Report
Pricing varied in the segment. Highway de-icing prices rose 3.2 percent year over year while prices for consumer and industrial products fell by 7 percent, reflecting weaker demand for those products. Pricing for highway de-icing salt rarely declines. It is generally is not affected by overall demand conditions beyond a reduction in the usual 3 to 4 percent annual price increase.
Despite the disappointing quarter the stock closed at $75.46 per share at week's end. I wrote in my earnings preview that I thought the soft quarter would offer investors an opportunity to buy the stock below $70. Clearly I was wrong about this. On a relative basis company shares are valued at $75.88 based on price-to-sales ratio of 2.2, which is also the median average for the peer group.
The 2nd and 3rd quarters are seasonally slow and may offer another opportunity to add shares at or below $70. However, there is also the upside risk of the peer group continuing to pull the shares higher due to the overall bullish outlook for corn and soybean prices.
Disclosure: I have no positions in any stocks mentioned, and no plans to initiate any positions within the next 72 hours.