After briefly touching Dow 13,000 earlier this month, the market has started to pullback. Do you think that the market rally is overdone? Do you want to lock-in some profits and avoid the intense volatility that we have been witnessing recently? With the economic and political climates only becoming more tumultuous I have been concentrating on high yield opportunities.
We all know about the blue-chip dividend companies but there are attractive funds with high yields that are going ex-dividend every week. This strategy can work in one of two ways: either you buy before the ex-date to receive the dividend or buy after if the stock declines far below the after-tax amount of the dividend. Regardless of your short-term strategies, these funds can really be attractive longer-term investments depending on your individual circumstances.
Buying the stock to receive the dividend is intuitive but many have contacted me requesting further details on the second strategy. Investopedia has a great example of how this works. To explain this, I will use AT&T (NYSE:T) as an example. AT&T declared a $.44 dividend to shareholders of record on January 10, 2012. On the ex-dividend date the stock price should decline by the after-tax dividend amount, with an assumed tax rate of approximately 15% because many dividends qualify for a preferential tax rate.
It is true that you can personally avoid taxation by owning the security in a tax deferred account but this serves as a benchmark. As a result, an investor would expect the stock price to decline by $.37 = [$.44 * (1-.15)]. If AT&T declined by more than $.37 in the absence of negative news you might have an attractive opportunity. Executing this strategy can generate outsized returns over short periods of times but should only be performed on companies that you would be comfortable owning.
To focus on these opportunities I ran a screen with a focus on relative safety for the investments. I began with a specification of a dividend yield greater than four percent and an ex-dividend date within the next week. To provide some layer of safety I narrowed down the environment by looking at companies with market capitalizations greater than $500M, P/Es between zero and 20, and institutional holding percentage of at least 15 percent (except ADRs). While not a precise requirement, I prefer companies that have underperformed the S&P 500 in the last 52 weeks as it indicates limited downside relative to peers. This is summarized below:
Dividend Yield ≥ 4.0%
Ex-Dividend Date = Next Week
Market Capitalization ≥ 500M
P/E Ratio: 0-20
Institutional Ownership ≤ 15%
After applying this screen I arrived at the companies/partnerships discussed below. Although I envision these as short-term trading ideas, you still need to be careful. The information presented below should simply be a starting point for further research and should not be taken as a recommendation. My goal is to present new companies to you and provide a brief overview of their recent developments and this should not be considered a substitute for your own due diligence.
KKR Financial Holdings (KFN): 7.86% Yield - Ex-Dividend 5/4
KKR is a specialty finance company that operates primarily in the private equity and specialized investment categories. As with many of the companies that appear in my dividend screens, it appears that KKR is depressed because it is a financial services company with a P/E below six. Furthermore, there is even more uproar surrounding private equity due to Republican Presidential candidate Mitt Romney and his high-profile work at Bain Capital.
Private equity companies are attractive dividend producers because they often either turnaround or improve existing companies and are able to return excess cash quickly. These can be volatile companies since their ventures can fail but once they have successful investments, they can pay above-average dividends. The dividend was suspended in 2008 when the market crashed, but was reinstated in late 2009 and has been steadily rising ever since. As a limited partnership, there are special tax implications for this investment that also need to be considered on an individual basis with your tax consultant.
Since last quarter the dividend yield has declined approximately eighty basis points as the share price has improved. In the fourth quarter KKR issued $225M of senior notes at 8.375% to repay outstanding debts. KKR has been range bound for the past month and reported earnings this past week as earnings declined over the past year. A three-month chart reveals that KKR frequently rises or falls by one percent on a daily basis. It is worth monitoring Chesapeake (NYSE:CHK) as the company is in the news for the CEO's conduct. KKR is partnering with Chesapeake in an oil and gas exploration venture.
Atlas Pipeline Partners, LP (APL): 6.40% Yield - Ex-Dividend 5/4
Atlas Pipeline Partners provide natural gas services and operates natural gas processing plants throughout the United States. Natural gas inventories are quite elevated and natural gas prices recently hit a ten year low. The yield is up sharply since I last covered the stock and has risen over seventy basis points. I am generally bullish on natural gas but the near-term prospects are not favorable. Furthermore, APL reports earnings on Tuesday, May 1st. While this could be an interesting long-term investment, I would avoid for dividend capture purposes. I generally avoid dividend capture strategies before earnings because you are battling the risk of poor short-term earnings ruining your strategy.
New York Community Bancorp (NYB): 7.46% Yield - Ex-Dividend 5/3
NYB primarily engages in generating deposits and originating loans and has rallied seven percent in the past quarter. When I last wrote about NYB it was trailing the S&P 500 significantly but the underperformance has contracted to only 2.6%. I recommended NYB because it has a "very sleepy business model compared to underwriting, trading, and the like" that have recently causes volatility for other financial stocks.. Essentially this is a bank in the traditional sense of the word and offers a robust dividend to compensate patient investors. After missing earnings in the previous quarter by $.01, the company rebounded to beat earnings by the same one penny in the first quarter of 212. In addition to being a solid company, NYB is always a god company to monitor because it provides insight into the broader real estate market. A key metric of interest is whether or not non-performing loans are declining.
TC PipeLines, LP (NYSE:TCP) 7.10% Yield - Ex-Dividend 5/2
TC PipeLines is a master limited partnership (NYSE:MLP) that owns interest in companies that operate thousands of miles of natural gas pipelines spanning the Midwest U.S. and Canada. This is a highly lucrative business considering its low relative risk: TCLP's profits are not overwhelmingly tied to energy prices as the pipeline operators charge for the privilege of using the pipelines. Volume will differ as the underlying resources prices change, but not dramatically. Revenue is not growing as fast as peers but an eighty percent profit margin cushions the blow. Recently reported earnings indicated a decline in profits while the dividend was raised slightly once again. The stock trades at 15.2 despite underperforming the S&P 500 by 18% this year, signifying that there is still some potential downside.
Plains All American Pipeline, L.P. (NYSE:PAA): 5.17% Yield - Ex-Dividend 5/2
Magellan Midstream Partners, L.P. (NYSE:MMP): 4.75% Yield -Ex-Dividend 5/4
Plains All American and Magellan Midstream are oil and well servicers that specialize in transportation and storage of refined products. The business model is similar to TCP discussed above; however, PAA and MMP focus more on petroleum products. The two companies are quite similar although PAA is significantly larger, trades at a discount, and has notably higher yield (despite Magellan's recent dividend increase). For this reason I would prefer PAA but additional research would be prudent. Magellan recently announced plans to increase the scale of a major pipeline project from a cost of $245M to $375M due to rising "industry demand". This type of leading indicator insight is invaluable in forming industry forecasts.
PowerOptions has a robust overview of Plains All American as well as a potential covered call strategy. Without further research I cannot endorse that covered call but his analysis of the company and recent developments is solid.
CMS Energy Corporation (NYSE:CMS): 4.23% Yield - Ex-Dividend 5/2
Southern Company (NYSE:SO): 4.27% Yield - Ex-Dividend 5/3
CMS and Southern Company are both utility company with 10 million customers in Michigan and 4.4 million customers in the Southern United States, respectively. As I have said in the past, I am a big supporter of utility companies as they were the best performing industry in 2011. The combination of capital gains and dividend income make them an asset class that you should not ignore. Both stocks are on the expensive side for utilities with PE ratios in excess of 17 with industry average utilities but I consider both of these stocks good candidates that are worth considering.
The information presented has been summarized below.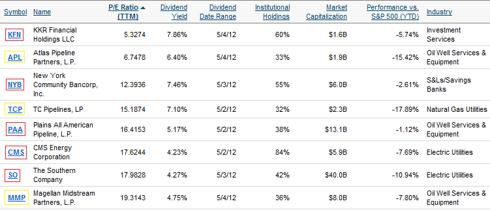 Disclosure: I am long T.