Certain companies are, by their very nature, misunderstood. Perhaps it is because management is too opaque about the business. Perhaps it is because the company operates in a niche market. Or, perhaps it is because investors misunderstand the company and where it is headed.
Clearwire (CLWR) falls into the third category. The company is deeply misunderstood by many in the investment world, and the volatility in its share price reflects that sentiment. We have written extensively about Clearwire, arguing that the company is, in the long-term, dramatically undervalued. Since the beginning of 2012, Clearwire has lost more than a quarter of its value. The majority of that fall is due to its performance over the last month. Since peaking at a 2012 closing high of $2.46, Clearwire has steadily dropped, losing over 40% of its value.

How can this be? Aside from its first quarter 2012 earnings release (which we will discuss in detail later in this article), Clearwire has not released any news regarding its business. So why has the stock fallen so sharply? What has changed? We delve into that, as well as the company's quarterly earnings, below.
The Spectrum Market: Does the Opportunity Remain? Or Are There Challenges Ahead?
One of the central themes of our bullish thesis on Clearwire is the vast amount of spectrum that the company controls. Currently, Clearwire holds 46.6 billion MHz-POP's of spectrum. That is enough spectrum to allow Clearwire to have the deepest spectrum holdings in the United States' top 100 wireless markets, outranking AT&T (NYSE:T), Verizon (NYSE:VZ), T-Mobile, and partner Sprint (NYSE:S).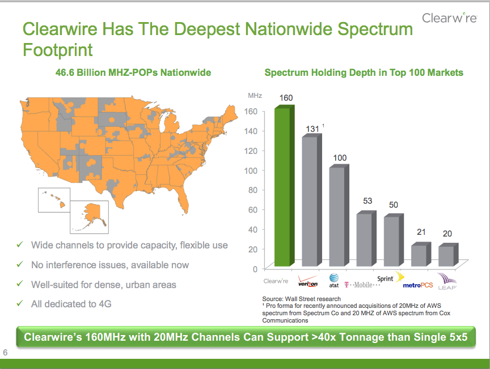 Clearwire's vast spectrum holdings provide a floor for the shares, because their true value is far greater than the $4 billion that it is currently carried on the company's balance sheet. However, the implication is that Clearwire will eventually sell off excess spectrum. It is easy to see why Clearwire would get premium pricing for its spectrum. Data usage in the United States is skyrocketing. Estimates are calling for a CAGR of 82% in data usage until 2015. And Clearwire saw a 705% increase in smartphone utilization on its networks in 2011. Even if Clearwire's 2.5 GHz spectrum is not 700 MHz spectrum (considered to be the highest quality in the market), there is not that much difference between them from a technical perspective.
This technical discussion is all well and good, but means little if Clearwire does not sell spectrum. That is why when Verizon announced a sale of its entire portfolio of 700 MHz A and B spectrum licenses, Clearwire shares plunged nearly 20%, before recovering somewhat to close down around 7%. When it comes to Clearwire, investors have developed a sell first, ask questions later mentality. In essence, investors have developed worries that if Verizon were to sell this spectrum, the demand for Clearwire's spectrum would dry up. We however, do not think it is that simple.
This Verizon spectrum deal will only go through if the FCC approves its AWS spectrum deal with a consortium of cable companies, including Comcast (NASDAQ:CMCSA) and Time Warner Cable (TWC). It is designed to alleviate competition concerns that the FCC has with the pending deal with Comcast and Time Warner. RCA, a trade group of smaller carriers, has already argued to the FCC that this deal does not actually address any competition concerns. Furthermore, there is much precedent to show that whenever Verizon, or AT&T sell spectrum, the other company ends up being the buyer. While AT&T may seem like the natural buyer, analysts also point to T-Mobile, MetroPCS (PCS) and Leap Wireless (LEAP) as being likely buyers of the spectrum. Multiple analysts see Clearwire as being the loser in this, given that this spectrum sale would reduce demand for its own spectrum. Jefferies has already factored this into its models for Clearwire, downgrading the stock from buy to hold, and slashing its price target from $4 to $2. The firm states that this spectrum sale could delay a Clearwire sale, thus presenting funding challenges for the company. However, Jefferies also stated that the asset value of Clearwire's spectrum remains the same.
On the surface, it would seem that Clearwire is in fact the loser in this deal. With more spectrum on the market, the value of its own holdings to a prospective buyer drops. We however, do not believe it is that simple. Verizon's proposed spectrum deal will only go through if the FCC approves the AWS spectrum deal with the cable companies. And there is no guarantee of that happening. The deal is currently being reviewed by the FCC and Department of Justice, and there is skepticism that the deal does not present anti-trust issues. Attorneys for both Sprint and DirecTV (DTV) have also filed requests with the FCC to delay the review so that they may look over the huge trove of documents regarding this case in more detail. This entire controversy would be rendered moot if the government does not approve the spectrum deal with the cable companies. However, as Bernstein analyst point out, this deal makes approval more likely than before. The firm argues that no wireless company suddenly decides to sell prime spectrum in the middle of a shortage. The firm believes that this means that the government is wrapping up its review of the AWS spectrum deal with the cable companies and is imposing conditions on Verizon that it can live with. Perhaps most importantly, Bernstein believes that this sale may mark the start of a new FCC policy that no carrier may have more than 100 MHz of spectrum. Should the AWS spectrum deal go through, Verizon would have around 107 MHz of spectrum. By selling these 700 MHz A and B licenses, Bernstein estimates that its holdings will fall to just below 100 MHz (Clearwire clearly exceeds such a cap, but as the company is not a cellular carrier, that sort of cap would not apply to it).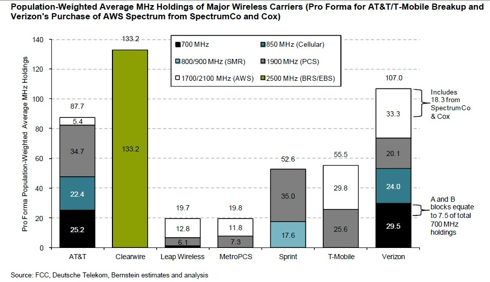 And even if this 700 MHz spectrum sale were to occur, we believe that Clearwire will remain viable, for 2 reasons.
Sprint will be even more captive: If Clearwire is seen as a probable loser in this situation, Sprint is seen as a certain loser. Given the multiple front the company is working on to turn itself around, it simply does not have the financial capacity to actually buy spectrum. Its financial resources are needed elsewhere; including Network Vision, the iPhone, and its own LTE rollout. Thus, Sprint is in a conundrum. It faces the same need for spectrum that other carriers face, but it lacks the ability to actually buy spectrum. Enter Clearwire. If Sprint cannot acquire spectrum, it will have to turn to Clearwire to fulfill its spectrum needs. This is reflected in the agreement the companies signed in December, in which Sprint invested hundreds of millions more into Clearwire, in exchange for continued access to both its WiMax network and its future LTE network. Sprint is a captive here. With the collapse of LightSquared removing that company's spectrum from use, Sprint must continue to support Clearwire, for that is the only way it can effectively compete with Verizon, AT&T, and T-Mobile.
Spectrum demand will continue to grow: Whoever is the buyer of this 700 MHz spectrum will deny other companies from acquiring it, assuming that it is all bought by one company. It is crucial to note that every wireless company faces a continued need to invest in more spectrum. In the long-term, this spectrum sale will do little to Clearwire in terms of continued demand for its spectrum. The company has already shown that it can and is diversifying away from Sprint. On March 14, the company inked a deal with Leap Wireless to provide the regional carrier with wholesale LTE access. This deal provides insight into the future structure of Clearwire, and it will almost certainly include the many regional carriers in the United States. For such small carriers to have even a chance of remaining viable in the face of Verizon, Sprint, T-Mobile, and AT&T, they have to offer the same level of services that those national carriers offer. And that includes LTE access. For many, that may be an investment that they cannot accomplish on their own. That is why they will turn to Clearwire for their LTE needs. We have already seen Leap Wireless do this, so that it can augment its own nascent LTE network. And in the months and years to come, we expect to see more and more regional carriers signing deals with Clearwire.
Clearwire is a company that is working hard to execute on its LTE buildout and is inching closer and closer to profitability. We now turn to Clearwire's quarterly results, released after the markets closed on April 26.
First Quarter 2012 Results: Continued Improvements
We have maintained for some time now that the Clearwire "story" will not play out in one quarter, or even one year. It will take some time for the company to reach sustainable profitability, and investors must take a long-term view. Each quarter brings with it a new set of gains, and a new set of losses.
This quarter had some of both, but we believe that it served to reinforce the long-term bullish thesis. Clearwire's loss of 44 cents per share missed expectations by 5 cents, but revenue of $322.639 million beat expectations by $12 million. The fourth quarter of 2011 marked a milestone in terms of earnings, as it was Clearwire's first quarter of positive adjusted EBITDA. And the first quarter of 2012 had a milestone of its own: Clearwire's first quarter of positive operating cash flow. Clearwire posted $65.651 million of operating cash flow in the last quarter.
Clearwire Financials
| | | | |
| --- | --- | --- | --- |
| | Q1 2012 | Q4 2011 | Q1 2011 |
| Revenue | $322.639 Million | $361.870 Million | $236.608 Million |
| Operating Loss | -$421.887 Million | -$433.149 Million | -$647.358 Million |
| Adjusted EBITDA | -$38.194 Million | $22.479 Million | -$210.316 Million |
| GAAP EPS | -$0.44 | $0.81 | -$0.93 |
| Subscribers | 11 Million | 10.414 Million | 6.105 Million |
Clearwire is continuing to improve its operations. Its losses are narrowing, and the company is continuing to grow. Revenue grew 36% from the previous year, and subscribers grew 80%. And wholesale usage of the company's 4G network more than doubled, rising 134% since the first quarter of 2011. In addition, Clearwire announced that it will be launching its LTE network in 2013 in 31 cities, including New York, Los Angeles, and Chicago. The buildout is expected to be complete within the first half of 2013.
Given the volatility that Clearwire's stock has seen in the past month or so, due primarily to worries about the company's ability to monetize spectrum, CEO Erik Prusch decided to address those worries on the company's conference call. He argued that the spectrum that Verizon is offering to sell in no way solves the nation's spectrum shortage. He notes that from a technical perspective, this spectrum presents several challenges, including the interference issues and lack of a device ecosystem for the 700 MHz A block, and the fragmented coverage and low depth of the 700 MHz B block. Erik Prusch took care to remind investors that Clearwire's 2.5 GHz spectrum is ideally suited to data usage. He also reminded investors that Clearwire holds around 160 MHz of spectrum in the nation's top 100 wireless markets, far more than either Verizon or AT&T. Further supporting Clearwire is the fact that on a global basis, spectrum in the 2.3-2.7 GHz range has been awarded in countries representing 45% of the world's population. Such an ecosystem will reduce costs for Clearwire and its partners due to economies of scale, a point we feel is often undervalued when assessing Clearwire.
The majority of the Q&A portion of the conference call was ordinary, with analysts asking Clearwire executives about their LTE plans, mobile devices, and capital expenditure plans. However, one exchange stood out, and it was the back and forth with Credit Suisse. This is notable because it has been reported that Credit Suisse was the anonymous buyer of Google's (NASDAQ:GOOG) stake in Clearwire. Credit Suisse asked several questions of interest regarding both Clearwire's willingness and ability to sell spectrum. The first question was about sources of capital. This is an issue because wholesale contracts, such as the ones signed with Sprint and Leap, take time, and from a financial standpoint, Wall Street is worried that Clearwire does not have enough cash on hand to fund itself until more contracts are signed (for the record, as our previous articles have stated, we do not see this as an issue. Given the nature of Clearwire's relationship with Sprint, Sprint will be forced to finance Clearwire until the company can post sustainable profits). CFO Hope Cochran answered this particular question. She noted that Clearwire's cash position rose in the most recent quarter, placing the company on what she believes is a strong financial footing for 2012. In addition, CFO Cochran said that she constantly watched the 3 markets most important to her in terms of capital raising: equity, debt, and spectrum sales. She says that should a need for capital arise, the company takes the most efficient route. So far, large spectrum sales have not been deemed to be the most efficient route.
Credit Suisse, however, did not seem satisfied with such an answer, as it does not answer the question the market has been fretting over, which is can Clearwire sell its spectrum? Credit Suisse therefore approached the question from a different angled. Analyst Jonathan Chaplin outlined his concerns thusly: there are carriers that would love to buy spectrum from Clearwire today. However, if Clearwire does not sell its spectrum fast enough, they would be forced to turn to a "less attractive choice" (700 MHz spectrum from Verizon). In such a scenario, Clearwire would lose a crucial source of capital should wholesale deals be singed at a slower than expected pace. At this point in time, CEO Erik Prusch took the question. He reiterated his stance that based on the data Clearwire has, there is not enough spectrum to handle the demands of the market. He does not see Verizon's planned spectrum sale as being a feasible solution. He reminded investors that Clearwire is the single largest holder of spectrum in the United States, and that only it has the holdings necessary to support continued growth in data usage. Prusch summed up his views by stating that "we [Clearwire] appreciate the sensitivity, we have the sense of urgency to get this business scaled up. But at the same time, we don't think that there is a real viable threat out there at this point."
We agree with Clearwire's management in regards to this issue. The concerns surrounding the spectrum Verizon is proposing to sell are overblown. While it is certainly valuable on an absolute basis, the spectrum Verizon wishes to sell comes with a number of technical issues. In addition, Verizon is planning to sell only about 7.5 MHz of spectrum. That is nowhere near the amount a major carrier would need to satisfy their long-term spectrum needs.
Conclusions
We believe that the impact a Verizon spectrum sale would have on Clearwire have been dramatically overstated. The company's competitive position has not been weakened, in our opinion. Furthermore, Clearwire's first quarter 2012 results highlight further progress, on both financial and operational fronts. Clearwire has reported its first quarter of operating cash flow, and is continuing to narrow its losses. Subscribers and revenue are growing, and the company continues to sign wholesale deals. That being said, Clearwire stock is not for investors that are keen to avoid risk or companies that receive mountains of press coverage. Such investors should look elsewhere in the telecommunications sector. But for long-term, patient investors who are willing to take on some risk, we believe that Clearwire remains a great long-term investment. And analysts agree. As of this writing, the Reuters average price target for Clearwire stands at $5.60, implying upside of over 294% from current levels. Clearwire is steadily improving its performance, and we think that at these depressed prices, the stock remains a buy. We have been adding to our position, and believe that investors who add to or initiate positions in Clearwire at this point in time will be greatly rewarded for the decision.
Disclosure: I am long CLWR, T, VZ, GOOG.
Additional disclosure: We are long shares of T and VZ via the SPDR Dow Jones Industrial Average ETF. We are long shares of GOOG via a mutual fund that grants it a weighting of 2.24%.