I recently wrote an article on a Dr. Suess REIT portfolio where the premise was/is that as investors and analysts, we have to leave no stone unturned in our quest for value and returns. I recently came across a REIT that seemed like it might have the right attributes for the Dr. Suess REIT portfolio - Pennsylvania Real Estate Investment Trust (NYSE:PEI). The following is my assessment of the company.
Pennsylvania Real Estate Investment Trust has a primary investment focus on retail shopping malls. Currently, the company's portfolio consists of 49 properties, including 38 shopping malls, eight community and power centers, and three development properties. The company's properties are located in 13 states in the eastern half of the United States, primarily in the Mid-Atlantic region. The operating retail properties have approximately 33 million total square feet of space. PREIT was founded in 1960 and was one of the first equity REITs in the U.S. The company is headquartered in Philadelphia, Pennsylvania.
As those who have read my articles will know, I have advocated swapping out of malls and into strip centers (sector ideas) which naturally leads to the question: why a mall REIT? The answer is simple, if there is an undervalued company within a fully valued sector, we have to take a look to see if it warrants exclusion from a macro thesis. With that in mind, let's see if this mall REIT has what it takes for us to stray from the thesis. Let's begin with the business fundamentals.
I have often said that in order to consistently perform well, a REIT should be geographically diversified. PREIT has a Pennsylvania and surrounding state (VA, NJ, MD and DE) focus as only 20% of their portfolio falls outside this area, which I do not consider to be extremely well diversified. This focus hurt them in the real estate downturn and exposes them to regional risk. That said, they have done a decent job mitigating this risk, but it has to be considered and understood.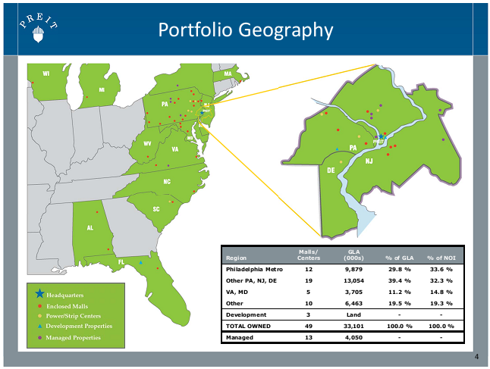 While I do not consider the REIT to be extremely well diversified geographically, their tenant roster is well diversified and consists of your typical mall tenants (most of which are strong, only Sears (NASDAQ:SHLD) somewhat concerns me).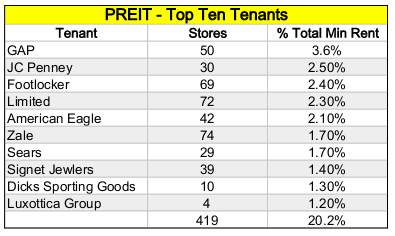 With a top ten tenant concentration of only 20%, the REIT has a well diversified tenant base.
Capital Structure
Pennsylvania REITs' capital structure consists of the following: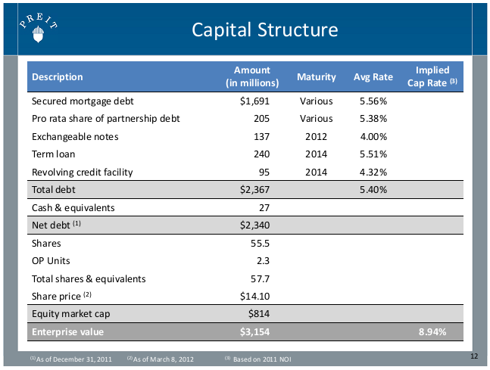 Note that this capital structure does not include the recently issued preferred stock. As there is no freely tradeable debt, I will not be addressing debt relative value.
Equity
The table that follows contains valuation statistics and a peer comparison for Pennsylvania REIT: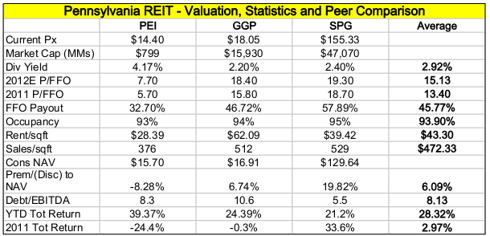 One thing that is obvious from the above chart is that PREIT is smaller than their peers Simon Property Group (NYSE:SPG) and General Growth Properties (NYSE:GGP). While smaller typically means a discount to larger players in terms of valuation, PREIT trades at a fraction of their competitors on a P/FFO basis. While this might be caused by their lower average rent per square foot, it seems a bit extreme. At the same time, the REIT trades at a discount to the consensus net asset value, has a higher dividend yield and a significantly lower FFO payout (which provides flexibility for future dividend increases). The bottom line here is that I think the stock is undervalued and should appreciate as their short term leases renew at higher rates and FFO continues its upward trajectory.
As well, the REIT recently hit a milestone, they paid their 140th consecutive dividend since 1962 on March 15, 2012.
Here is a quick snapshot of their stock versus their featured peers (Yahoo!):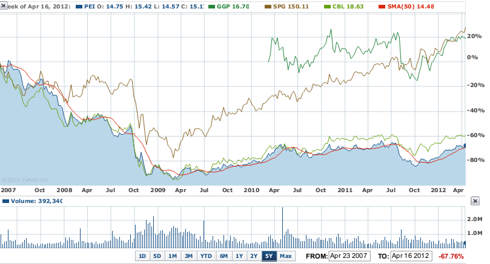 PREIT has significantly underperformed their peers over a longer timeframe, but as the table above shows, they are narrowing that gap quickly.
Preferred Stock
Pennsylvania Real Estate Investment Trust recently issued 4,000,000 shares of its 8.25% Series A Cumulative Redeemable Perpetual Preferred Shares. (Prospectus)
Dividends on the Series A Preferred Shares will be paid quarterly in arrears on the 15th day of each March, June, September and December, commencing June 15, 2012.
The details are: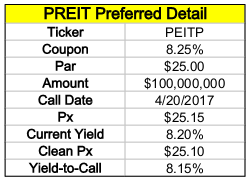 Details on the preferred stock (Series A) are:
Change of Control redemption: Upon the occurrence of a change of control the company will have the option to redeem the Series A Preferred Shares, in whole, at any time, or in part, from time to time, within 120 days after the first date on which such change of control occurred, for cash at a redemption price of $25.00 per share.
Conversion rights: Upon the occurrence of a Change of Control, each holder of Series A Preferred Shares will have the right (unless, prior to the Change of Control Conversion Date, the company has elected to redeem the Series A shares) to convert some or all of the Series A Preferred Shares held by such holder on the Change of Control Conversion Date into a number of our common shares per Series A Preferred Share.
Voting rights: Holders of the Series A Preferred Shares will generally have no voting rights. However, if dividends on the Series A Preferred Shares are in arrears for six quarterly dividend periods (whether or not consecutive), the holders of the Series A Preferred Shares will have the right to elect two additional members to serve on PREIT's Board of Trustees until they pay (or declare and set aside for payment) all dividends that are then in arrears.
Debt:
There is no freely tradeable debt of Pennsylvania REIT, but as substantially all of the company's assets are secured by their term loans and credit facility, it is important to know the covenants of their loans.
Under the terms of PREITs 2010 Credit Facility, the company is required to satisfy certain financial covenants, including, (1) consolidated liabilities to gross asset value of 0.70:1; (2) minimum ratio of EBITDA to interest expense of 1.60:1; and (3) minimum ratio of adjusted EBITDA to fixed charges of 1.35:1.
While I am always nervous of a company whose assets are substantially secured, these covenants help mitigate some of that concern.
Bottom line: While the equity appears undervalued relative to its peers, its metrics relative to peers (sales/sqft, rent/sqft) are weak. The stock has shown strong performance this year, outperforming others in the mall space without a significant increase in core metrics. As a result, I would hold off on the equity until it trades lower or there is more evidence of a meaningful increase in operating metrics.
This is not to say that the REIT isn't performing well, just that it may have gotten ahead of itself. The preferred, however, is attractive relative to other preferred stock in the mall/retail sector. As a result of the valuation on the preferred stock and the fundamentally sound nature of the company, I believe the preferred stock would make a sensible addition to a preferred stock or income portfolio.
Disclosure: I have no positions in any stocks mentioned, and no plans to initiate any positions within the next 72 hours.