Fertilizer stocks broke out to new highs on Friday. The reason was due to a belief in increased fertilizer products due to high corn prices. On Friday, April 27th, the largest daily sale of corn in 20 years was recorded. 61.4 million bushels were sold on Friday alone. The Chinese market was apparently the buyer. Corn futures hit $7 per bushel. Agriculture and fertilizer stocks immediately went higher. For income investors, they can take advantage of high yielding fertilizer stocks which currently yield over 10% per year.

The Winners
1. Rentech Nitrogen Partners, L.P. (NYSE:RNF)
Rentech Nitrogen Partners announced solid distribution numbers last week. As with this sector, the demand for fertilizers to enhance crop production remains on the front burner. Rentech Nitrogen Partners spiked on Friday when they announced their first distribution would be $1.06. This will be paid on May 15th.
Natural gas futures were trading at $2.18 per MMbtu. These are decade low natural gas prices. This is the primary feedstock expense for Rentech Nitrogen Partners and Terra Nitrogen Company L.P. (NYSE:TNH).
Chesapeake Energy Corporation (NYSE:CHK) and Range Resources Corporation (NYSE:RRC) are two companies with a primary focus of natural gas production. Chesapeake Energy has been in the news lately due to their CEO having allegedly taken inappropriate funding from the company. The natural gas prices are believed to be temporary low due to a mild winter and a high supply level of natural gas. This has provided a temporary cost savings to the natural gas feedstock users.
I believe total distributions, and capital gains, will exceed 10% for Rentech Nitrogen Partners.
2. Terra Nitrogen Company, L.P.
Terra Nitrogen Company is majority owned by CF Industries. The chart below shows Terra Nitrogen Company's quarterly distributions since 2009.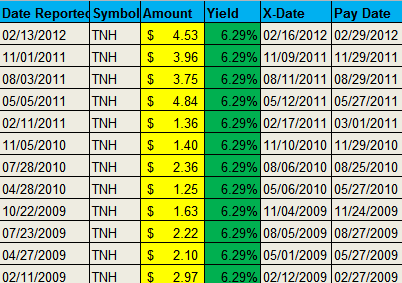 I believe total distributions, and capital gains, will exceed 10% for Terra Nitrogen Company in 2012.
3. CF Industries Holdings, Inc. (NYSE:CF)
CF Industries Holdings is involved in the manufacturing, and distribution of nitrogen and phosphate fertilizer products in North America. The company has two segments: 1) nitrogen fertilizer, and 2) phosphate fertilizer. CF Industries' revenues increased by 38.85% in year over year comparison between 2011 4th quarter data versus 2010 4th quarter data.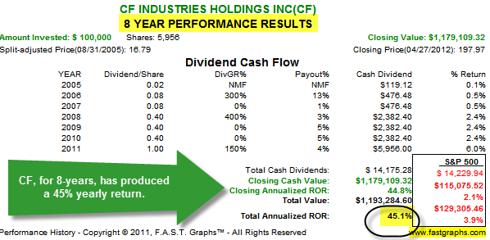 CF Industries is trading at $197.77, as of April 27th close. The stock is expected to earn $25 or more per share for 2012. This equates to a cheap 8x price to earnings multiple. CF Industries owns approximately 75% of Terra Nitrogen Company, which provides ample free cash flow.
4. CVR Partners, LP (NYSE:UAN)
CVR Partners is limited partnership focused on operating, owning, and growing their nitrogen fertilizer business. The one site operation is located in Coffeyville, Kansas. The site produces ammonia and urea ammonium nitrate fertilizers. The site's feedstock uses a petroleum coke gasification process to make hydrogen. CVR Partners announced their 1st quarter distribution would be 52.3 cents per unit.
CVR Partners should continue to outperform the market as their products for sale have increased in price due to supply versus demand imbalances. Over time CVR Partners should benefit by offering fertilizer products to increase agriculture land to farm growers.
My belief is CVR Partners will provide unit holders a return exceeding 10% in distributions and capital gains for 2012.
Action
My favorite agriculture stock is CF Industries. I believe they have the best management team and the best lineup of agricultural products. I believe investors should own agricultural stocks in a diverse portfolio. My preference is for incoming producing partnerships, such as Rentech Nitrogen Partners. New investors to this sector should pick their spots for an appropriate entry price.