By Scott Martin
Singapore has been beating emerging and developed markets alike. But as leadership in the high-tech Asian enclave shifts, the best way to play it will come down to which banks will outperform the rest.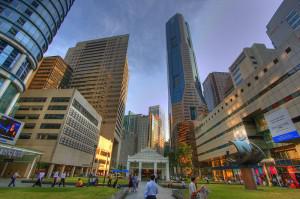 On the surface, the Singapore ETF (NYSEARCA:EWS) and the actively managed closed-end Singapore Fund (NYSE:SGF) have a lot in common.
Both are fairly concentrated portfolios of the island nation's largest enterprises, with each currently allocating a full 60% to 65% of its assets to just ten stocks apiece.
And within that top tier, overlap is extensive - EWS and SGF share six of their Top 10 holdings in common, including several top banks, Singapore Telecom (OTCPK:SGAPY) and shipyard giant Keppel Corp.
Between the duplication and the concentration, it should be no surprise that sector weight is similar from fund to fund. EWS is significantly heavier in telecom at 11% versus 5% in SGF, almost entirely thanks to its double-down allocation to SGAPY.
SGF, on the other hand, has more room for the industrial stocks like Keppel that remain the backbone of even Singapore's economy - 44% of overall GDP.
But while financial services accounts for barely 10% of all Singaporean economic activity, it is still the heart of the country's stock market, and so both funds have a staggering 44% of their assets invested in that sector.
Here, too, the specific stocks and even rough portfolio weightings are similar. Both SGF and EWS invest 10% to 11% of their funds in United Overseas Bank (OTCPK:UOVEY) and another 10% to 11% in rival Overseas-China Banking Corp, eating up half of their financial sector bets right away.
Where they finally differ is in the way they treat DBS Group (OTCPK:DBSDY), nominally the biggest of the three institutions.
The ETF makes DBSDY its second-biggest holding at 10.26% of the portfolio, just ahead of the other big banks.
SGF, on the other hand, has only come around to DBSDY in the last few months, and while its allocation to the bank is rising, this stock still only clocks in at a 4.1% weight.
If all the other allocations more or less balance, the choice of SGF or EWS really comes down to a binary call on DBS and Singapore Telecom versus the rest of the Singaporean economy.
DBS has been the clear winner so far this year, up 25%. Singapore Telecom shares, on the other hand, have lagged the broad market as its vast assets in India suffer.
Still, betting on these two stocks made an appreciable difference for EWS, sending its shares up 20% compared to the 18% that SGF has scored over the last four months.
From here, Singapore Telecom has been running out of steam as its 32% stake in Indian telecom carrier Bharti Airtel quietly implodes.
As a result, unless DBS does well enough to lift EWS singlehandedly, SGF may be due a bit of outperformance soon - assuming, of course, that the brick-and-mortar economy it favors doesn't go off any cliffs in the near future.